A new version of RivaTuner hits the street. Rivatuner is one the leading tweak utility available for NVIDIA GeForce and ATI Radeon based videocards.
Main updates of this new version:
– Updated databases for Detonator and ForceWare drivers. Added database for ForceWare 177.98.
– Added experimental AMD RV710 and RV730 graphics processors families support.
Download: RivaTuner 2.11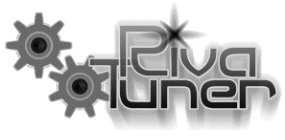 [source]
| | |
| --- | --- |
| | Here is an incredible news to start the day: Expreview has found that ATI's Catalyst 8.8 have been optimized to detect FurMark and downclock the frequencies of a Radeon HD 4850/4870 to avoid to burn the GPU. |
So if you have a Radeon HD 4850 or Radeon HD 4870, just rename FurMark.exe in something.exe and you will see the difference!

Expreview has done the test with Quake Wars: Emeny Territory and has renamed etqw.exe to FurMark.exe and saw performance drop from 141.3FPS to 93.7FPS!

I have not a Radeon HD 4000 series but I think that I'm going to buy a Radeon HD 4850 today!
It's a pain to develop a benchmark to make it running properly on most graphics hardwares and now I have to include in FurMark a Catalyst anit-cheat???? Thanks AMD/ATI….
Why AMD doesn't contact me directly to find out the problem???
Update