1
« on: November 15, 2018, 04:45:01 PM »
Just curious about how anyone would approach this.
This is more a though-experiment than something actionable.
These days, recursive node-editors are becoming more and more usual (compared to the traditional node-editors).
An example of a powerful recursive node-editor would obviously be TouchDesigner (TD):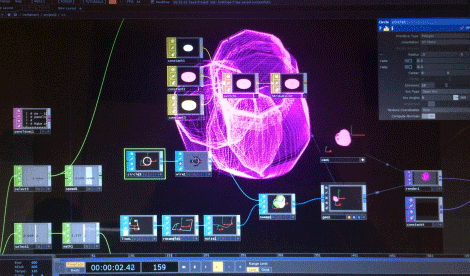 A powerful feature of TD is that each node has an extendable UI.
In a sense, each block could represent a GeeXLab script (or internal node?), which could open a draggable imgui popup with properties when doubleclicked.
Any thoughts on how realistic it would be to create an STANDALONE node-editor app (like MadView3D)..or should it be just a drop-in lua-library (which visualizes the current 'state')?
Which would you prefer?
I already figured, that by imagining the editor from scratch (outside of GeeXLab) would be a misstake.
That could introduce so many challenges from a maintenance point of view.
I could imagine a super-simple first version, by visualizing nodes on the highest level(like representing lua- or python-scripts, and/or objects from this framework:
https://www.geeks3d.com/forums/index.php?topic=5171.0
).
Later, simple oscillator nodes (sinus,saw,square) etc could be written in lua, to easily modulate/control values:
Later, one could always introduce 'zooming' into such node(s) (which would open a new node-editor, representing the internal GeeXLaB nodes), but i'm not sure whether that would add any value at all.
If anyone has any thoughts or advice on this let me know here!
UPDATE: hm there seem to be people who've attempted a imgui node-editor widget:
https://github.com/ocornut/imgui/issues/123