GPU-Z (https://www.techpowerup.com/download/techpowerup-gpu-z/) is a lightweight utility designed to give you all information about your video card and GPU.
Version History v2.37.0 (February 22nd, 2021)


Added memory vendor detection on Navi 1x and Navi 2x
Added workaround for NVIDIA Ampere PCIe hardware bug
Added filter to avoid misreadings on EVGA iCX
Fixed fake detection for some GT218 variants
Improved Russian translation
Added preliminary support for Radeon RX 6700 and RX 6600 Series
Added support for NVIDIA GeForce RTX 3060, RTX 3080 Mobile, RTX 3070 Mobile, RTX 3060 Mobile, RTX A6000, A40, A100-SXM4-40GB, Drive PX2, P106M, Quadro K510M, modded Quadro K6000
Added support for additional variants of NVIDIA GTX 1650 Max-Q, Quadro P1000, GTX 650, GT 430
Added support for AMD Cezanne, Radeon Pro V520, R9 290X ES, Barco MXRT 2600
Added support for Intel Comet Lake Graphics (Celeron 5205U and i7-10810U)
Added vendor detection for Yeston
Download zone updated:
- GPU-Z @ Geeks3D (https://www.geeks3d.com/dl/show/10001)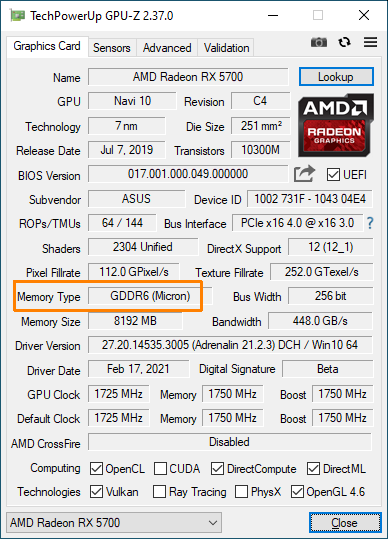 Have they released the latest version?
Quote from: juankax on May 11, 2021, 11:29:58 AM
Have they released the latest version?

Not this thread.
But look new version as lastest version:
- https://www.geeks3d.com/forums/index.php/topic,6885.msg9927.html
OR
- https://www.techpowerup.com/gpuz/