Maxon has published a new version of Cinebench, the benchmarking tool based on Cinema 4D engine. Cinebench 2024 comes with GPU and CPU performance tests and supports more platforms. Here are the main features:
– Cinebench 2024 tests GPU and CPU performance by using Maxon's powerful Redshift render engine.

– Cinebench 2024 supports AMD and Intel x86/64 CPUs, Apple's M1 & M2-powered computing systems as well as the Snapdragon compute platform.

– Cinebench is based on the latest Cinema 2024 and Redshift code using updated compilers (Clang) and has a minimum runtime activated by default.

– Cinebench 2024 provides improved benchmark accuracy for current and next generation CPUs to test if a machine runs stable on a high CPU load, if the cooling solution of a desktop or notebook is sufficient for longer running tasks to deliver the full potential of the CPU and if a machine can handle demanding real-life 3D tasks.

Compared to Cinebench R23 the computational effort for the scene increased sixfold in the multithreaded rendering test. This reflects the CPU performance improvements as well as the increased demands artist have to deal with these days.

The higher complexity of the scene also means the memory footprint has increased threefold. Depending on your CPU configuration Cinebench 2024 will need at least 6.5 – 8.5 GB RAM. The minimum memory requirement is therefore set to 16 GB (while macOS can execute the CPU test also on 8 GB machines – with significant influence of paging – Windows usually has several GB assigned to non-purgeable memory which prevents the execution of Cinebench 2024 on 8 GB machines).

GPUs need more memory for efficient operation, and as such, they need 8 GB or more of GPU memory. On Apple silicon, this memory is part of the unified memory system, and therefore Redshift GPU can only run on machines with at least 16 GB.
More details are available HERE.
You can download Cinebench 2024 from THIS PAGE.
I did a quick test with the following system:
– CPU: Ryzen 7 5800X
– RAM: 16GB DDR4 3200MHz
– GPU: ASUS TUF Radeon RX 7900 XT (stock clock speeds)
– Windows 10 + Adrenalin 23.8.2
GPU score: 13868 points
Multi-core CPU score: 843 points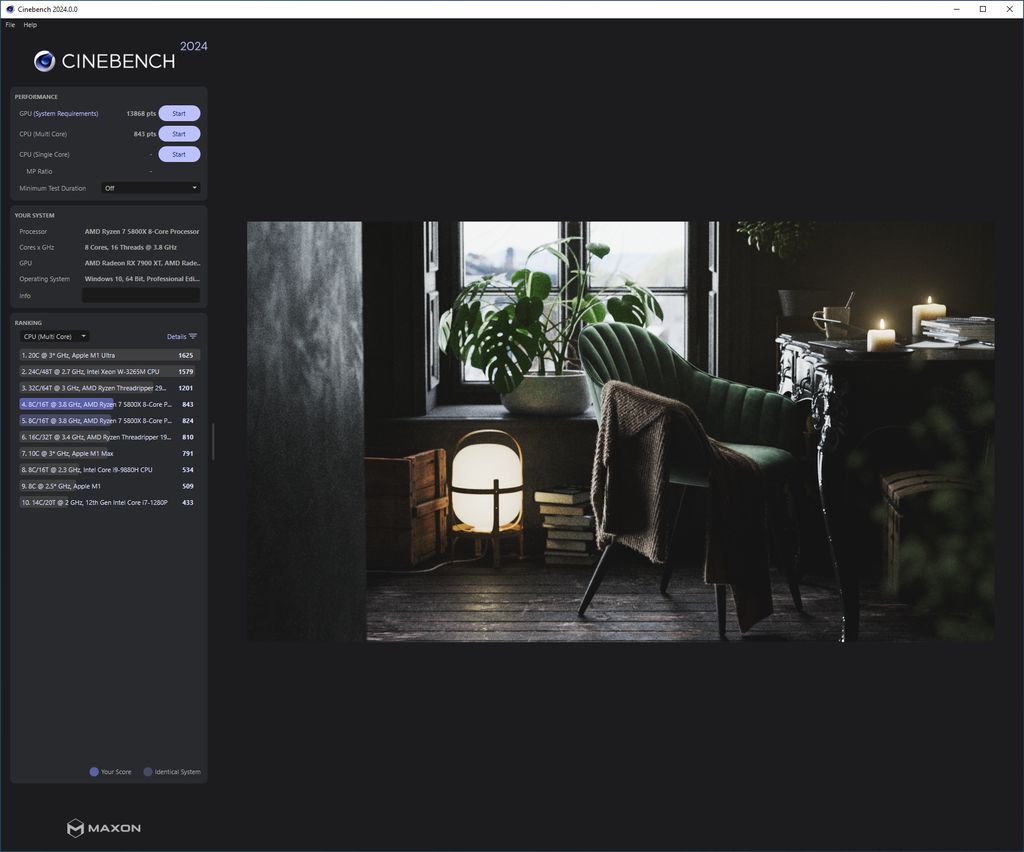 According to this thread, a GeForce RTX 4090 has a score of 36259 points!