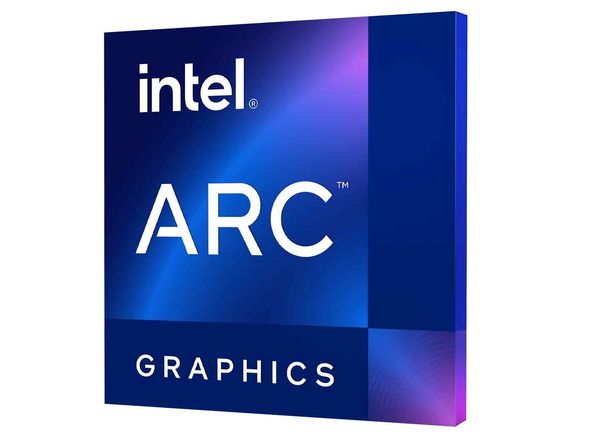 Intel has released a new graphics driver for its Arc GPUs (Arc A380, A770, A750, A310, A770M, A550M, A730M, A370M, A350M) and integrated GPUs (11th Gen, 12th Gen and 13th Gen).
GAMING HIGHLIGHTS:
Intel Game On Driver support on Intel Arc A-series Graphics for:
– Forspoken

FIXED ISSUES:
Intel Arc Graphics Products:
– A Plague Tale: Requiem (DX12) may experience application freeze and crash during gameplay.
– Need for Speed: Unbound (DX12) may exhibit box corruptions during gameplay.

Intel Core Processor Products:
– Need for Speed Unbound (DX12) May exhibit screen-space color corruption during gameplay.
– Total War: Warhammer III (DX11) May exhibit an intermittent application crash when launching the game.
– Battlefield: 2042 (DX12) May experience color corruption on certain maps.
Downloads
v31.0.101.4090
GPU Shark 2: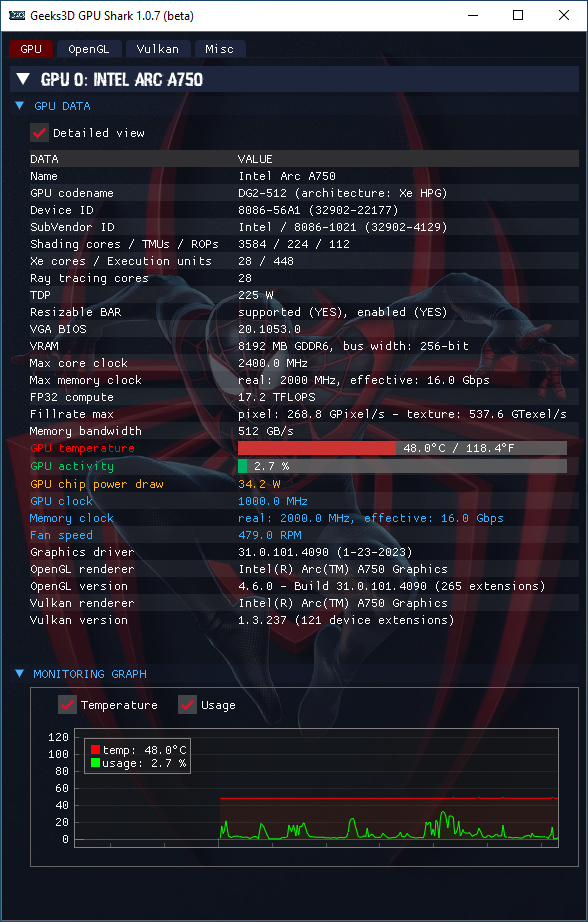 OpenGL support
This driver exposes OpenGL 4.6 with 265 OpenGL extensions for an Arc A750. Same support than v3802, v3975 and v4094. The OpenGL extensions list is available HERE.

GL_RENDERER: Intel(R) Arc(TM) A750 Graphics
GL_VENDOR: Intel
GL_VERSION: 4.6.0 - Build 31.0.101.4090
OpenGL extensions: 265 

Vulkan support
This driver exposes Vulkan 1.3.237 and 121 device extensions for an Arc A750 GPU.
Hehe, Intel has finally updated the maxRayRecursionDepth limit. In previous drivers, it was set to 4294967295 (read: no limit!) but actually there is a limit: 256. maxRayRecursionDepth is 1 for Radeon GPUs, and is 32 for NVIDIA GPUs…
GPU Shark 2 report for the Arc A750:

- Device 1
  - name: Intel(R) Arc(TM) A750 Graphics
  - device type: VK_PHYSICAL_DEVICE_TYPE_DISCRETE_GPU
  - device ID: 8086-56A1
  - API version: 1.3.237

  - VK_KHR_ray_tracing_pipeline information:
    - shaderGroupHandleSize: 32
    - maxRayRecursionDepth: 256
    - maxShaderGroupStride: 4294967295
    - shaderGroupBaseAlignment: 32
    - shaderGroupHandleCaptureReplaySize: 8
    - maxRayDispatchInvocationCount: 4294967295
    - shaderGroupHandleAlignment: 32
    - maxRayHitAttributeSize: 32
    - maxRayDispatchInvocationCount: 4294967295

  - VK_KHR_acceleration_structure information:
    - maxGeometryCount: 4294967295
    - maxInstanceCount: 16777215
    - maxPrimitiveCount: 4294967295

  - VK_KHR_driver_properties information:
    - driverName: Intel Corporation
    - driverID_str: VK_DRIVER_ID_INTEL_PROPRIETARY_WINDOWS_KHR
    - driverID: 5
    - conformanceVersion: 1.3.1.3
    - driverInfo: Intel driver

  - # of extensions: 121
  - VK_EXT_full_screen_exclusive
  - VK_KHR_swapchain
  - VK_KHR_external_memory
  - VK_KHR_external_memory_win32
  - VK_EXT_external_memory_host
  - VK_KHR_external_semaphore
  - VK_KHR_external_semaphore_win32
  - VK_KHR_external_fence
  - VK_KHR_external_fence_win32
  - VK_KHR_timeline_semaphore
  - VK_KHR_win32_keyed_mutex
  - VK_KHR_get_memory_requirements2
  - VK_KHR_bind_memory2
  - VK_KHR_dedicated_allocation
  - VK_KHR_sampler_mirror_clamp_to_edge
  - VK_KHR_maintenance1
  - VK_KHR_maintenance2
  - VK_KHR_maintenance3
  - VK_KHR_maintenance4
  - VK_KHR_synchronization2
  - VK_KHR_shader_draw_parameters
  - VK_KHR_push_descriptor
  - VK_KHR_descriptor_update_template
  - VK_KHR_multiview
  - VK_KHR_shader_float16_int8
  - VK_KHR_shader_float_controls
  - VK_KHR_16bit_storage
  - VK_KHR_8bit_storage
  - VK_EXT_shader_subgroup_ballot
  - VK_EXT_shader_subgroup_vote
  - VK_KHR_storage_buffer_storage_class
  - VK_KHR_variable_pointers
  - VK_KHR_relaxed_block_layout
  - VK_EXT_sampler_filter_minmax
  - VK_KHR_device_group
  - VK_EXT_ycbcr_2plane_444_formats
  - VK_EXT_4444_formats
  - VK_EXT_post_depth_coverage
  - VK_EXT_shader_viewport_index_layer
  - VK_EXT_shader_stencil_export
  - VK_EXT_conservative_rasterization
  - VK_EXT_sample_locations
  - VK_KHR_draw_indirect_count
  - VK_EXT_multi_draw
  - VK_KHR_image_format_list
  - VK_EXT_image_view_min_lod
  - VK_EXT_vertex_attribute_divisor
  - VK_EXT_descriptor_indexing
  - VK_EXT_inline_uniform_block
  - VK_KHR_create_renderpass2
  - VK_KHR_dynamic_rendering
  - VK_KHR_swapchain_mutable_format
  - VK_KHR_depth_stencil_resolve
  - VK_KHR_driver_properties
  - VK_KHR_vulkan_memory_model
  - VK_EXT_conditional_rendering
  - VK_EXT_hdr_metadata
  - VK_KHR_fragment_shading_rate
  - VK_EXT_depth_clip_enable
  - VK_EXT_depth_clip_control
  - VK_EXT_scalar_block_layout
  - VK_KHR_imageless_framebuffer
  - VK_KHR_buffer_device_address
  - VK_EXT_buffer_device_address
  - VK_KHR_ray_tracing_pipeline
  - VK_KHR_acceleration_structure
  - VK_KHR_ray_query
  - VK_KHR_pipeline_library
  - VK_KHR_deferred_host_operations
  - VK_EXT_host_query_reset
  - VK_KHR_performance_query
  - VK_NV_device_diagnostic_checkpoints
  - VK_KHR_separate_depth_stencil_layouts
  - VK_KHR_shader_clock
  - VK_KHR_spirv_1_4
  - VK_KHR_uniform_buffer_standard_layout
  - VK_EXT_separate_stencil_usage
  - VK_EXT_fragment_shader_interlock
  - VK_EXT_index_type_uint8
  - VK_EXT_primitive_topology_list_restart
  - VK_KHR_shader_subgroup_extended_types
  - VK_EXT_line_rasterization
  - VK_EXT_memory_budget
  - VK_EXT_memory_priority
  - VK_EXT_pageable_device_local_memory
  - VK_EXT_texel_buffer_alignment
  - VK_INTEL_performance_query
  - VK_EXT_subgroup_size_control
  - VK_EXT_shader_demote_to_helper_invocation
  - VK_EXT_pipeline_creation_feedback
  - VK_EXT_pipeline_creation_cache_control
  - VK_KHR_pipeline_executable_properties
  - VK_EXT_transform_feedback
  - VK_EXT_provoking_vertex
  - VK_EXT_extended_dynamic_state
  - VK_EXT_extended_dynamic_state2
  - VK_EXT_vertex_input_dynamic_state
  - VK_EXT_custom_border_color
  - VK_EXT_robustness2
  - VK_EXT_image_robustness
  - VK_EXT_pipeline_robustness
  - VK_EXT_calibrated_timestamps
  - VK_KHR_shader_integer_dot_product
  - VK_KHR_shader_subgroup_uniform_control_flow
  - VK_KHR_shader_terminate_invocation
  - VK_KHR_workgroup_memory_explicit_layout
  - VK_EXT_shader_atomic_float
  - VK_KHR_copy_commands2
  - VK_KHR_shader_non_semantic_info
  - VK_KHR_zero_initialize_workgroup_memory
  - VK_EXT_shader_atomic_float2
  - VK_EXT_global_priority
  - VK_EXT_global_priority_query
  - VK_KHR_global_priority
  - VK_KHR_format_feature_flags2
  - VK_EXT_color_write_enable
  - VK_NV_compute_shader_derivatives
  - VK_EXT_private_data
  - VK_EXT_image_2d_view_of_3d
  - VK_EXT_primitives_generated_query
  - VK_EXT_shader_module_identifier

  - # of layers: 0

  - # of memory heaps: 3
  - heap 1: 7840 MB
  - heap 2: 8062 MB
  - heap 3: 256 MB

  - # of features: 55
  - robustBufferAccess:  YES
  - fullDrawIndexUint32:  YES
  - imageCubeArray:  YES
  - independentBlend:  YES
  - geometryShader:  YES
  - tessellationShader:  YES
  - sampleRateShading:  YES
  - dualSrcBlend:  YES
  - logicOp:  YES
  - multiDrawIndirect:  YES
  - drawIndirectFirstInstance:  YES
  - depthClamp:  YES
  - depthBiasClamp:  YES
  - fillModeNonSolid:  YES
  - depthBounds:  YES
  - wideLines:  YES
  - largePoints:  YES
  - alphaToOne:  YES
  - multiViewport:  YES
  - samplerAnisotropy:  YES
  - textureCompressionETC2:  YES
  - textureCompressionASTC_LDR:  NO
  - textureCompressionBC:  YES
  - occlusionQueryPrecise:  YES
  - pipelineStatisticsQuery:  YES
  - vertexPipelineStoresAndAtomics:  YES
  - fragmentStoresAndAtomics:  YES
  - shaderTessellationAndGeometryPointSize:  YES
  - shaderImageGatherExtended:  YES
  - shaderStorageImageExtendedFormats:  YES
  - shaderStorageImageMultisample:  NO
  - shaderStorageImageReadWithoutFormat:  YES
  - shaderStorageImageWriteWithoutFormat:  YES
  - shaderUniformBufferArrayDynamicIndexing:  YES
  - shaderSampledImageArrayDynamicIndexing:  YES
  - shaderStorageBufferArrayDynamicIndexing:  YES
  - shaderStorageImageArrayDynamicIndexing:  YES
  - shaderClipDistance:  YES
  - shaderCullDistance:  YES
  - shaderFloat64:  NO
  - shaderInt64:  NO
  - shaderInt16:  YES
  - shaderResourceResidency:  YES
  - shaderResourceMinLod:  NO
  - sparseBinding:  YES
  - sparseResidencyBuffer:  YES
  - sparseResidencyImage2D:  YES
  - sparseResidencyImage3D:  YES
  - sparseResidency2Samples:  YES
  - sparseResidency4Samples:  YES
  - sparseResidency8Samples:  NO
  - sparseResidency16Samples:  NO
  - sparseResidencyAliased:  YES
  - variableMultisampleRate:  YES
  - inheritedQueries:  YES

  - # of hardware limits: 106
    - maxImageDimension1D: 16384
    - maxImageDimension2D: 16384
    - maxImageDimension3D: 2048
    - maxImageDimensionCube: 16384
    - maxImageArrayLayers: 2048
    - maxTexelBufferElements: 134217728
    - maxUniformBufferRange: 134217724
    - maxStorageBufferRange: 1073741820
    - maxPushConstantsSize: 256
    - maxMemoryAllocationCount: 2193590
    - maxSamplerAllocationCount: 4000
    - bufferImageGranularity: 1
    - sparseAddressSpaceSize: 17523466567680
    - maxBoundDescriptorSets: 32
    - maxPerStageDescriptorSamplers: 67107840
    - maxSamplerAllocationCount: 67107840
    - maxPerStageDescriptorStorageBuffers: 67107840
    - maxPerStageDescriptorSampledImages: 67107840
    - maxPerStageDescriptorStorageImages: 67107840
    - maxPerStageDescriptorInputAttachments: 7
    - maxPerStageResources: 67107840
    - maxDescriptorSetSamplers: 67107840
    - maxDescriptorSetUniformBuffers: 67107840
    - maxDescriptorSetUniformBuffersDynamic: 16
    - maxDescriptorSetStorageBuffers: 67107840
    - maxDescriptorSetStorageBuffersDynamic: 16
    - maxDescriptorSetSampledImages: 67107840
    - maxDescriptorSetStorageImages: 67107840
    - maxDescriptorSetInputAttachments: 7
    - maxVertexInputAttributes: 32
    - maxVertexInputBindings: 32
    - maxVertexInputAttributeOffset: 2047
    - maxVertexInputBindingStride: 4095
    - maxVertexOutputComponents: 128
    - maxTessellationGenerationLevel: 64
    - maxTessellationPatchSize: 32
    - maxTessellationControlPerVertexInputComponents: 128
    - maxTessellationControlPerVertexOutputComponents: 128
    - maxTessellationControlPerPatchOutputComponents: 120
    - maxTessellationControlTotalOutputComponents: 4096
    - maxTessellationEvaluationInputComponents: 128
    - maxTessellationEvaluationOutputComponents: 128
    - maxGeometryShaderInvocations: 32
    - maxGeometryInputComponents: 128
    - maxGeometryOutputComponents: 128
    - maxGeometryOutputVertices: 256
    - maxGeometryTotalOutputComponents: 1024
    - maxFragmentInputComponents: 128
    - maxFragmentOutputAttachments: 8
    - maxFragmentDualSrcAttachments: 1
    - maxFragmentCombinedOutputResources: 67107848
    - maxComputeSharedMemorySize: 32768
    - maxComputeSharedMemorySize: 65536 x 65536 x 65536
    - maxComputeWorkGroupInvocations: 1024
    - maxComputeWorkGroupSize: 1024 x 1024 x 64
    - subPixelPrecisionBits: 8
    - subTexelPrecisionBits: 8
    - mipmapPrecisionBits: 8
    - maxDrawIndexedIndexValue: 4294967295
    - maxDrawIndirectCount: 4294967295
    - maxSamplerLodBias: 16.000000
    - maxSamplerAnisotropy: 16.000000
    - maxViewports: 16
    - maxViewportDimensions: 32768 x 32768
    - viewportBoundsRange: -65536.000000 x 65535.000000
    - viewportSubPixelBits: 8
    - minMemoryMapAlignment: 64
    - minTexelBufferOffsetAlignment: 64
    - minUniformBufferOffsetAlignment: 64
    - minStorageBufferOffsetAlignment: 64
    - minTexelOffset: -8
    - maxTexelOffset: 7
    - minTexelGatherOffset: -32
    - maxTexelGatherOffset: 31
    - minInterpolationOffset: -0.500000
    - maxInterpolationOffset: 0.437500
    - subPixelInterpolationOffsetBits: 4
    - maxFramebufferWidth: 16384
    - maxFramebufferHeight: 16384
    - maxFramebufferLayers: 2048
    - framebufferColorSampleCounts: 31
    - framebufferDepthSampleCounts: 31
    - framebufferStencilSampleCounts: 31
    - framebufferNoAttachmentsSampleCounts: 31
    - maxColorAttachments: 8
    - sampledImageColorSampleCounts: 31
    - sampledImageIntegerSampleCounts: 31
    - sampledImageDepthSampleCounts: 31
    - sampledImageStencilSampleCounts: 31
    - storageImageSampleCounts: 1
    - maxSampleMaskWords: 1
    - timestampComputeAndGraphics: 1
    - timestampPeriod: 52.083332
    - maxClipDistances: 8
    - maxCullDistances: 8
    - maxCombinedClipAndCullDistances: 8
    - discreteQueuePriorities: 2
    - pointSizeRange: 0.125000 x 255.875000
    - lineWidthRange: 0.000000 x 7.992188
    - pointSizeGranularity: 0.125000
    - lineWidthGranularity: 0.007812
    - strictLines: 0
    - standardSampleLocations: 1
    - optimalBufferCopyOffsetAlignment: 64
    - optimalBufferCopyRowPitchAlignment: 64
    - nonCoherentAtomSize: 1