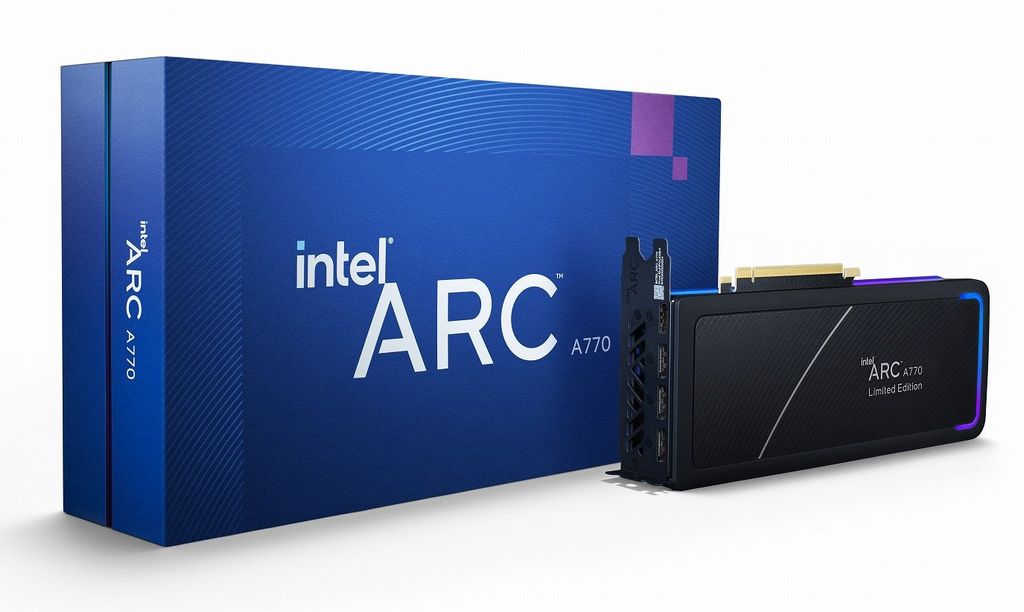 Like the 13th Gen Core CPUs, the Arc A770 graphics card has been announced at the Intel Innovation 2022 event.
The Arc A770 targets NVIDIA's GeForce RTX 3060. The A770, based on the Xe HPG architecture (codename: DG2-512), has 32 Xe cores or in the regular terminology, 4096 shader cores (one Xe core = 128 EUs, one EU = 128 ALUs or shader cores), 32 ray tracing units and is clocked at 2100 MHz. The TBP (Total Board Power) is 225W which is a little bit more than a GeForce RTX 2080 (215W). The A770 embarks 16GB of GDDR6 memory with a 256-bit memory bus.
Here some performance comparison between the Arc A770 and the RTX 3060 (1080p resolution) done by Intel:

The full specifications of the Arc A770 are available HERE.
The Arc A770 is priced at USD $329 and will be worldwide available on October 12 2020.
Intel XeSS Super Sampling SDK
Intel has also released the XeSS SDK for graphics developers:
Intel(R) Xe Super Sampling (XeSS) enables an innovative framerate boosting technology supported by Intel(R) Arc(TM) graphics cards and other GPU vendors. Using AI deep-learning to perform upscaling, XeSS offers higher framerates without degrading the image.
The XeSS SDK is available HERE. More information about XeSS is available HERE