Article index
1 – Overview
I'm testing today a NAS that TerraMaster sent me few days ago. TerraMaster is a professional storage brand specializing in the research and development for storage devices: NAS (Network Attached Storage) and DAS (Direct Attached Storage).
I use a NAS nearly every day for my backups and for exchanging files between my Windows, Linux, Raspberry Pi OS and macOS boxes. A NAS is the perfect solution for that case: I just need to install FileZilla on the different OSes and I'm ready to exchange files between all machines in my local network.
The TerraMaster F2-423 is a new 2-bay NAS designed for small and medium business who need high-performance storage solutions.
The F2-423 comes with an Intel Celeron N5105 (JasperLake), a quad-core CPU (4C/4T) with a TDP of 10W that includes an UHD Graphics GPU with 24 UEs (or 192 shader units). The NAS embarks 4GB DDR4 of system memory (up to 32GB if needed) and is equipped with two 2.5Gbps ethernet ports (that allow up to 5Gbps via link aggregation. The mainboard has two M.2 NVMe slots for high speed SSD caching. The NAS has also two USB 3.2 ports and one HDMI output.
The TerraMaster F2-423 has a lot of features and if you want a more detailed description of its features, just visit the F2-423 homepage.
2 – Gallery
The bundle: the F2-423 case, a power supply unit, an RJ45 cable (cat6), and some stickers for labelling your storage units: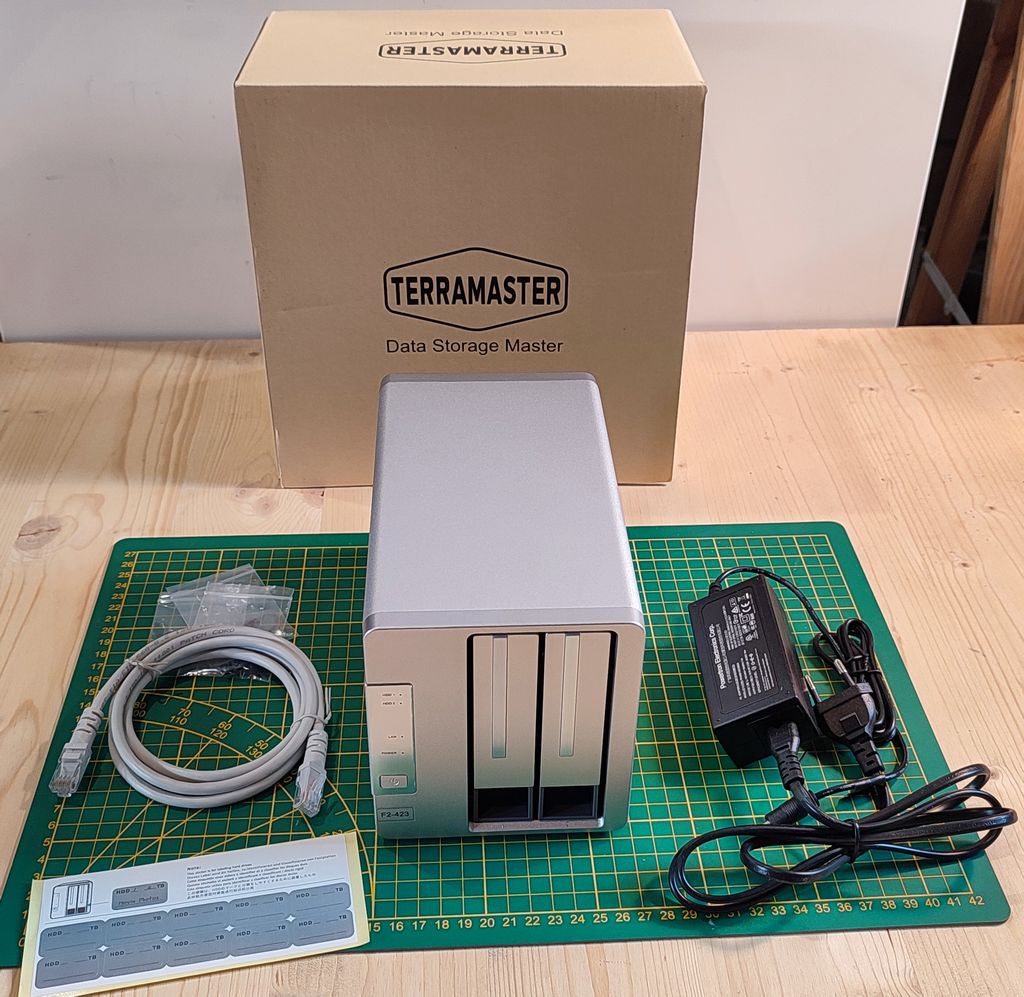 Stickers are useless if the NAS is configured in RAID 0 or RAID 1. RAID 1 is even the default configuration.
The F2-423 case with its two bays:


The front face with the power on button: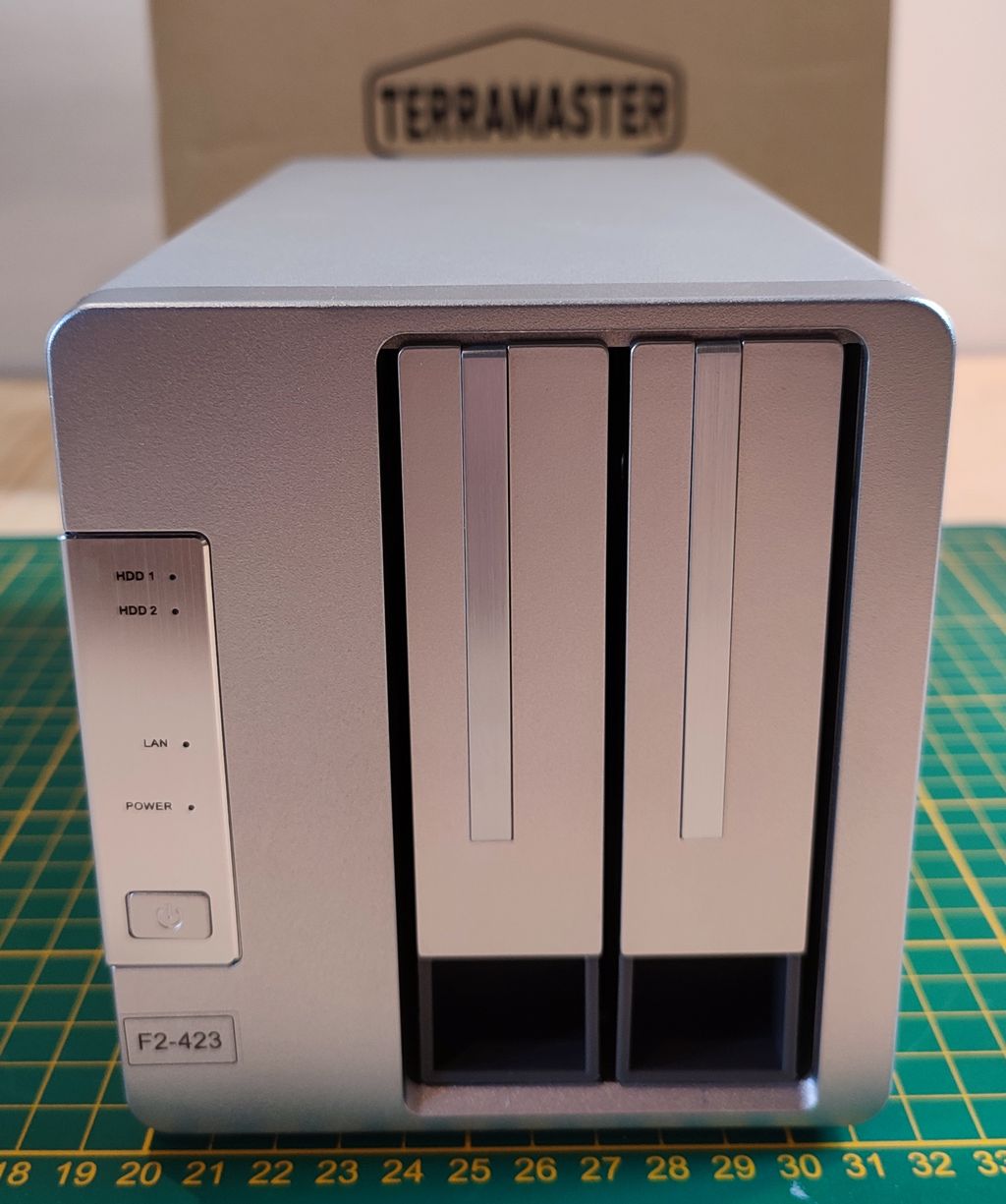 The back face with the power supply connector, two 2.5Gbps RJ45 ports, two USB 3.2 ports, one HDMI output and the cooling fan: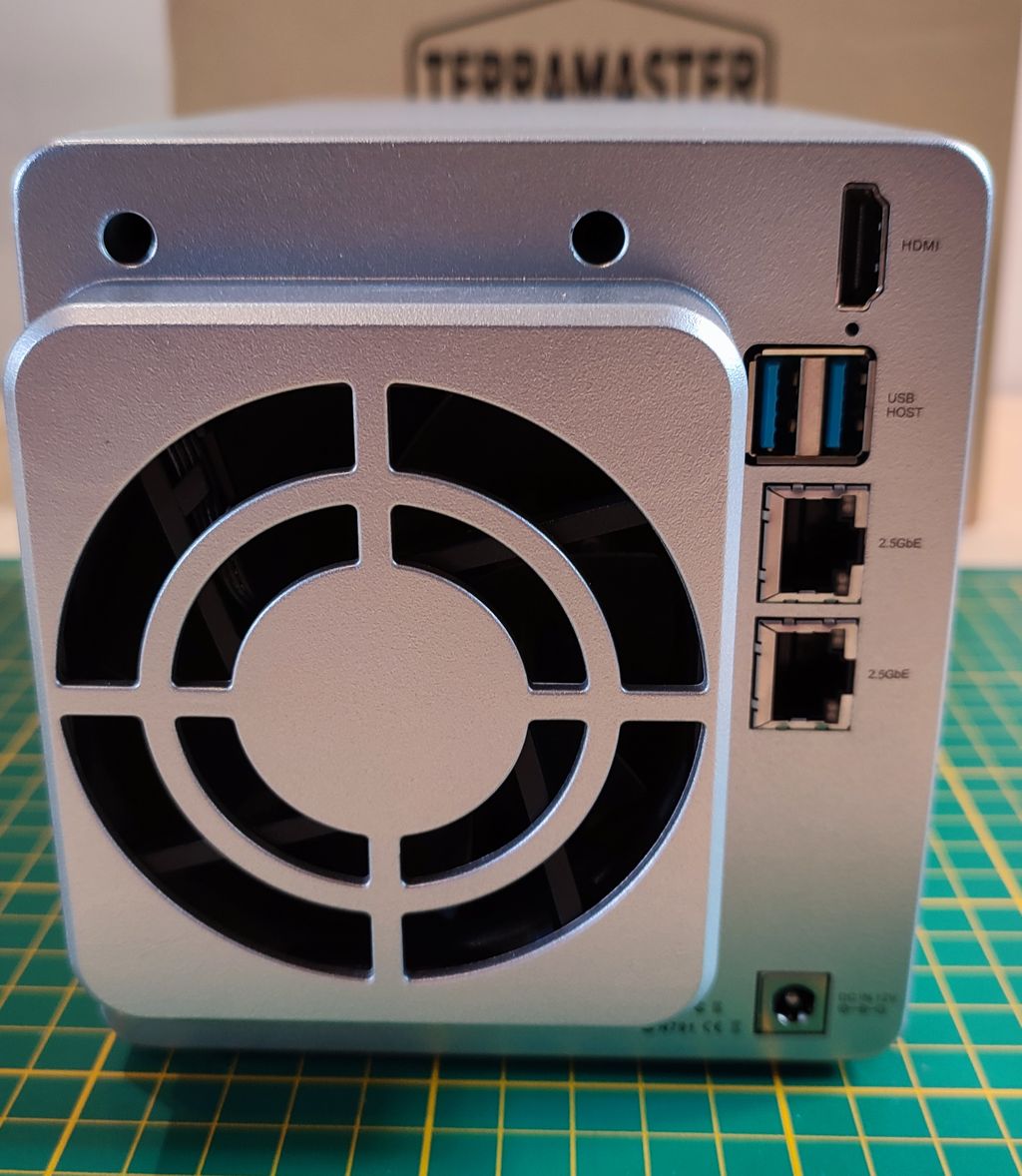 A word on the HDMI connector: it's weird, but it looks like that it's a fake connector. It's totally useless. I connected a full-HD monitor on this HDMI port, hoping to see something but the only thing I saw was a black screen. I tried to find an hardware or software switch somewhere, without success. I will ask later TerraMaster about that HDMI output.
---
Update (2022.07.22)
TerraMaster told me that the HDMI port is essentially for displaying software commands like on the following screenshot:

So no HDMI for video playing…
---

The F2-423 is barely audible: the fan is quiet.
The bays: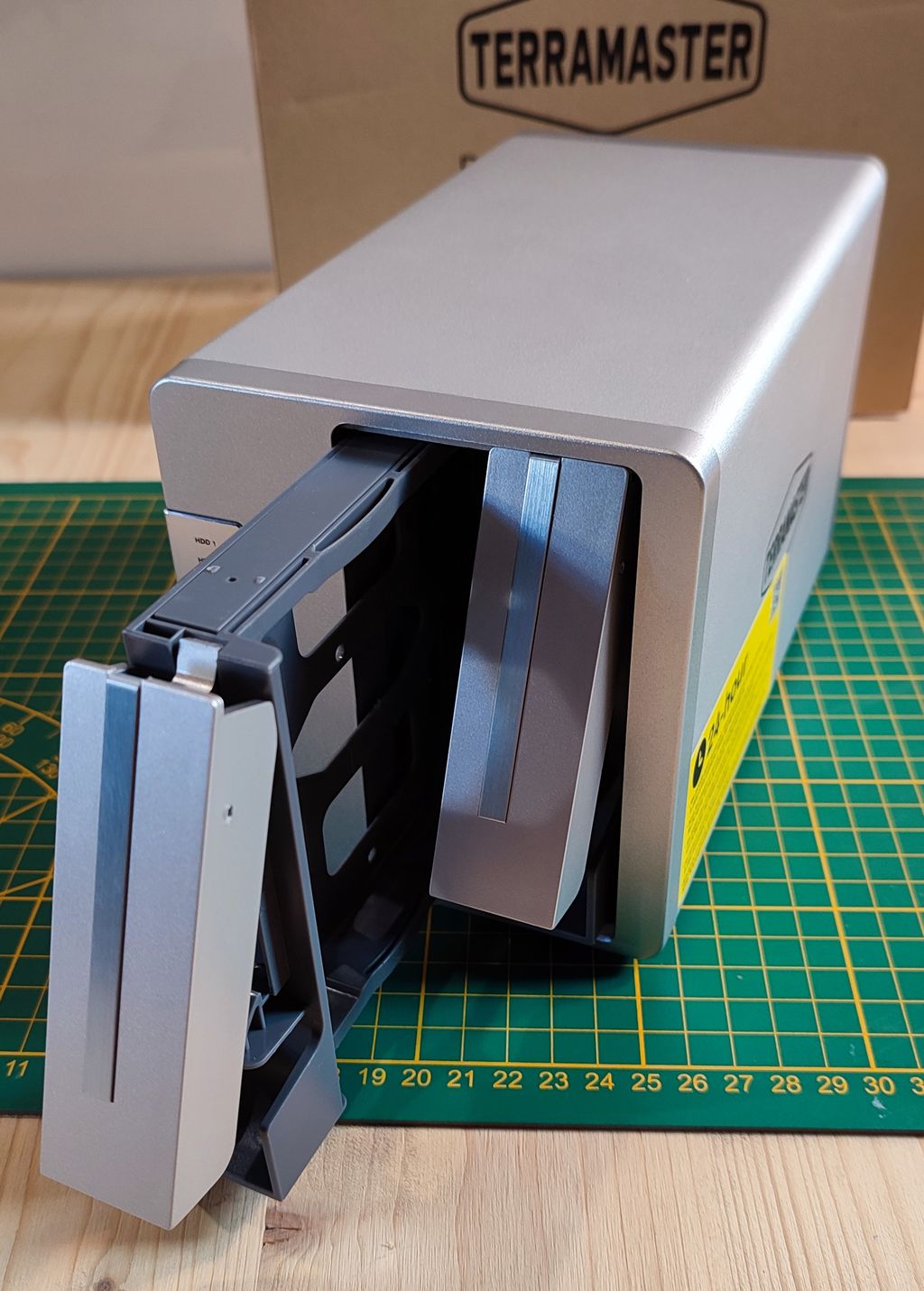 Plastic racks: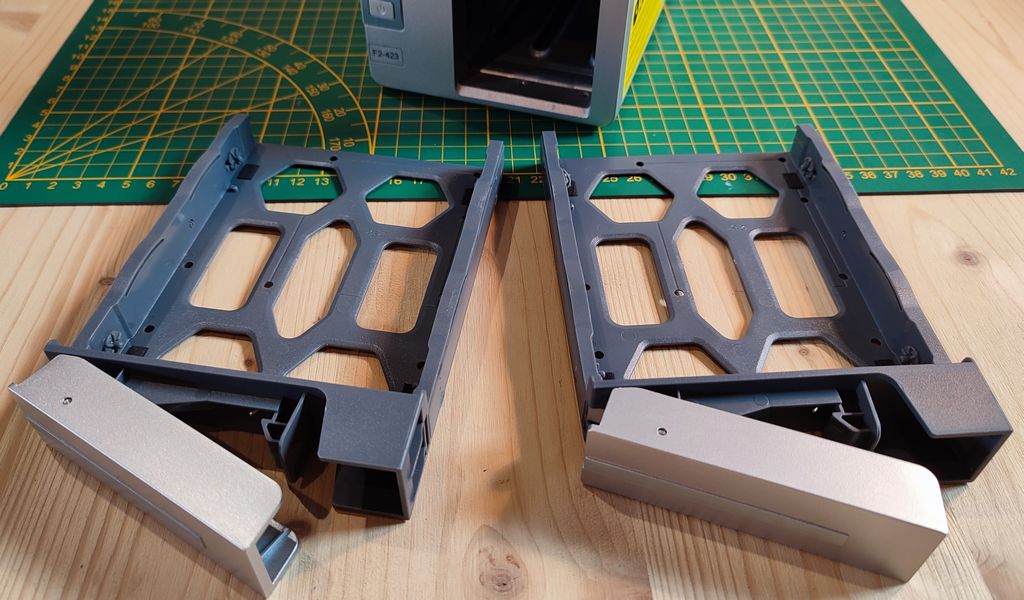 The disassemble the NAS, just remove four screws: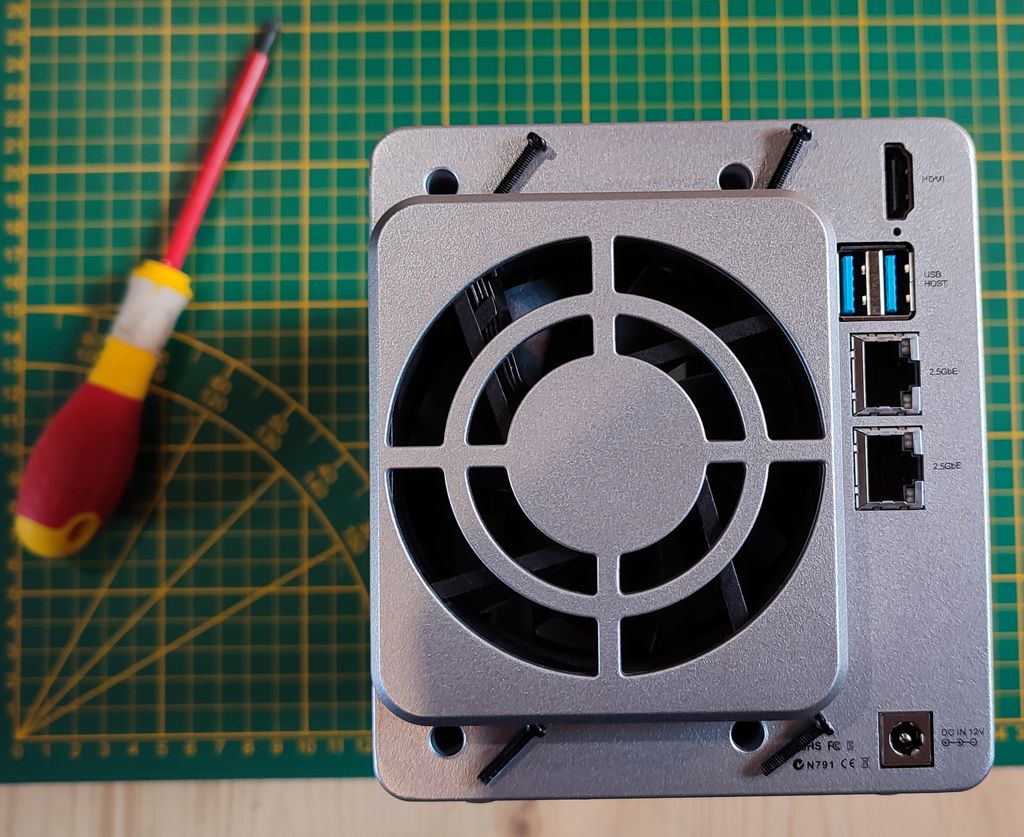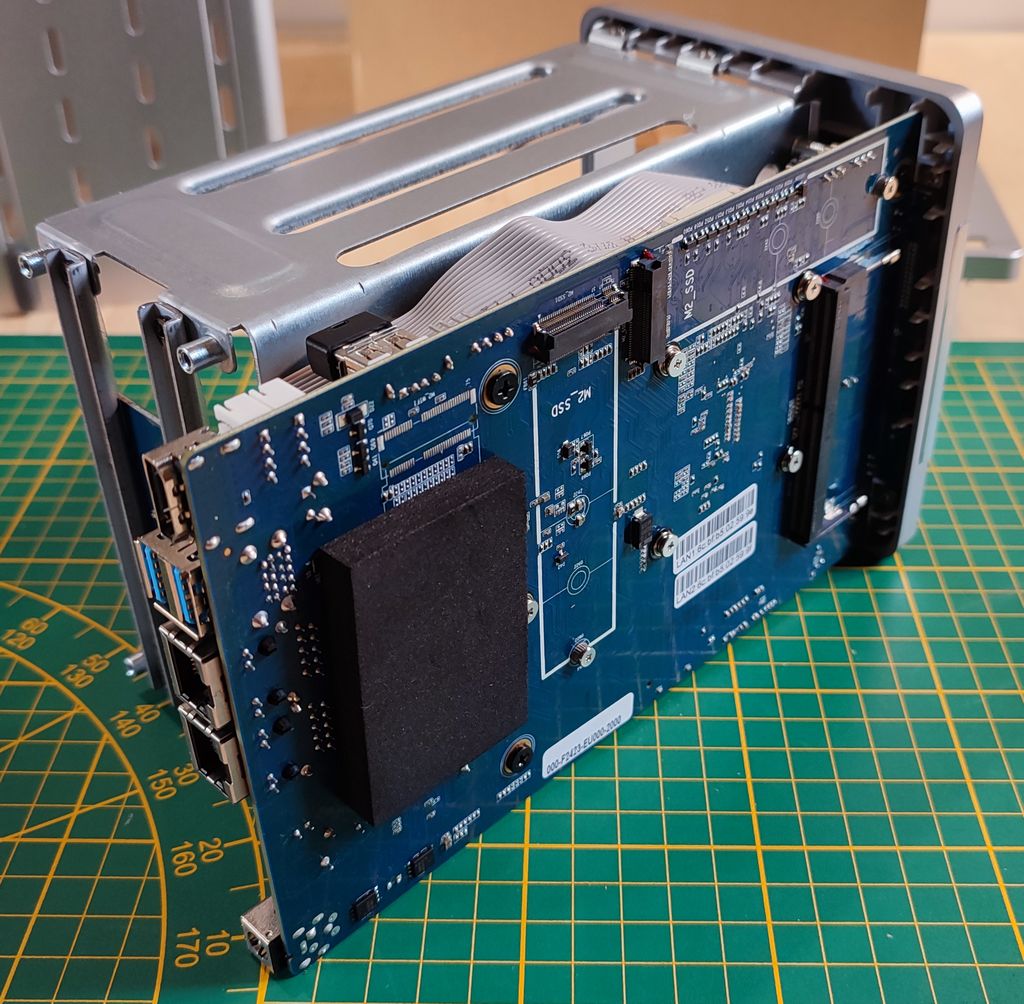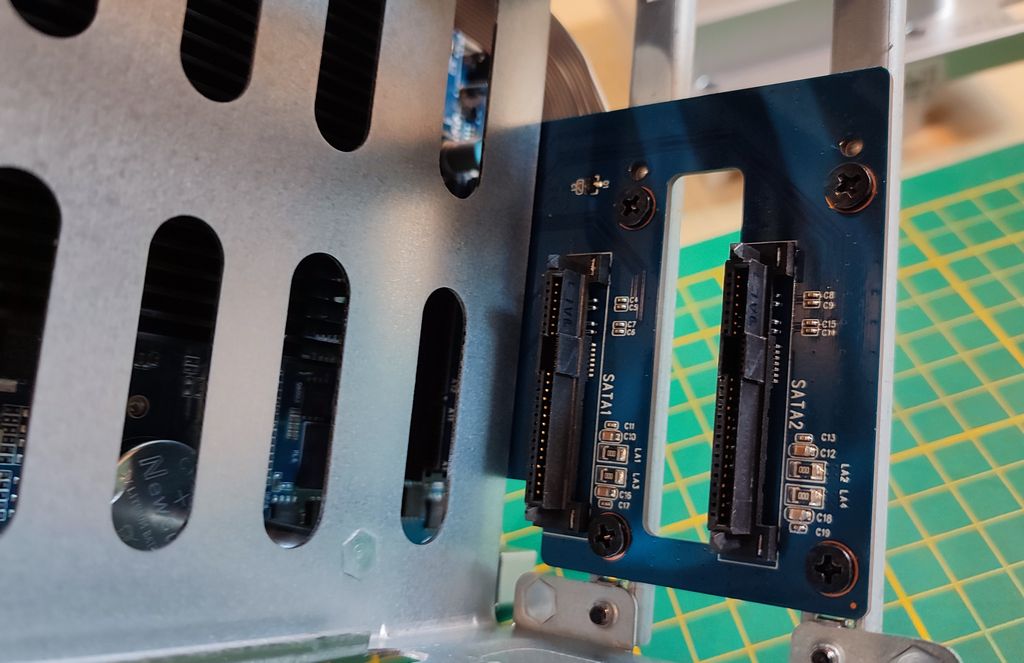 On this picture, you can see two NVMe M.2 slots for SSD caching and one slot for an additional memory module: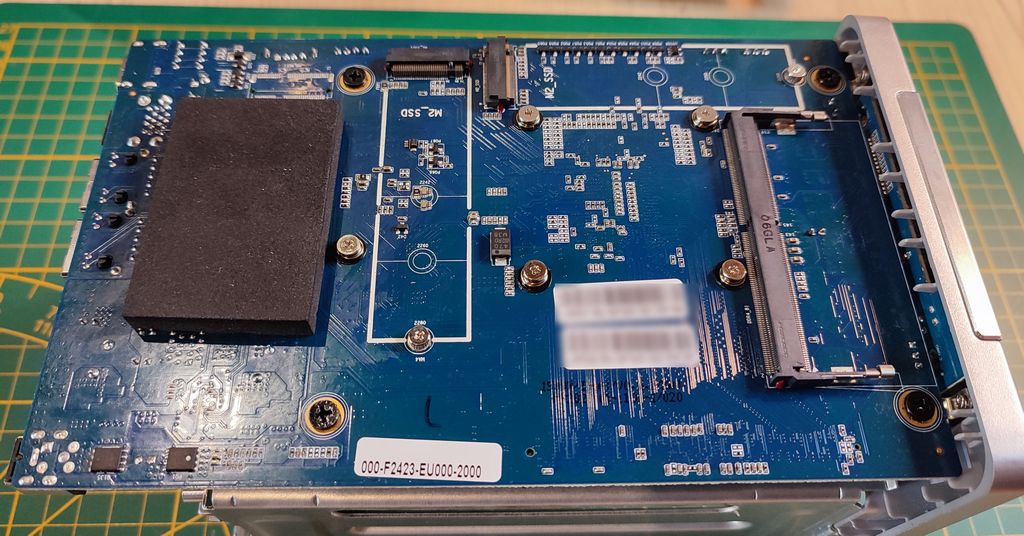 I will update this review later by adding two M.2 units…
Mounting a HDD is really simple, no screwdriver is required: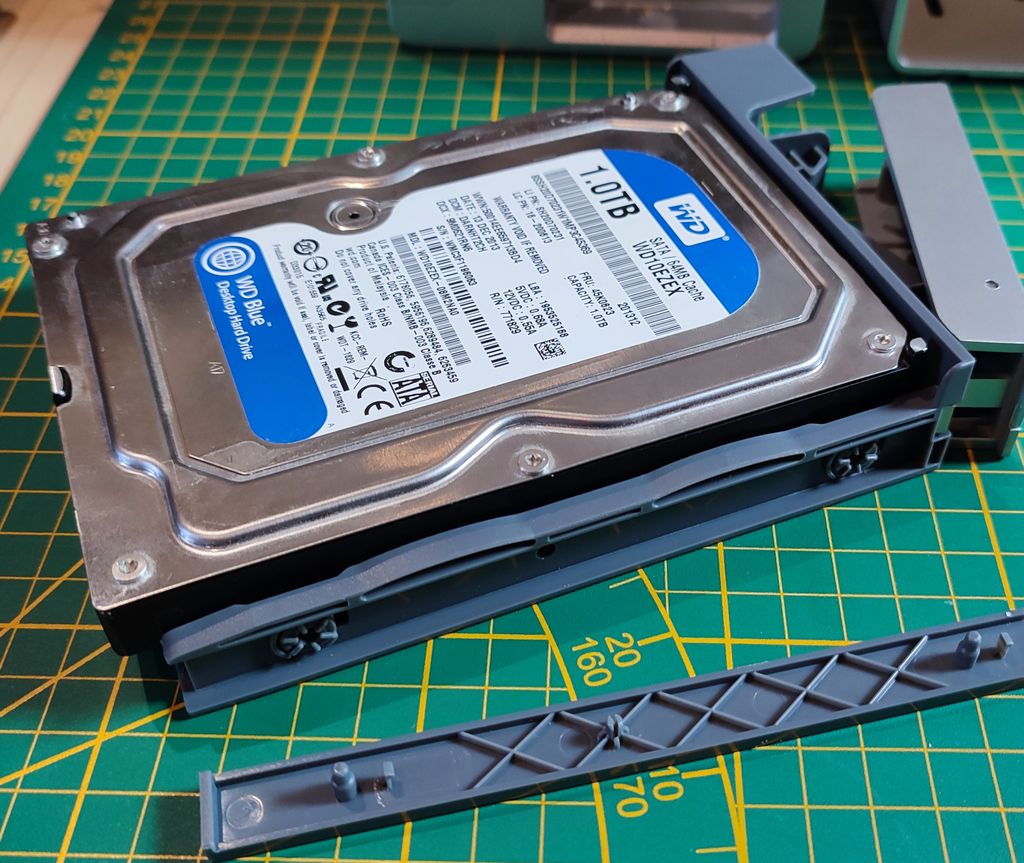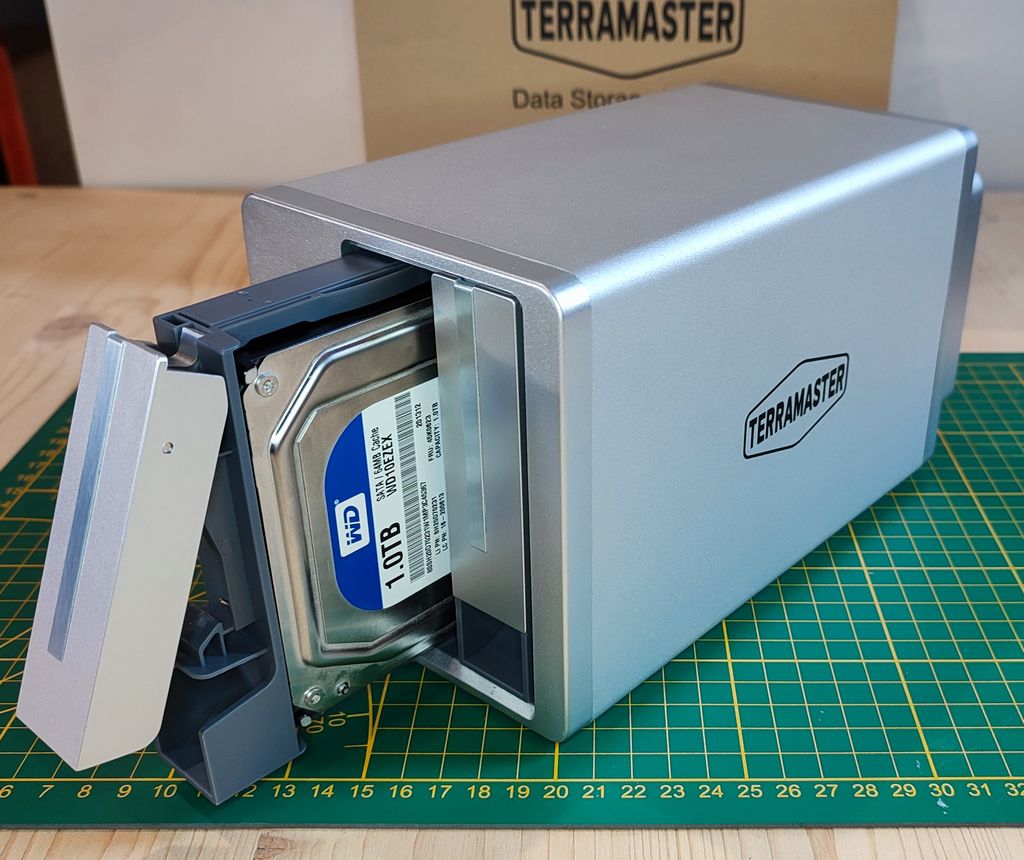 I took two old HDDs 1TB for this review but I will update it shortly with two WD Red Plus 4TB disks…
3 – First boot and Configuration
Let's look at the interesting things. I connected the NAS to my LAN and turned it on. After one or two minutes, I scanned my LAN with Nmap and found the NAS IP address: 192.168.1.14. I entered this IP in firefox and I saw the following screen:

Next interesting screen is this one: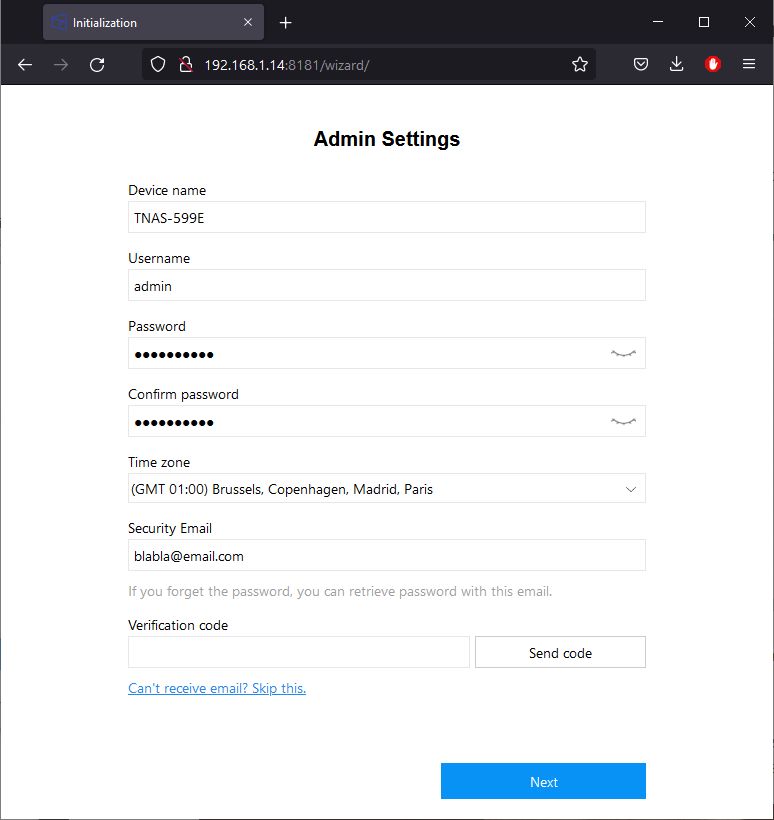 Email address is optional (just write any email) if you click on the Skip this link.
Next step is the RAID 1 (mirror) formatting (RAID 1 is the default RAID configuration).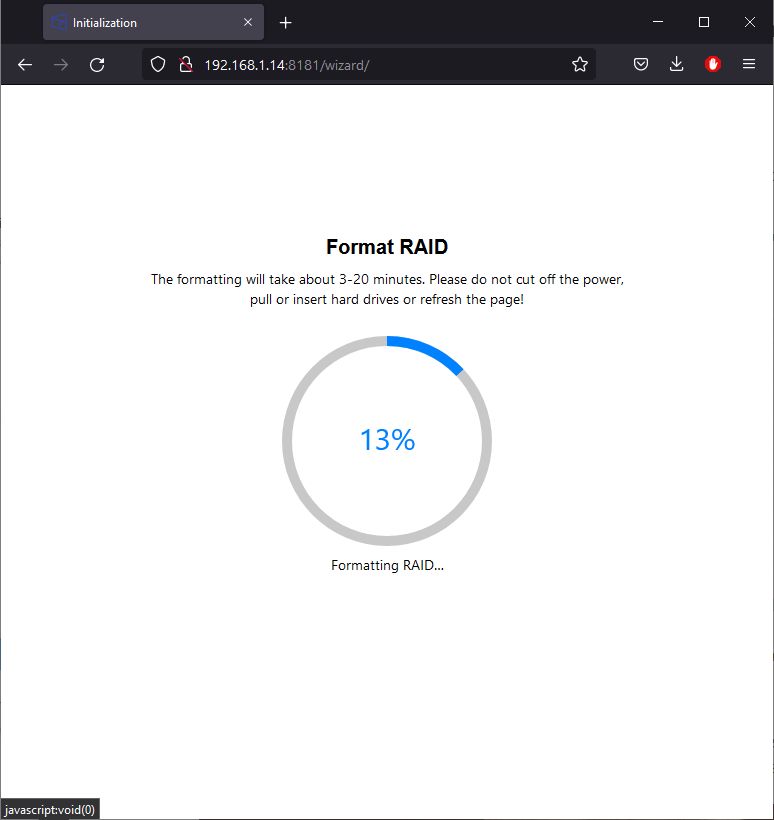 If the formatting went good, you should see:

The login screen:

and the overview of the desktop:

The F2-423 is shipped with TOS 4.2.39. TerraMaster has recently released the TOS 5.0, a major update of TOS:
TOS 5 is designed for professional users. Not only have the storage structure and data interaction mode been reconstructed but also, compared with the previous generation, it adds more than 50 features and 600 improvements. The new features meet more business requirements, as well as significantly improving response speed, security, and ease of use.
So before going further in the tests, I installed the latest TOS 5.0.125. Just download this file on your Windows (or Linux) box. The TOS update procedure will ask you for the location later.
To update the TOS, you have to do a Factory Reset: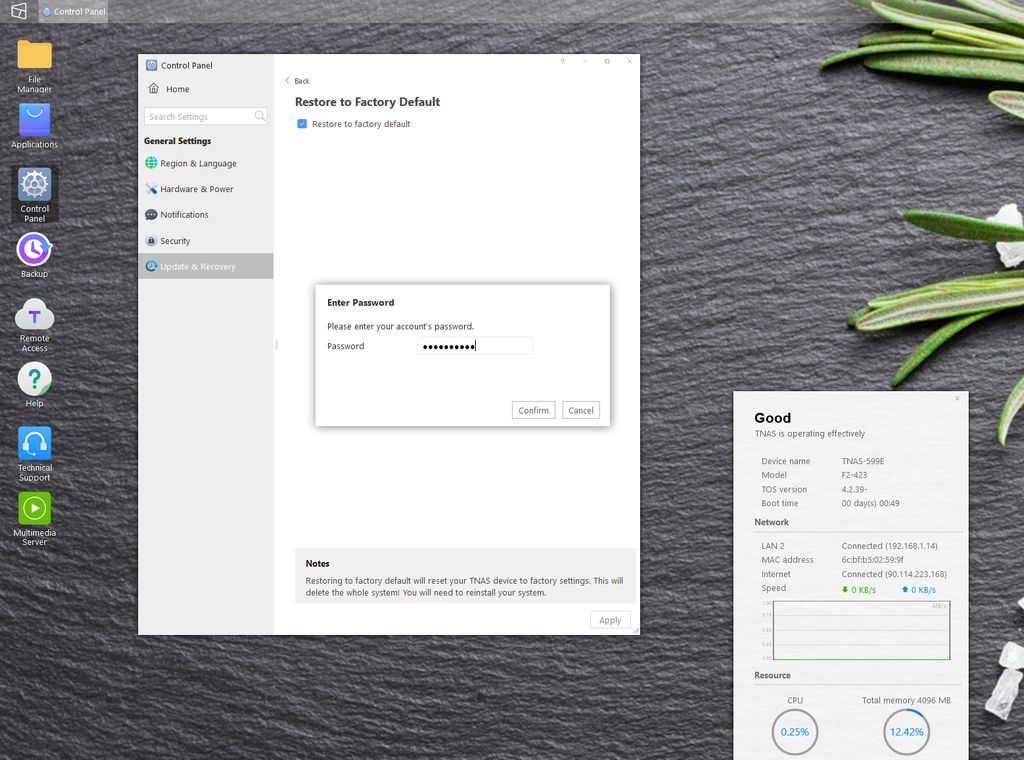 But don't panic, data on HDDs are not deleted, the update procedure does not touch your precious data!
You can start the installation of the new TOS with a manual installation and by browsing your computer for the TOS 5 image file: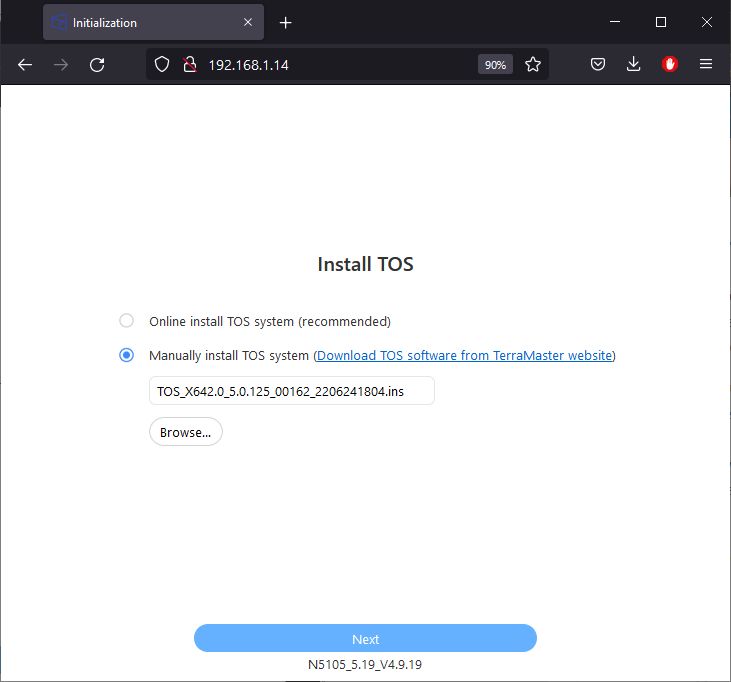 TerraMaster has a quick TOS 5.0 Installation Guide HERE.

The real update process: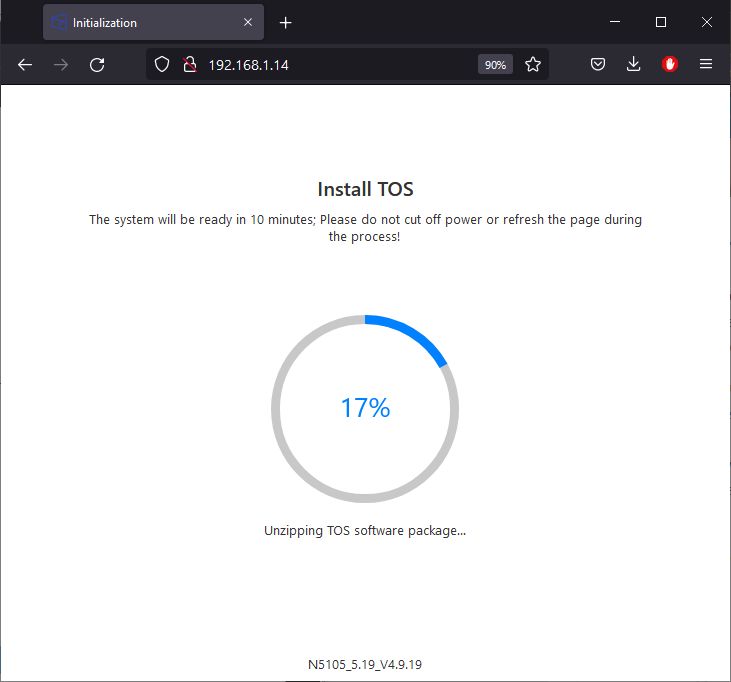 After the reboot, TOS will ask you to create a new superuser with admin rights. This step is important because you will use this new name / password will be used for the login.
Here we are, TOS 5.0 is there! But there is a new update available: TOS 5.0.129:


After this second update, here is the TOS 5.0 login:

The TOS 5.0 desktop:


The storage pool:


Hardware monitoring:


The FTP service (important with FileZilla):


TOS 5.0.129 comes with more than 50 ready-to-install applications: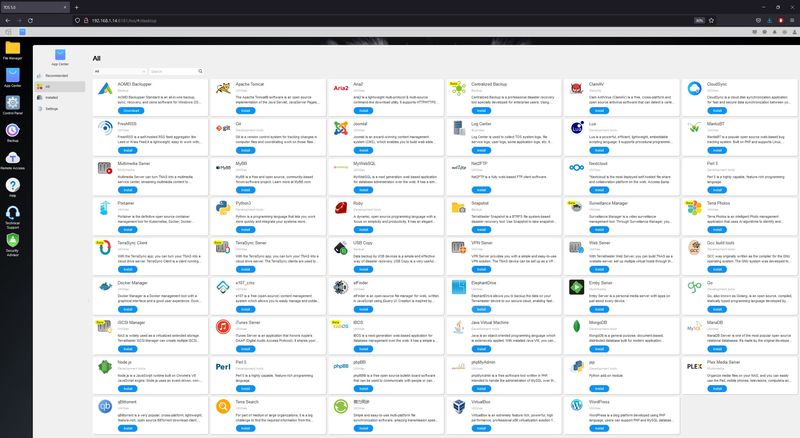 4 – Performance Test
In this last part, we're going to look at the F2-423 performances in upload (PC to NAS).
I did the following benchmark:
– copy of a 11TB single file (a zip file) from my PC to the NAS (gigabit LAN).
– copy of a 955MB folder with 213 .jpg photos from my PC to the NAS (gigabit LAN).
Single 11TB file
F2-423: 1 min 36 sec (at around 112MB/s according to FileZilla)
955MB folder (213 files)
As you can see, the upload at 112MB/sec is fast. In reality, the upload speed is limited (112*8 = 896Mbps which is near 1Gbps) by the current hardware: the 1Gbps switch and my current PC (with 1Gbps ethernet port). I will try to test as soon as possible with a faster switch (2.5Gbps for example) and I will update this article.
5 – Final Words
The TerraMaster F2-423 is a nice 2-bay NAS. The software configuration is easy and everything can be done using a simple web browser (highly appreciated when you have several different OSes in your LAN like Windows, Linux, Raspberry Pi OS or macOS), no need to install specific application on the PC. The hardware installation is simple and the NAS is very quiet in operation. Performance is very good and can be improved by using a 2.5Gbps LAN and by adding 2 NVMe M.2 units for SSD caching. I can't wait to install the final 4TB HDDs and maybe two M.2 units for caching… The F2-423 is my new NAS, highly recommended!