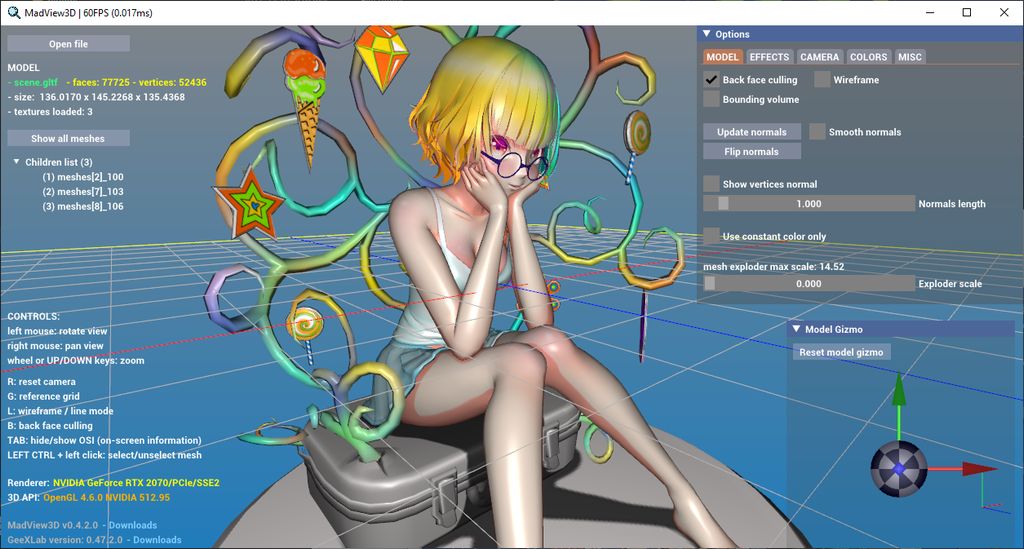 Here is a maintenance release of MadView3D, a free 3D model viewer based on GeeXLab. MadView3D can load many 3D file formats including .3ds, .obj, .glTF, .fbx, etc.
MadView3D 0.4.2 is based on GeeXLab 0.47. For Linux users, MadView3D 0.4.2 is now linked with GLIBC 2.31 (ubuntu 20.04+). The old version with GLIBC 2.23 is still available. The model orientation gizmo is now available on Linux.
Next version 0.5.x will have new features such as PBR rendering for glTF models, some post processing effects (DoF…) and more.
Changelog

Version 0.4.2 - 2022.06.29
+ enabled gizmo manipulator on Linux version.
! Linux version linked with GLIBC 2.31.
! updated Assimp plugin with Assimp 5.2.4.
! updated with GeeXLab 0.47.2.
. maintenance release.