NVIDIA has officially launched today a new entry-level graphics car, based on a Turing GPU, an architecture from the past! The GeForce GTX 1630 is likely the slowest graphics card in current NVIDIA inventory (and maybe the word graphics is not suited to this card…).
The GeForce GTX 1630 features a TU117-150 (12nm) GPU with 512 CUDA cores. The graphics memory is limited to 4GB GDDR5 with a 64-bit memory bus. The TDP is 75W. The price of the GTX 1630 should be around USD $150.
This card is the successor of the GeForce GT 1030 and is in the same segment than the Radeon RX 6400 and the recently launched Intel Arc A380.
GeForce GTX 1630 specifications:
GPU: Turing TU117-150, 12nm, base clock: 1740 MHz, boost clock: 1785 MHz, 4700M transistors
CUDA cores: 512
SMs: 8
Texture units: 32
ROPs: 16
Memory: 4GB GDDR5 @ 1500 MHz real speed, memory interface: 64-bit
TDP: 75W
Power connector: one 6-pin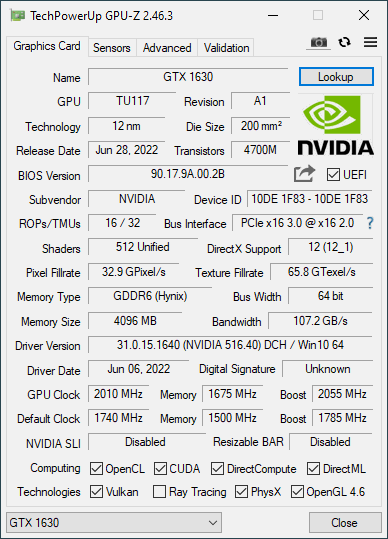 Reviews: