Here is a quick unboxing of ASUS' ROG Strix GeForce RTX 3090 OC 24G, a gaming graphics card based on the Ampere GA102 GPU. Because of the miners and a touch of covid, most RTX 30 graphics cards are incredibly hard (impossible would be a better word) to find and you when you see their current crazy prices (more or less 3000 EUR), unboxing a RTX 3090 is an event (pathetic!).
Main features of the ROG Strix RTX 3090 OC 24G:
– GA102 GPU, base clock: 1395MHz, boost clock: 1860 MHz (Gaming mode)
– factory overclocked GPU boost clock: 1890MHz in OC mode.
– config (core/TMUs/ROPs): 10496 / 328 / 112
– SMs: 82 (128 cores/ SM)
– RT cores: 82
– total board power: 350W
– 2.9 slot design
– metal backplate
– RGB lighting effects
– fans are stopped if GPU temp is lower than 50°C
From top to bottom, the ROG Strix GeForce RTX™ 3090 has been radically improved to accommodate the impressive new Ampere chips from NVIDIA and to deliver the next wave of gaming performance innovation to the market. A fresh design and more metal surrounds a grouping of Axial-tech fans. Last gen's uniform fan layout has been usurped by a new rotation scheme and specialized roles for central and auxiliary fans. Below the blades, a larger, more impressive heatsink is ready for the most demanding thermal loads. The PCB has some new tricks up its sleeves, and even the backplate has received some performance-boosting changes. You've been waiting for the latest and greatest in GPU design – and this is it.
More information about the ROG Strix RTX 3090 OC 24G can be found on the homepage.
The bundle is minimal: the graphics card + some docs + CDROM with drivers and utilities + ROG ruler + ROG Velcro Hook / Loop + collection card.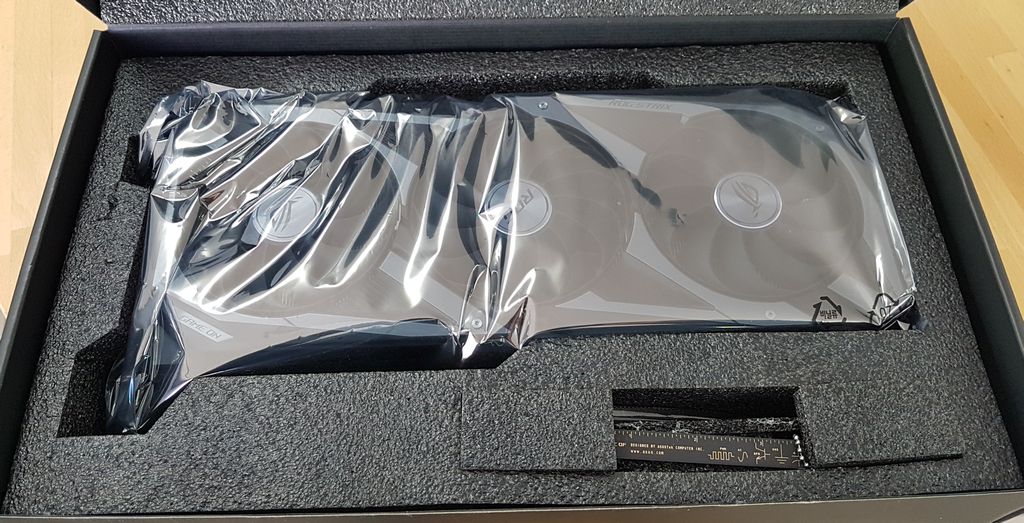 The ROG PCB ruler keychain:


The card: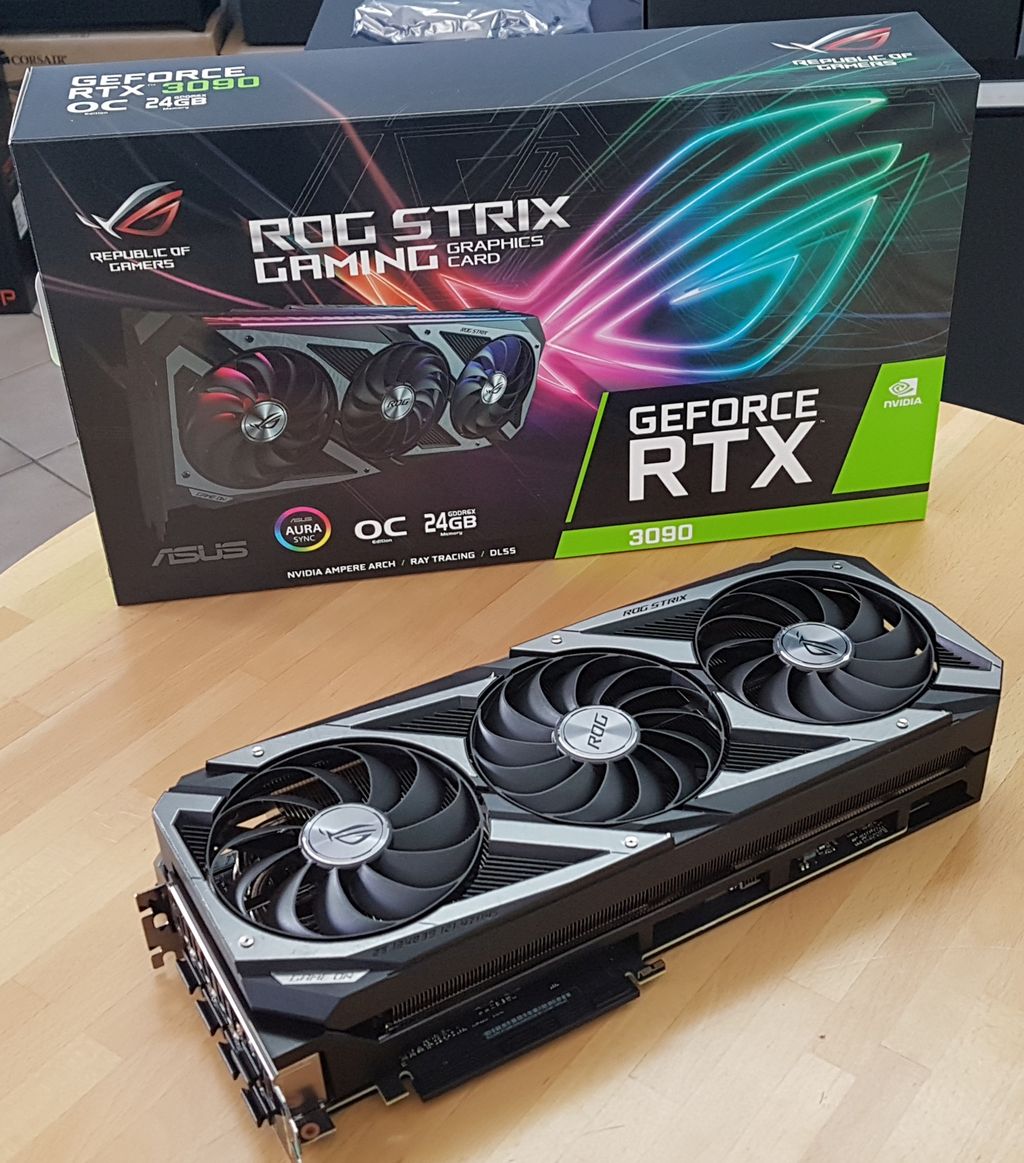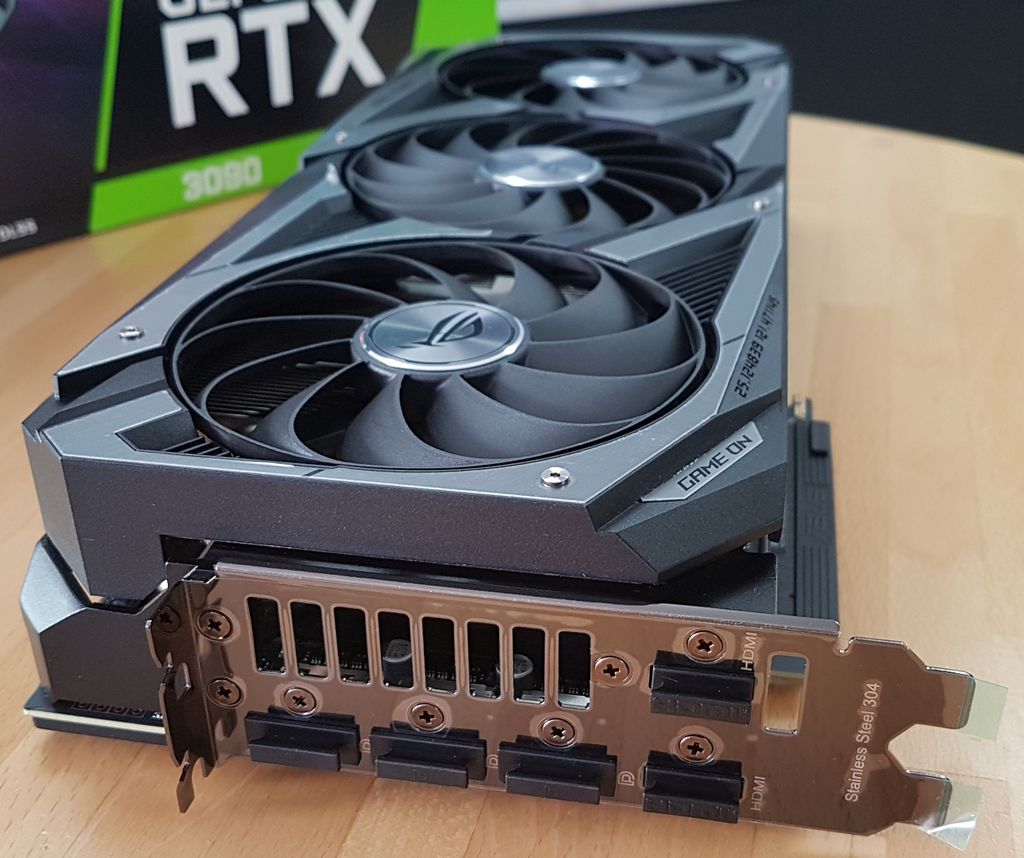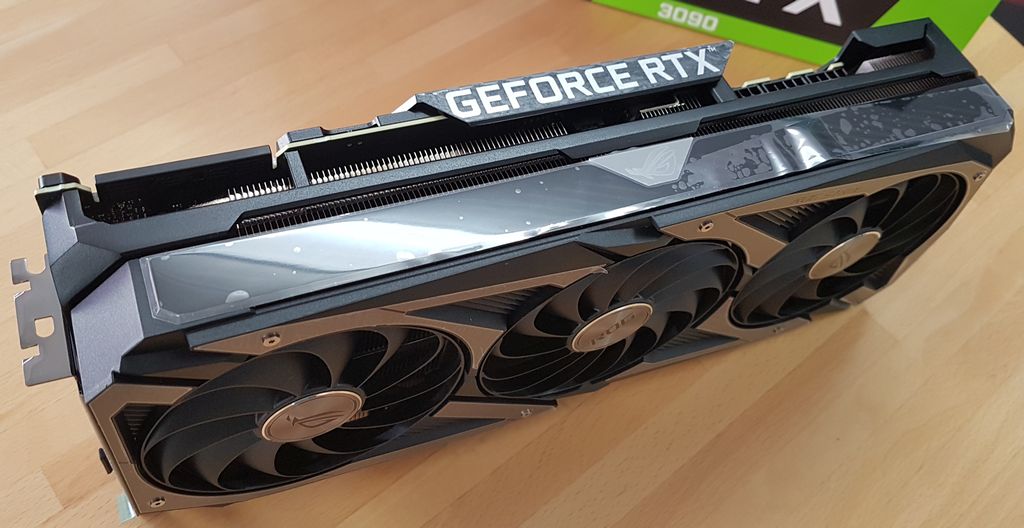 The card has three 8-pin power connectors. The total power consumption can reach 525W (3*150 + 75). A 1000W PSU is recommended (like a Corsair RM1000x) to properly feed this beast.