I upgraded my testbed from Intel Core i7-8700K to AMD Ryzen 7 5800X. And I must say, the Ryzen 7 5800X brings a nice boost in performance. With its 8 cores / 16 threads, it shows around +60% gain the physics score of 3DMark FireStrike benchmark (17988 points for the core i7-8700K vs 29503 points for the Ryzen 7 5800X).
In CPU-Z benchmark, the Ryzen 7 5800X is +22% faster in single thread and up to +70% faster in the multi-threaded test:
Ryzen 7 5800X: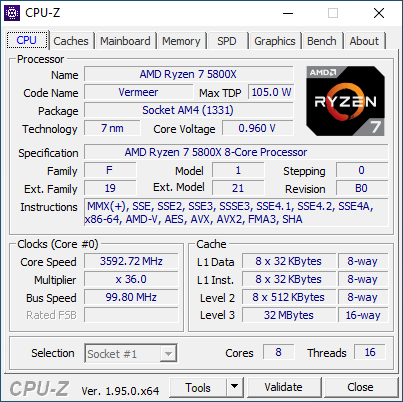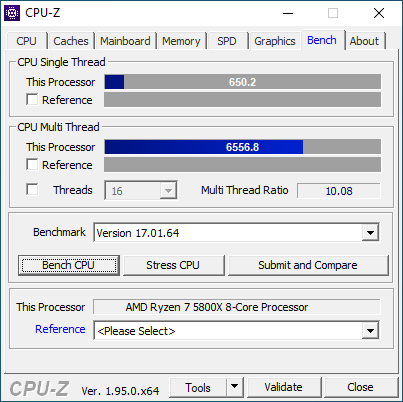 Core i7-8700K:


First time I really appreciate an AMD CPU!

Enough with CPU benchmarks, the web is full of these kind of tests.
The Ryzen 7 5800X is shipped in a box that has enough room for a CPU cooler… But instead of a CPU cooler, you have this: a piece of cardboard.


Fortunately, I have two CPU coolers in my lab:
a Dark Rock 4 (be-quiet!) which is a 200W TDP cooler for AMD and Intel processors.
a Wraith Stealth (AMD), a CPU cooler designed for a 65W TDP processor (like the Ryzen 5 3600).
The Ryzen 7 5800X is a 105W TDP processor. Even if the Wraith Stealth has been developed for a 65W TDP CPU, let's see if it can cool a 105W TDP CPU.
The Wraith Stealth CPU cooler (shipped with some AMD CPUs):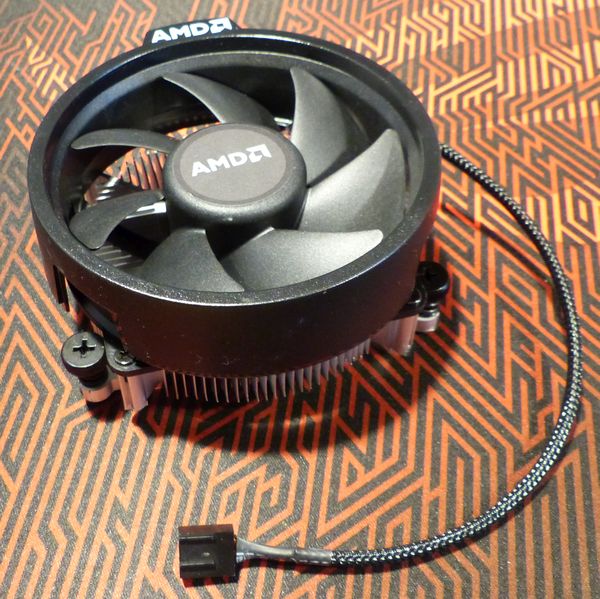 The Wraith Stealth trying to cool the Ryzen 7 5800X:


The first test I did is to enter in the BIOS and see the CPU temperature at idle. After few minutes, the CPU temperature reached 58°C.


58°C is hot but the Ryzen 7 5800X can run up to 90°C.
Now let's start Windows and AMD Ryzen Master. At idle the CPU temperature is 35°C: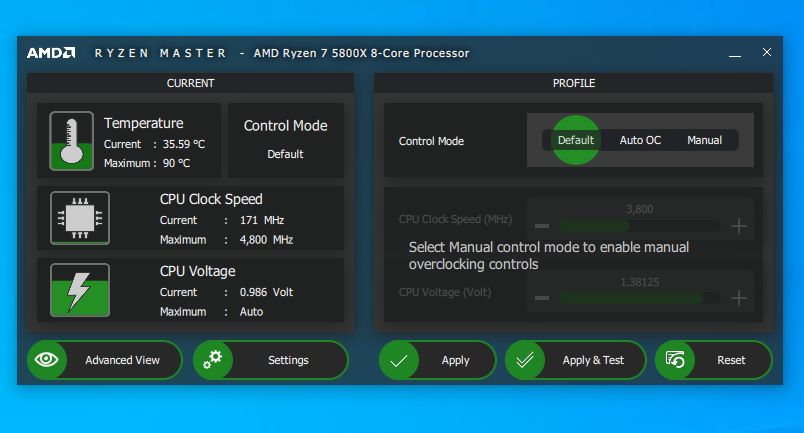 Why this temperature is lower than in the BIOS? Probably due to the CPU voltage: in the BIOS screenshot, you can see 1.408V and on the Ryzen Master screenshot, the CPU voltage is 0.986V. A higher voltage leads to higher CPU temperature.
Ryzen Master has a built-in CPU stress test: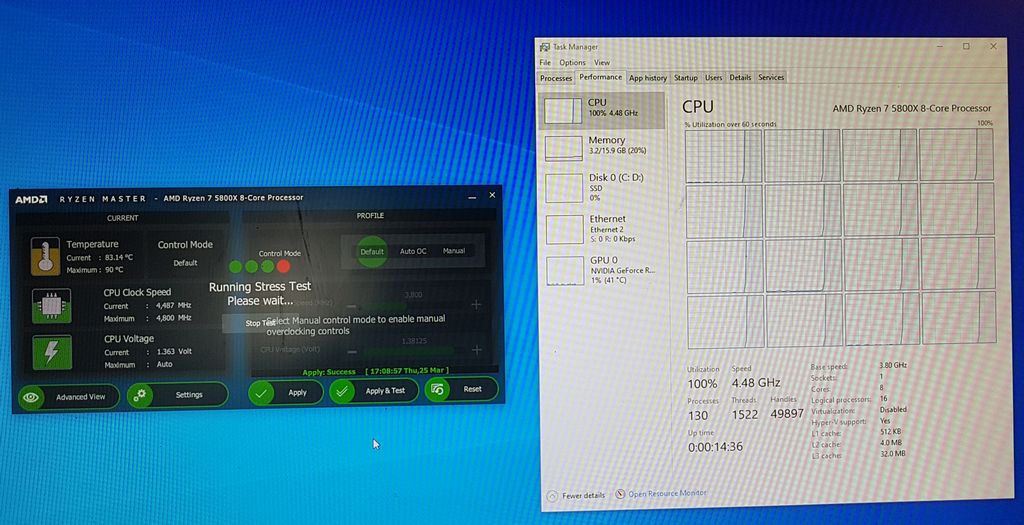 On the screenshot, the CPU temperature reached 83°C. Great! The Wraith Stealth cooler is able to dissipate all the heat produced by the Ryzen 7 5800X.
Another CPU stress test: the CPU Burner shipped with FurMark:


Ouch! The max temperature (90°C) is reached in few seconds.
Conclusion: the Wraith Stealth CPU cooler can cool a Ryzen 7 5800X at idle and under moderate CPU loads. For higher CPU loads, a serious CPU cooler is required, like the Dark Rock 4: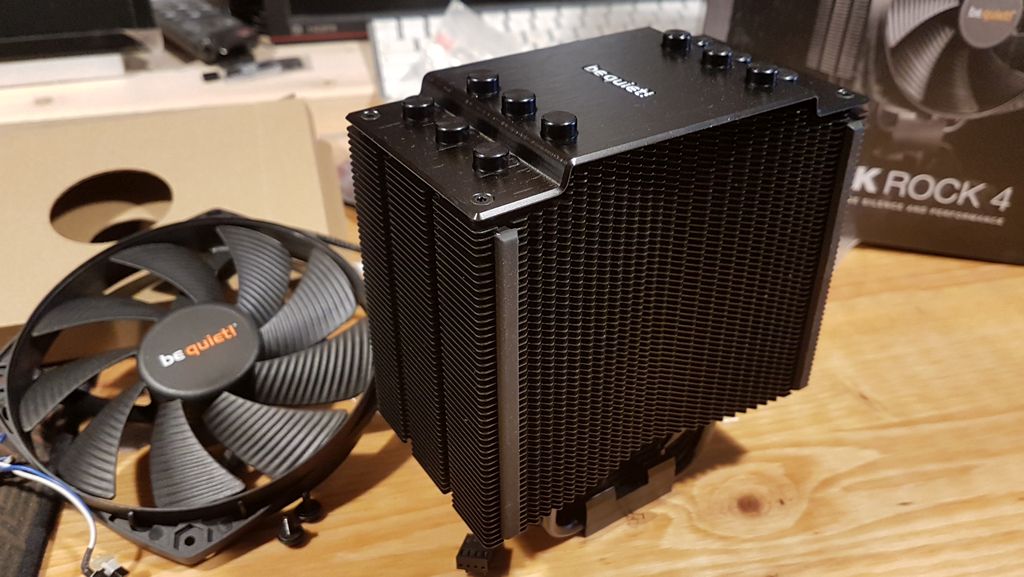 CPU temperature in the BIOS: 47 °C: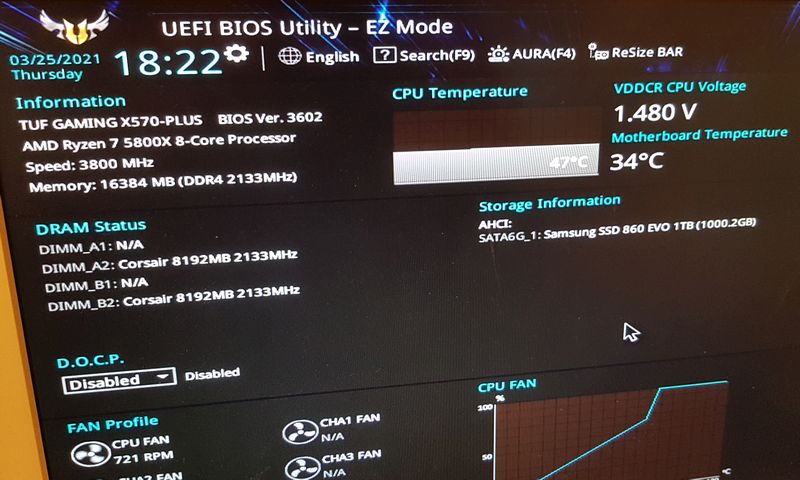 Ryzen Mater at idle: 29°C:


Ryzen Master stress test: 67°C: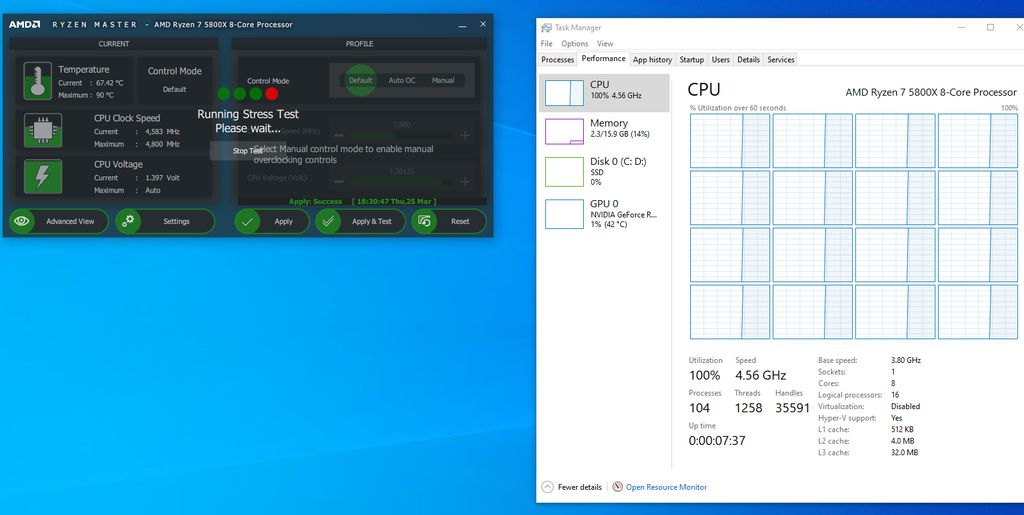 FurMark CPU Burner: 83°C:


The Ryzen 7 5800X is a processor that can generate a lot of heat. A high-end CPU cooler is required to enjoy this great CPU. I will try to update this article with a test of the Dark Rock PRO 4 CPU cooler.