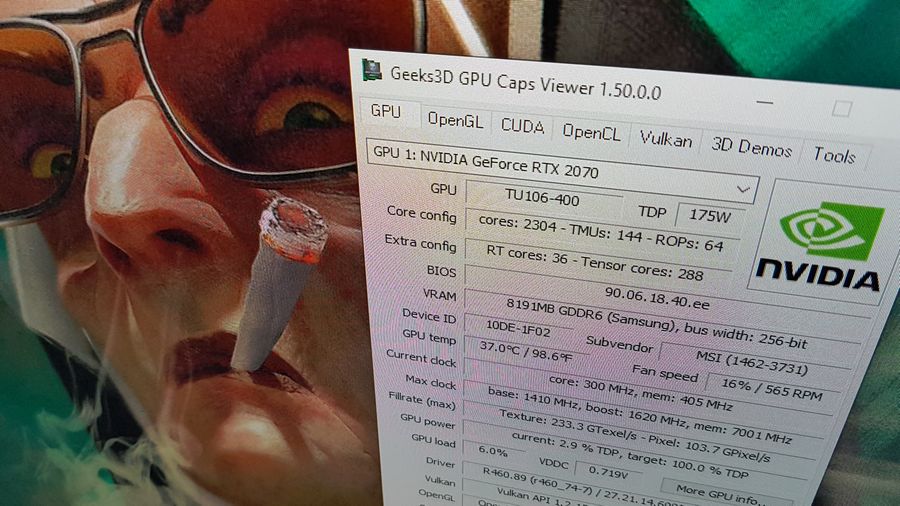 Downloads

GPU_Caps_Viewer_1.50.0.0.zip hash codes:

– file size : 15804244 bytes

– MD5 : 43f1c00f52c337689015e36271c961e5

– SHA1 : 0f214cb5cab1e4d8db4099cf0d1ca50df6cee0ea

– SHA256 : 5ad6fa9966278c543fa20a5e3d2ffbbe4fe309e32f33432148ba1f8c26585c5a

GPU_Caps_Viewer_Setup_v1.50.0.0.exe hash codes:

– file size : 12328100 bytes

– MD5 : 535918abf424ef4b2112156ae6d541b6

– SHA1 : 29b39f296e6123fdd190434d0066306c4d6c98b5

– SHA256 : 829d37aa19cdda472ef2c90dbc925fc7dcc8e0598b351f42d1854e82c29f87c5

Forum thread (EN) for feedbacks or bug-reports
A new version of GPU Caps Viewer is available. GPU Caps Viewer is a graphics card / GPU information and monitoring utility that quickly describes the essential capabilities of your GPU including GPU type, amount of VRAM , OpenGL, Vulkan, OpenCL and CUDA API support level.
Release Notes
GPU Caps Viewer 1.50.0 comes with the support of new NVIDIA GeForce GT 1010 and new GeForce RTX 30 Laptop GPUs. Detection of some GPUs has been improved or fixed. GPU Shark and GeeXLab libs have been updated to their latest versions.
Changelog

Version 1.50.0.0 - 2021.01.25
+ added support of NVIDIA GeForce GT 1010
+ added support of NVIDIA GeForce RTX 3080 Laptop, RTX 3070 Laptop and 
  RTX 3060 Laptop.
+ added old Radeon R5 Stoney support.
* fixed detection of NVIDIA Quadro P620.
* fixed number of TMUs for a Radeon RX 580 (deviD: 67df, sub dev: E3661DA2).
! updated TDP for some Tiger Like H45 GPUs.
! updated: GPU Shark 0.22.0.0
! updated with latest GeeXLab SDK libs (GeeXLab 0.40.0).
! updated with NVAPI R460.