Downloads

GPUShark-0.20.0.0.zip hash codes:

– file size => 593140 bytes

– MD5 => 5bf7690842aeee5dbcd9760e6828506c

– SHA1 => 6901bea4c006771f7d7402a071822f59b25b2174

– SHA256 => 5f3a0dcd23871c263199ea27e84f2e2794e9cce99c3e1fd2e195e61c3e819d5d

Forum thread (EN) for feedbacks or bug-reports
A new version of GPU Shark, a tiny GPU monitoring utility (Windows 32-bit) for NVIDIA GeForce and AMD Radeon graphics cards, is available. GPU Shark offers a global view of all your graphics cards in a single window.
Release Notes
GPU Shark 0.20.0 adds the support of new AMD Radeon RX 6800 and RX 6800 XT (Navi 21 / RDNA2 architecture) as well as other existing Radeon cards (Radeon RX 640, Pro WX 3200/3100/2100, Pro W5500/W5700, and more).
Radeon RX 6800 XT: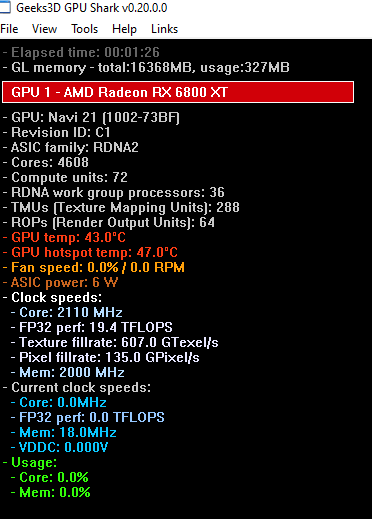 Radeon RX 5500 XT: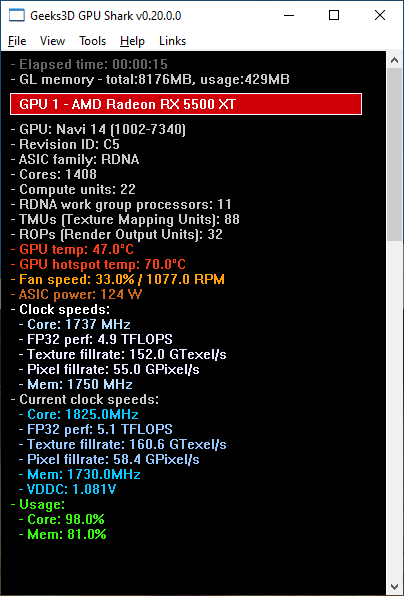 Changelog

Version 0.20.0.0 - 2020.11.23
+ added support of AMD Radeon RX 6800 XT and RX 6800.
! updated: for AMD Radeon GPUs, the number of cores is now computed 
  from the number of compute units.
! added more info for some Intel Xe Graphics GPUs.
+ added more AMD Radeon RX 5700 / RX 5600.
+ added support of AMD Radeon RX 640, Radeon 630, Radeon 540X, Radeon 550X.
+ added support of AMD Radeon Pro WX 3200, Radeon Pro WX 3100 and Radeon Pro WX 2100.
+ added new AMD Polaris 12/23 GPUs with device ID 699F and 6987.
+ added new AMD Navi 10 GPUs with device ID 731f.
+ added new AMD Navi 14 GPUs with device ID 7340.
+ added AMD Radeon Pro W5500 and Pro W5700.
! updated: ZoomGPU 1.28.0 (GPU monitoring library)