AMD has unveiled yesterday the new Radeon RX 6000 Series based on the Big Navi (Navi21) GPU (new RDNA2 architecture). And according to this paper launch, those new Radeon RX 6000 are faster than NVIDIA RTX 30 Series… The end of the year will be really interesting!
Three new cards have been announced:
the flagship is the Radeon RX 6900 XT (5120 cores for a price of $999) that targets (and surpasses) the GeForce RTX 3090.
the Radeon RX 6800 XT that targets the GeForce RTX 3080
the Radeon RX 6800 that targets the GeForce RTX 2080 Ti
The Radeon RX 6000 Series supports Direct3D 12 Ultimate, and comes with hardware raytracing (in Direct3D 12 and Vulkan). In the RDNA2 GPU, raytracing is implemented by a fixed-function Ray Accelerator engine in each compute unit.

AMD Radeon RX 6900 XT specifications
GPU: Navi21 (RDNA2 architecture), boost clock: 2250 MHz, TSMC 7nm, 26.8-billion transistors
Shader cores: 5120
Compute units: 80 (64 core per unit)
Ray accelerators: 80
Texture units: 320
ROPs: 128
FP32 performance: 23.04 TFLOPS
Memory: 16GB GDDR6, 256-bit
Total board power: 300W
Power connectors: two 8-pin
Price: USD $999
Availability: December 8 2020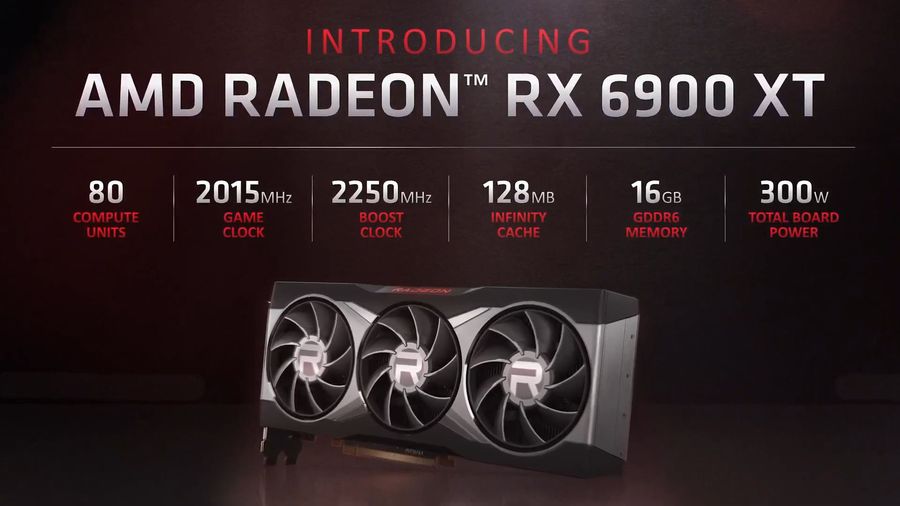 AMD Radeon RX 6800 XT specifications
GPU: Navi21 (RDNA2 architecture), boost clock: 2250 MHz
Shader cores: 4608
Compute units: 72 (64 core per unit)
Ray accelerators: 72
Texture units: 288
ROPs: 128
FP32 performance: 16.2 TFLOPS
FP32 performance: 20.7 TFLOPS
Memory: 16GB GDDR6, 256-bit
Total board power: 300W
Power connectors: two 8-pin
Price: USD $649
Availability: November 18 2020

AMD Radeon RX 6800 specifications
GPU: Navi21 (RDNA2 architecture), boost clock: 2105 MHz
Shader cores: 3840
Compute units: 60 (64 core per unit)
Ray accelerators: 60
Texture units: 240
ROPs: 96
Memory: 16GB GDDR6, 256-bit
Total board power: 250W
Power connectors: two 8-pin
Price: USD $579
Availability: November 18 2020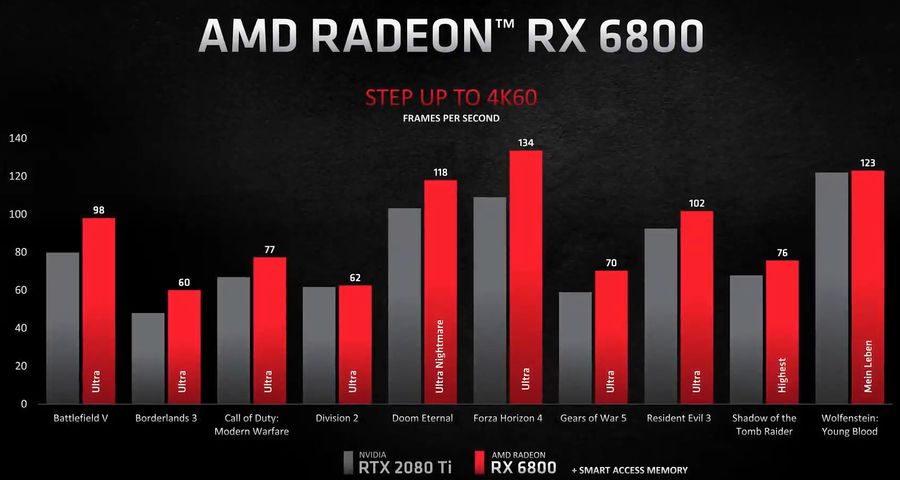 AMD Radeon RX 6000 presentation

Links
AMD has posted new framerates in some popular video games on THIS PAGE (DOOM Eternal, Battlefield V, Call of Duty Modern Warfare, etc.):