NVIDIA has released a new driver belonging to the R450 family (from version 450.xx to 454.xx). The GeForce 450 family supports the following GPU architectures: Turing, Volta, Pascal, Kepler and Maxwell.
The GeForce 452.06 driver brings the following changes:
Game Ready for Microsoft Flight Simulator
This new Game Ready Driver provides the latest performance optimizations, profiles, and bug fixes for Microsoft Flight Simulator. In addition, this release also provides optimal support for the World of Warcraft: Shadowlands pre-patch on the public test realm as well as for A Total War Saga: TROY and Tony Hawk's Pro Skater 1 + 2.

Fixed Issues
– [Shadow of the Tomb Raider][DirectX 12]: The game may crash when launched if Hardware-accelerated GPU scheduling is enabled. [3037544]
– [Death Stranding]: Texture corruption may be observed during gameplay on GeForce GTX 16/RTX 20 series GPUs. [200631405]
– [Path of Exile]: Black square corruption appears around characters.[3038439]
– [Sonic & All Stars Racing Transformed]: The game crashes when playing in a water level. [3028931]
– [Forza Motorsport 7]: The game starts to stutter after racing a few laps. [3035005]
– [Zhan Ge Jing Ji Chang]: Corruption occurs in the game when played in the Tencent mobile game simulator. [200631684]
– Several games randomly freeze for a few seconds during gameplay. Affected games include Assassin's Creed Origins, Planetside 2, Assassin's Creed III, Assassin's Creed Odyssey, and Assassin's Creed Syndicate. [3038632]
– The NVIDIA Control Panel does not display the native resolution of some HDTVs if the timings are invalid. [3060459]
– Some displays may show a green tint when Windows Night Light is enabled. [3038686]
– Snow appears on the display upon waking up the HDMI monitor. [3039265]
– [Notebook][Turing] Display may show pixelated corruption on waking notebook from long display off [200633139]
GeForce 452.22 HotFix
The hotfix addresses the following issues:
– Call of Duty: Modern Warfare may intermittently see a drop in frame rate when ray tracing is enabled
– [Pascal] Marvel's Avengers may crash if alt-tabbing while the game is running
– [Notebook] Display is not detected when connected to Thunderbolt 3 port on HP Spectre x360 – 15t-df100 Notebook
– Minecraft Java Edition may crash when launched with XSplit Broadcaster running in the background
Downloads
GeForce 452.06
GeForce 452.22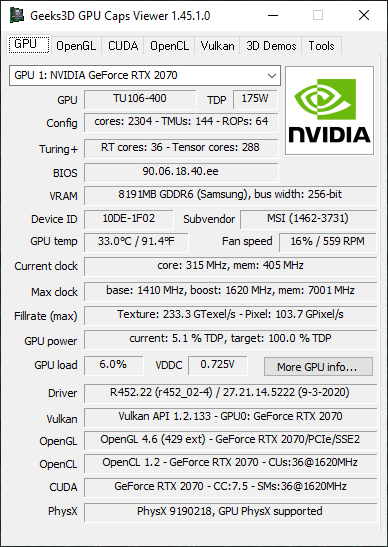 OpenGL support
GeForce 452.06
GeForce 452.06 exposes OpenGL 4.6 and 429 extensions for a GeForce RTX 2070 on Windows 10 (v2004). It's the same OpenGL support than in 440.97.

- GL_VENDOR: NVIDIA Corporation
- GL_RENDERER: GeForce RTX 2070/PCIe/SSE2
- GL_VERSION: 4.6.0 NVIDIA 452.06
- GL_SHADING_LANGUAGE_VERSION: 4.60 NVIDIA
- OpenGL Extensions: 429 extensions (GL=397 and WGL=32)

GeForce 452.22
Same OpenGL support than GeForce 452.06.
Vulkan support
GeForce 452.06
GeForce 452.06 exposes Vulkan 1.2.133 and 115 device extensions for a GeForce RTX 2070 on Windows 10 (v2004). It's the same support than previous 451.48.

  - name: GeForce RTX 2070
  - device type: VK_PHYSICAL_DEVICE_TYPE_DISCRETE_GPU
  - device ID: 10DE-1F02
  - API version: 1.2.133
  - NVIDIA driver version: 452.6.0.0
  - # of extensions => 115

GeForce 452.22
Same Vulkan support than GeForce 452.06.