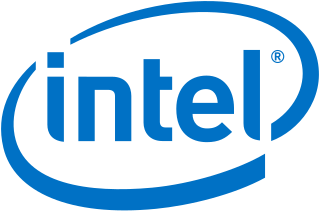 A new graphics driver has been published by Intel for its GPUs (Intel 6th, 7th, 8th, 9th and 10th Gen processors) on Windows 10. This new driver (version 27.20.100.8476) brings with the following changes:
HIGHLIGHTS:
– Playability improvements to reduce stutter in Overwatch on 7th Generation Intel Core processors and higher.
– Significant reduction in load-times for Star Wars: Battlefront 2 (DX12) on 10th Generation Intel Core processors with Intel Iris Plus Graphics.

GAMING HIGHLIGHTS:
Conquer Earth and destroy the human race using out-of-this-world technologies and capabilities in Destroy All Humans!, lead your army of Daughters to victory against frightening foes in Othercide on Intel Iris Plus graphics or better.

KEY ISSUES FIXED:
– Green stripes or artifacts seen while previewing composition in Adobe Premiere Pro 2020 and Adobe After Effects.
– Minor graphics anomalies observed in Tom Clancy's Rainbow Six Siege* (Vulkan), Battlefield V* (DX11).
– Observed brightness changing automatically when playing HDR Video content in Movies & TV app with HDR disabled on 10th Generation Intel Core processors with Intel Iris Plus graphics and UHD Graphics.
– Corruption observed while running Unigine superposition OpenGL Benchmark in borderless window.
Downloads
v27.20.100.8476
Quick test of this driver on an Intel Core i7-8700K (with an UHD 630 GPU):
– Intel control panel information:

– GL-Z: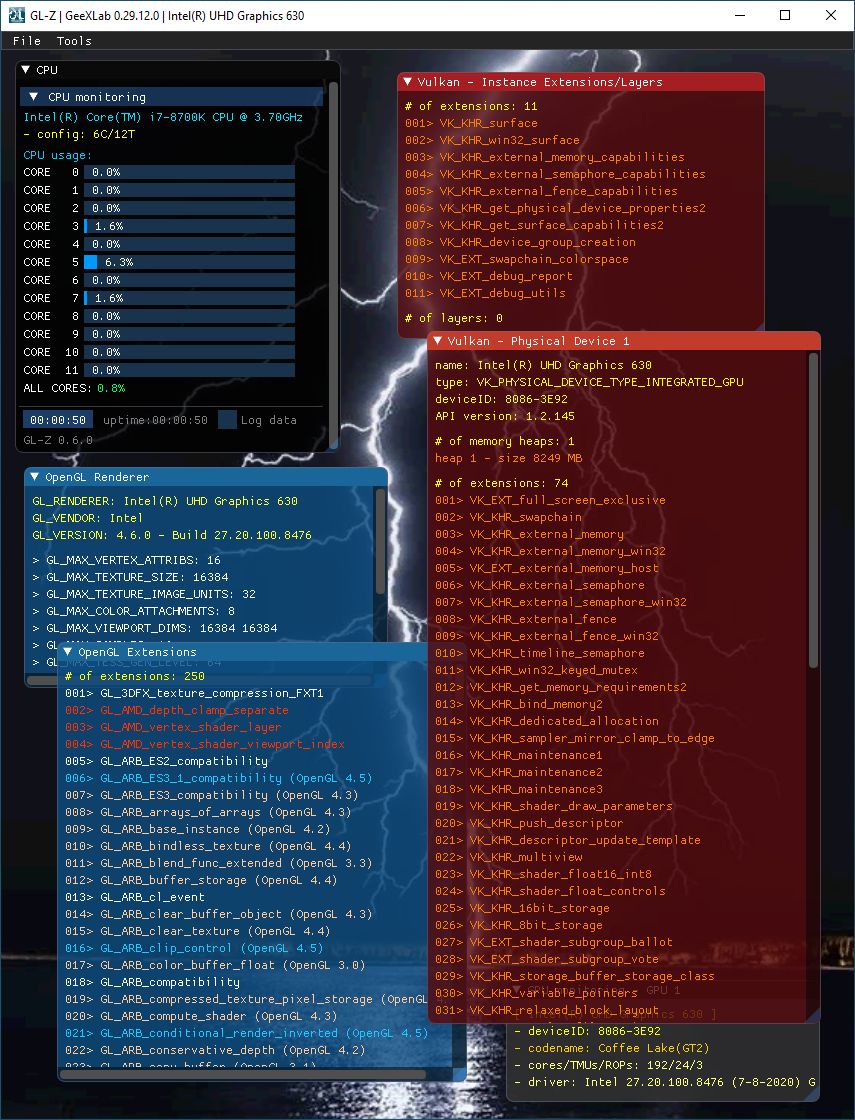 OpenGL support
v27.20.100.8476
The OpenGL support is the same than v7755 / 7985:

- GL_VENDOR: Intel
- GL_RENDERER: Intel(R) UHD Graphics 630
- GL_VERSION: 4.6.0 - Build 27.20.100.8476
- GL_SHADING_LANGUAGE_VERSION: 4.60 - Build 27.20.100.8476
- OpenGL Extensions: 250 extensions (GL=230 and WGL=20)
- OpenGL SPIR-V Extensions: 4

Vulkan support
v27.20.100.8476
This driver exposes Vulkan 1.2.145.

  - [Vulkan device 0]: Intel(R) UHD Graphics 630 ------------------
    - API version: 1.2.145
    - vendorID: 32902
    - deviceID: 16018
    - driver version: 1646876
    - driver properties (VK_KHR_driver_properties):
      -> driver name: Intel Corporation
      -> driver ID: VK_DRIVER_ID_INTEL_PROPRIETARY_WINDOWS_KHR (5)
      -> driver conformance version: 1.2.2.0:
      -> driver info: Intel driver

  - memory heap count: 2
    - heap1: 4124MB
    - heap2: 4124MB

  - memory type count: 4
    - mem type 0 - heap index : 0 - property flag : 1
      > mem property: VK_MEMORY_PROPERTY_DEVICE_LOCAL_BIT
    - mem type 1 - heap index : 1 - property flag : 7
      > mem property: VK_MEMORY_PROPERTY_DEVICE_LOCAL_BIT
      > mem property: VK_MEMORY_PROPERTY_HOST_VISIBLE_BIT
      > mem property: VK_MEMORY_PROPERTY_HOST_COHERENT_BIT
    - mem type 2 - heap index : 1 - property flag : 15
      > mem property: VK_MEMORY_PROPERTY_DEVICE_LOCAL_BIT
      > mem property: VK_MEMORY_PROPERTY_HOST_VISIBLE_BIT
      > mem property: VK_MEMORY_PROPERTY_HOST_COHERENT_BIT
      > mem property: VK_MEMORY_PROPERTY_HOST_CACHED_BIT
    - mem type 3 - heap index : 1 - property flag : 1
      > mem property: VK_MEMORY_PROPERTY_DEVICE_LOCAL_BIT

  - extensions: 74
    - VK_EXT_full_screen_exclusive (version: 4)
    - VK_KHR_swapchain (version: 70)
    - VK_KHR_external_memory (version: 1)
    - VK_KHR_external_memory_win32 (version: 1)
    - VK_EXT_external_memory_host (version: 1)
    - VK_KHR_external_semaphore (version: 1)
    - VK_KHR_external_semaphore_win32 (version: 1)
    - VK_KHR_external_fence (version: 1)
    - VK_KHR_external_fence_win32 (version: 1)
    - VK_KHR_timeline_semaphore (version: 2)
    - VK_KHR_win32_keyed_mutex (version: 1)
    - VK_KHR_get_memory_requirements2 (version: 1)
    - VK_KHR_bind_memory2 (version: 1)
    - VK_KHR_dedicated_allocation (version: 1)
    - VK_KHR_sampler_mirror_clamp_to_edge (version: 3)
    - VK_KHR_maintenance1 (version: 1)
    - VK_KHR_maintenance2 (version: 1)
    - VK_KHR_maintenance3 (version: 1)
    - VK_KHR_shader_draw_parameters (version: 1)
    - VK_KHR_push_descriptor (version: 1)
    - VK_KHR_descriptor_update_template (version: 1)
    - VK_KHR_multiview (version: 1)
    - VK_KHR_shader_float16_int8 (version: 1)
    - VK_KHR_shader_float_controls (version: 4)
    - VK_KHR_16bit_storage (version: 1)
    - VK_KHR_8bit_storage (version: 1)
    - VK_EXT_shader_subgroup_ballot (version: 1)
    - VK_EXT_shader_subgroup_vote (version: 1)
    - VK_KHR_storage_buffer_storage_class (version: 1)
    - VK_KHR_variable_pointers (version: 1)
    - VK_KHR_relaxed_block_layout (version: 1)
    - VK_EXT_sampler_filter_minmax (version: 2)
    - VK_KHR_device_group (version: 4)
    - VK_KHR_sampler_ycbcr_conversion (version: 14)
    - VK_EXT_post_depth_coverage (version: 1)
    - VK_EXT_shader_viewport_index_layer (version: 1)
    - VK_EXT_shader_stencil_export (version: 1)
    - VK_EXT_conservative_rasterization (version: 1)
    - VK_EXT_sample_locations (version: 1)
    - VK_KHR_draw_indirect_count (version: 1)
    - VK_KHR_image_format_list (version: 1)
    - VK_EXT_vertex_attribute_divisor (version: 3)
    - VK_EXT_descriptor_indexing (version: 2)
    - VK_EXT_inline_uniform_block (version: 1)
    - VK_KHR_create_renderpass2 (version: 1)
    - VK_KHR_swapchain_mutable_format (version: 1)
    - VK_KHR_depth_stencil_resolve (version: 1)
    - VK_KHR_driver_properties (version: 1)
    - VK_KHR_vulkan_memory_model (version: 3)
    - VK_EXT_conditional_rendering (version: 2)
    - VK_EXT_depth_clip_enable (version: 1)
    - VK_EXT_scalar_block_layout (version: 1)
    - VK_KHR_imageless_framebuffer (version: 1)
    - VK_KHR_buffer_device_address (version: 1)
    - VK_EXT_buffer_device_address (version: 2)
    - VK_EXT_host_query_reset (version: 1)
    - VK_NV_device_diagnostic_checkpoints (version: 2)
    - VK_KHR_separate_depth_stencil_layouts (version: 1)
    - VK_KHR_shader_clock (version: 1)
    - VK_KHR_spirv_1_4 (version: 1)
    - VK_KHR_uniform_buffer_standard_layout (version: 1)
    - VK_EXT_separate_stencil_usage (version: 1)
    - VK_EXT_fragment_shader_interlock (version: 1)
    - VK_EXT_index_type_uint8 (version: 1)
    - VK_KHR_shader_subgroup_extended_types (version: 1)
    - VK_EXT_line_rasterization (version: 1)
    - VK_EXT_memory_budget (version: 1)
    - VK_EXT_texel_buffer_alignment (version: 1)
    - VK_INTEL_performance_query (version: 2)
    - VK_EXT_subgroup_size_control (version: 2)
    - VK_EXT_shader_demote_to_helper_invocation (version: 1)
    - VK_EXT_pipeline_creation_feedback (version: 1)
    - VK_KHR_pipeline_executable_properties (version: 1)
    - VK_EXT_transform_feedback (version: 1)

  - device layers: 0

  - device features:
    - robustBufferAccess: true
    - fullDrawIndexUint32: true
    - imageCubeArray: true
    - independentBlend: true
    - geometryShader: true
    - tessellationShader: true
    - sampleRateShading: true
    - dualSrcBlend: true
    - logicOp: true
    - multiDrawIndirect: true
    - drawIndirectFirstInstance: true
    - depthClamp: true
    - depthBiasClamp: true
    - fillModeNonSolid: true
    - depthBounds: false
    - wideLines: true
    - largePoints: true
    - alphaToOne: true
    - multiViewport: true
    - samplerAnisotropy: true
    - textureCompressionETC2: true
    - textureCompressionASTC_LDR: true
    - textureCompressionBC: true
    - occlusionQueryPrecise: true
    - pipelineStatisticsQuery: true
    - vertexPipelineStoresAndAtomics: true
    - fragmentStoresAndAtomics: true
    - shaderTessellationAndGeometryPointSize: true
    - shaderImageGatherExtended: true
    - shaderStorageImageExtendedFormats: true
    - shaderStorageImageMultisample: true
    - shaderStorageImageReadWithoutFormat: false
    - shaderStorageImageWriteWithoutFormat: true
    - shaderUniformBufferArrayDynamicIndexing: true
    - shaderSampledImageArrayDynamicIndexing: true
    - shaderStorageBufferArrayDynamicIndexing: true
    - shaderStorageImageArrayDynamicIndexing: true
    - shaderClipDistance: true
    - shaderCullDistance: true
    - shaderFloat64: true
    - shaderInt64: true
    - shaderInt16: true
    - shaderResourceResidency: true
    - shaderResourceMinLod: false
    - sparseBinding: true
    - sparseResidencyBuffer: true
    - sparseResidencyImage2D: true
    - sparseResidencyImage3D: true
    - sparseResidency2Samples: true
    - sparseResidency4Samples: true
    - sparseResidency8Samples: true
    - sparseResidency16Samples: true
    - sparseResidencyAliased: true
    - variableMultisampleRate: true
    - inheritedQueries: true

  - device limits
    - maxImageDimension1D: 16384
    - maxImageDimension2D: 16384
    - maxImageDimension3D: 2048
    - maxImageDimensionCube: 16384
    - maxImageArrayLayers: 2048
    - maxTexelBufferElements: 134217728
    - maxUniformBufferRange: 4294967295
    - maxStorageBufferRange: 4294967295
    - maxPushConstantsSize: 256
    - maxMemoryAllocationCount: 2111906
    - maxSamplerAllocationCount: 4000
    - bufferImageGranularity: 1
    - sparseAddressSpaceSize: 17592186044416
    - maxBoundDescriptorSets: 8
    - maxPerStageDescriptorSamplers: 64
    - maxPerStageDescriptorUniformBuffers: 200
    - maxPerStageDescriptorSampledImages: 200
    - maxPerStageDescriptorStorageImages: 16
    - maxPerStageDescriptorInputAttachments: 8
    - maxPerStageResources: 200
    - maxDescriptorSetSamplers: 576
    - maxDescriptorSetUniformBuffers: 1800
    - maxDescriptorSetUniformBuffersDynamic: 16
    - maxDescriptorSetStorageBuffers: 1800
    - maxDescriptorSetStorageBuffersDynamic: 16
    - maxDescriptorSetSampledImages: 1800
    - maxDescriptorSetStorageImages: 144
    - maxDescriptorSetInputAttachments: 8
    - maxVertexInputAttributes: 32
    - maxVertexInputBindings: 32
    - maxVertexInputAttributeOffset: 2047
    - maxVertexInputBindingStride: 4095
    - maxVertexOutputComponents: 128
    - maxTessellationGenerationLevel: 64
    - maxTessellationPatchSize: 32
    - maxTessellationControlPerVertexInputComponents: 128
    - maxTessellationControlPerVertexOutputComponents: 128
    - maxTessellationControlPerPatchOutputComponents: 120
    - maxTessellationControlTotalOutputComponents: 4096
    - maxTessellationEvaluationInputComponents: 128
    - maxTessellationEvaluationOutputComponents: 128
    - maxGeometryShaderInvocations: 32
    - maxGeometryInputComponents: 128
    - maxGeometryOutputComponents: 128
    - maxGeometryOutputVertices: 256
    - maxGeometryTotalOutputComponents: 1024
    - maxFragmentInputComponents: 128
    - maxFragmentOutputAttachments: 8
    - maxFragmentDualSrcAttachments: 1
    - maxFragmentCombinedOutputResources: 16
    - maxComputeSharedMemorySize: 32768
    - maxComputeWorkGroupCount: [65536; 65536; 65536]
    - maxComputeWorkGroupInvocations: 1024
    - maxComputeWorkGroupSize: [1024; 1024; 64]
    - subPixelPrecisionBits: 8
    - subTexelPrecisionBits: 8
    - mipmapPrecisionBits: 8
    - maxDrawIndexedIndexValue: 4294967295
    - maxDrawIndirectCount: 4294967295
    - maxSamplerLodBias: 16.000000
    - maxSamplerAnisotropy: 16.000000
    - maxViewports: 16
    - maxViewportDimensions: [32768; 32768]
    - viewportBoundsRange: [-65536.000000 ; 65535.000000]
    - viewportSubPixelBits: 8
    - minMemoryMapAlignment: 64
    - minTexelBufferOffsetAlignment: 64
    - minUniformBufferOffsetAlignment: 64
    - minStorageBufferOffsetAlignment: 64
    - minTexelOffset: 4294967288
    - maxTexelOffset: 7
    - minTexelGatherOffset: 4294967264
    - maxTexelGatherOffset: 31
    - minInterpolationOffset: -0.500000
    - maxInterpolationOffset: 0.437500
    - subPixelInterpolationOffsetBits: 4
    - maxFramebufferWidth: 16384
    - maxFramebufferHeight: 16384
    - maxFramebufferLayers: 2048
    - framebufferColorSampleCounts: 31
    - framebufferDepthSampleCounts: 31
    - framebufferStencilSampleCounts: 31
    - framebufferNoAttachmentsSampleCounts: 31
    - maxColorAttachments: 8
    - sampledImageColorSampleCounts: 31
    - sampledImageIntegerSampleCounts: 31
    - sampledImageDepthSampleCounts: 31
    - sampledImageStencilSampleCounts: 31
    - storageImageSampleCounts: 31
    - maxSampleMaskWords: 1
    - timestampComputeAndGraphics: 1
    - timestampPeriod: 83.333000
    - maxClipDistances: 8
    - maxCullDistances: 8
    - maxCombinedClipAndCullDistances: 8
    - discreteQueuePriorities: 2
    - pointSizeRange: [0.125000 ; 255.875000]
    - lineWidthRange: [0.000000 ; 7.992188]
    - pointSizeGranularity: 0.125000
    - lineWidthGranularity: 0.007813
    - strictLines: 0
    - standardSampleLocations: 1
    - optimalBufferCopyOffsetAlignment: 64
    - optimalBufferCopyRowPitchAlignment: 64
    - nonCoherentAtomSize: 1

OpenCL support

- Num OpenCL platforms: 1
- CL_PLATFORM_NAME: Intel(R) OpenCL HD Graphics
- CL_PLATFORM_VENDOR: Intel(R) Corporation
- CL_PLATFORM_VERSION: OpenCL 2.1 
- CL_PLATFORM_PROFILE: FULL_PROFILE
- Num devices: 1

  - CL_DEVICE_NAME: Intel(R) UHD Graphics 630
  - CL_DEVICE_VENDOR: Intel(R) Corporation
  - CL_DRIVER_VERSION: 27.20.100.8476
  - CL_DEVICE_PROFILE: FULL_PROFILE
  - CL_DEVICE_VERSION: OpenCL 2.1 NEO 
  - CL_DEVICE_TYPE: GPU
  - CL_DEVICE_VENDOR_ID: 0x8086
  - CL_DEVICE_MAX_COMPUTE_UNITS: 24
  - CL_DEVICE_MAX_CLOCK_FREQUENCY: 1200MHz
  - CL_DEVICE_ADDRESS_BITS: 32
  - CL_DEVICE_MAX_MEM_ALLOC_SIZE: 838860KB
  - CL_DEVICE_GLOBAL_MEM_SIZE: 1638MB
  - CL_DEVICE_MAX_PARAMETER_SIZE: 1024
  - CL_DEVICE_GLOBAL_MEM_CACHELINE_SIZE: 64 Bytes
  - CL_DEVICE_GLOBAL_MEM_CACHE_SIZE: 512KB
  - CL_DEVICE_ERROR_CORRECTION_SUPPORT: NO
  - CL_DEVICE_LOCAL_MEM_TYPE: Local (scratchpad)
  - CL_DEVICE_LOCAL_MEM_SIZE: 64KB
  - CL_DEVICE_MAX_CONSTANT_BUFFER_SIZE: 838860KB
  - CL_DEVICE_MAX_WORK_ITEM_DIMENSIONS: 3
  - CL_DEVICE_MAX_WORK_ITEM_SIZES: [256 ; 256 ; 256]
  - CL_DEVICE_MAX_WORK_GROUP_SIZE: 256
  - CL_EXEC_NATIVE_KERNEL: 13411076
  - CL_DEVICE_IMAGE_SUPPORT: YES
  - CL_DEVICE_MAX_READ_IMAGE_ARGS: 128
  - CL_DEVICE_MAX_WRITE_IMAGE_ARGS: 128
  - CL_DEVICE_IMAGE2D_MAX_WIDTH: 16384
  - CL_DEVICE_IMAGE2D_MAX_HEIGHT: 16384
  - CL_DEVICE_IMAGE3D_MAX_WIDTH: 16384
  - CL_DEVICE_IMAGE3D_MAX_HEIGHT: 16384
  - CL_DEVICE_IMAGE3D_MAX_DEPTH: 2048
  - CL_DEVICE_MAX_SAMPLERS: 16
  - CL_DEVICE_PREFERRED_VECTOR_WIDTH_CHAR: 16
  - CL_DEVICE_PREFERRED_VECTOR_WIDTH_SHORT: 8
  - CL_DEVICE_PREFERRED_VECTOR_WIDTH_INT: 4
  - CL_DEVICE_PREFERRED_VECTOR_WIDTH_LONG: 1
  - CL_DEVICE_PREFERRED_VECTOR_WIDTH_FLOAT: 1
  - CL_DEVICE_PREFERRED_VECTOR_WIDTH_DOUBLE: 1
  - CL_DEVICE_EXTENSIONS: 50
  - Extensions:
    - cl_khr_byte_addressable_store
    - cl_khr_fp16
    - cl_khr_global_int32_base_atomics
    - cl_khr_global_int32_extended_atomics
    - cl_khr_icd
    - cl_khr_local_int32_base_atomics
    - cl_khr_local_int32_extended_atomics
    - cl_intel_subgroups
    - cl_intel_required_subgroup_size
    - cl_intel_subgroups_short
    - cl_khr_spir
    - cl_intel_accelerator
    - cl_intel_driver_diagnostics
    - cl_khr_priority_hints
    - cl_khr_throttle_hints
    - cl_khr_create_command_queue
    - cl_intel_subgroups_char
    - cl_intel_subgroups_long
    - cl_khr_fp64
    - cl_khr_subgroups
    - cl_khr_il_program
    - cl_intel_spirv_device_side_avc_motion_estimation
    - cl_intel_spirv_media_block_io
    - cl_intel_spirv_subgroups
    - cl_khr_spirv_no_integer_wrap_decoration
    - cl_intel_unified_shared_memory_preview
    - cl_khr_mipmap_image
    - cl_khr_mipmap_image_writes
    - cl_intel_planar_yuv
    - cl_intel_packed_yuv
    - cl_intel_motion_estimation
    - cl_intel_device_side_avc_motion_estimation
    - cl_intel_advanced_motion_estimation
    - cl_khr_int64_base_atomics
    - cl_khr_int64_extended_atomics
    - cl_khr_image2d_from_buffer
    - cl_khr_depth_images
    - cl_intel_media_block_io
    - cl_khr_3d_image_writes
    - cl_khr_gl_sharing
    - cl_khr_gl_depth_images
    - cl_khr_gl_event
    - cl_khr_gl_msaa_sharing
    - cl_intel_dx9_media_sharing
    - cl_khr_dx9_media_sharing
    - cl_khr_d3d10_sharing
    - cl_khr_d3d11_sharing
    - cl_intel_d3d11_nv12_media_sharing
    - cl_intel_unified_sharing
    - cl_intel_simultaneous_sharing