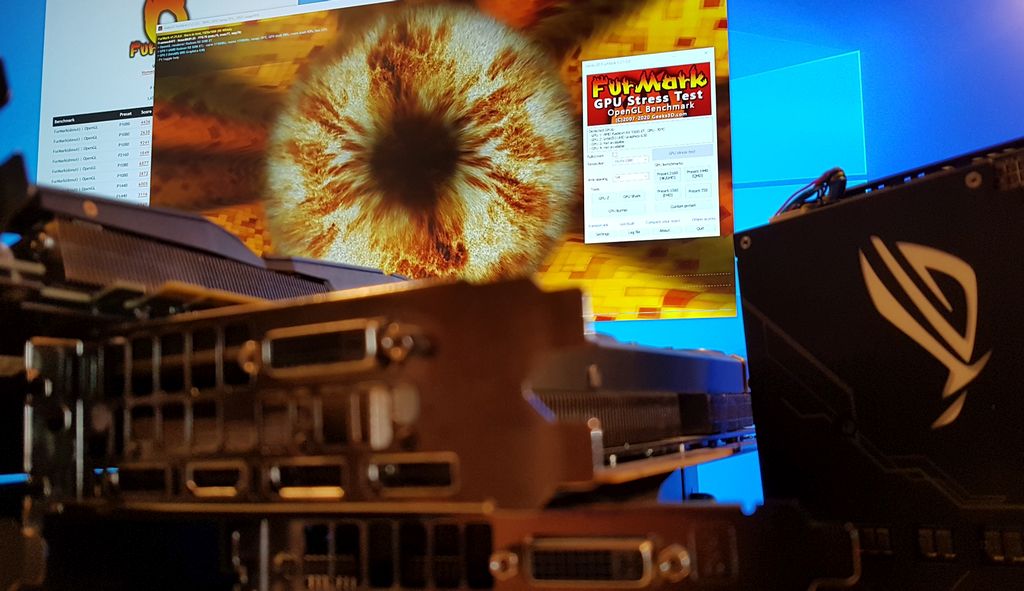 A new version of FurMark, the popular GPU burn-in utility, is available.
1 – Release highlights
FurMark 1.21.0
FurMark 1.21 adds the support of AMD Navi GPUs (Radeon RX 5700, RX 5600 and RX 5500) with the monitoring of essential sensors (core usage, core temperature, power consumption, fan speed). The log file is now stored in user's temporary folder (usually C:\Users\USERNAME\AppData\Local\Temp\). The benchmark scores are now submitted to a new online database available HERE. The old database at ozone3d.net will still accept submissions during the next months from previous versions of FurMark, but will be put in read only mode later this year. GPU Shark and GPU-Z have been updated to their latest versions.
FurMark 1.21.1
FurMark 1.21.1 is a maintenance release that fixes and updates the support of GPU-Z: the VDDC sensor has been replaced by GPU Voltage and power consumption sensors (in Watts) have been added.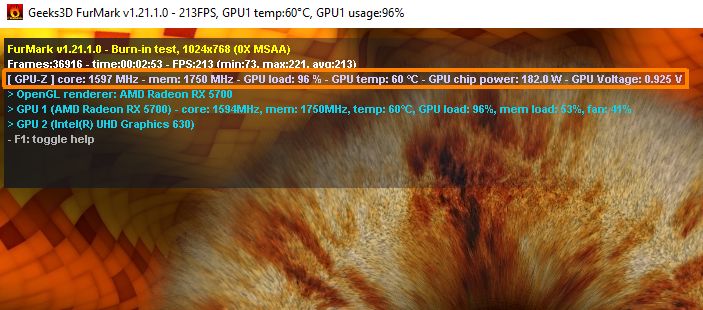 2 – Download
You can download FurMark from the following link:
FurMark 1.21.1.0 (win32 installer)


To ensure the integrity of your download, you can verify the following checksum values / hashcodes (a tool like H4shG3n can help you):
 
FurMark_1.21.1.0_Setup.exe hash codes:
- file size => 11246750 bytes
- MD5       => 93313ef0f55e1a8a2a1e86afe2a1de94
- SHA1      => ad274ae42e57cc9463be6799b9a61ef1518c4a23
- SHA256    => d27eae8e79d740084c3a402f7e5fa4e897f6dd122e989ebeaa7be4e7b5161874


FurMark_1.21.0.0_Setup.exe hash codes:
- file size => 11177513 bytes
- MD5       => c66617864de6e2397a23af5e80cda2e4
- SHA1      => 4c2d79075bff3fc0baf1a101ad9743785a269493
- SHA256    => aa7cfca548452546aa50a3e16f1c8659191e8f4382e32f08456b0ddb65310791


Useful links:
3 – Changelog

Version 1.21.1.0 - 2020-03-23
+ added the display of GPU-Z Power Consumption and 
  Chip Power Draw (AMD) in Watts.
! updated GPU-Z sensor name: "VDDC" -> "GPU Voltage".
! updated: GPU-Z 2.30
! Log file back in FurMark's folder.


Version 1.21.0.0 - 2020-01-23
+ added support of AMD Navi GPUs.
+ added support of AMD Radeon RX 5500 XT and RX 5600 XT.
+ added support of GeForce RTX 2060 with TU104 GPU and
  GeForce GTX 1650 SUPER.
+ updated reporting of graphics drivers for Radeon graphics cards.
+ new online database.
! Log file is now stored in user's temp folder.
! updated: GPU Shark 0.16.1.0
! updated: GPU-Z 2.29
! updated: ZoomGPU 1.25.1 (GPU monitoring library)