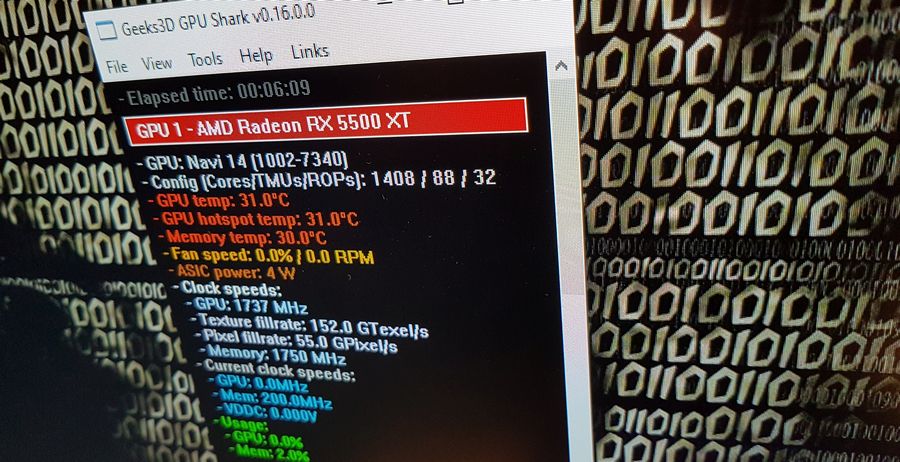 A new version of GPU Shark, a tiny GPU monitoring utility (Windows 32-bit) for NVIDIA GeForce and AMD Radeon graphics cards, is available.
1 – Download
GPUShark-0.16.1.0.zip hash codes:
- file size => 554330 bytes
- MD5       => cbb8992c19cf9feae893c216c06a5061
- SHA1      => 90453833f901699ec9405b5802602e63bad6a782
- SHA256    => f76cd6f80423743aab7d3b0d5f37f10177ead67c8cb504e0e199ebf69bba8052

The hash codes have been computed with h4shg3n.
For feedbacks and bug-reports, you can use the comment section of this post or a forum thread available HERE.
2 – Release Notes
GPU Shark 0.16.1
GPU Shark 0.16.1 is a maintenance release and adds the support of Radeon RX 5600 XT and GeForce RTX 2060 with Turing TU104 GPU.
GPU Shark 0.16.0
GPU Shark 0.16.0 comes with the support of AMD Navi GPUs (RDNA architecture). All essential hardware sensors are monitored (GPU temperature, core usage, fan speed, power consumption…). There are now two sensors for the temperature on Navi GPUs: the edge temperature (this is the regular GPU temperature, which is displayed in Radeon control panel) and the hotspot or junction temperature which is a new sensor (Radeon VII, RX 5700, RX 5500). In fact, the hotspot is the max temperature read on several check points (a network of thermal sensors) on the GPU die. That's why the hotspot temperature is higher than regular GPU temperature.
For NVIDIA and AMD GPUs, the fillrate is now displayed in the default (simplified) view when possible:
– Radeon RX 5500 XT: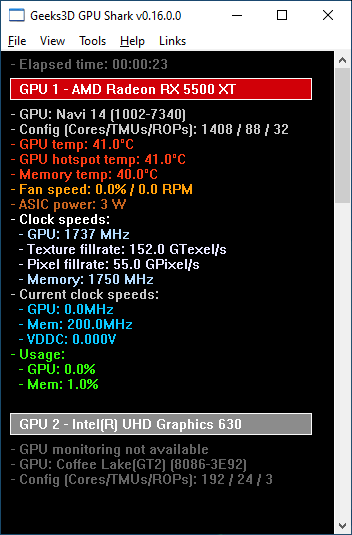 – GeForce RTX 2070 + GT 1030

3 – What is GPU Shark
GPU Shark is a simple, lightweight and free GPU monitoring tool for GeForce and Radeon based graphics cards and is available for Windows only. GPU Shark offers a global view of all your graphics cards in a single window.
4 – Changelog

Version 0.16.1.0 - 2020.01.23
+ added support of AMD Radeon RX 5600 XT.
+ added support of GeForce RTX 2060 with TU104 GPU and
  GeForce GTX 1650 SUPER.
! updated: ZoomGPU 1.25.1 (GPU monitoring library)

Version 0.16.0.0 - 2020.01.16
+ added support of GPU monitoring for AMD Navi GPUs.
+ added support of AMD Radeon RX 5500 XT.
! updated: ZoomGPU 1.25.0 (GPU monitoring library)
  with NVAPI R440.