A new version of GPU Shark, a tiny GPU monitoring utility (Windows 32-bit) for NVIDIA GeForce and AMD Radeon graphics cards, is available.

1 – Download
GPUShark-0.15.1.0.zip hash codes:
- file size => 615193 bytes
- MD5       => 2d51c6772137c6701b59022bb14341c3
- SHA1      => dfcf98f36a3e6afaa2a2eb55f559a2f9141b8cd9
- SHA256    => f4bf2cac692abd53918d13396ed1986680663fdb68c0ab090a978f7123a1187f

The hash codes have been computed with h4shg3n.
For feedbacks and bug-reports, you can use the comment section of this post or a forum thread available HERE.
2 – Release Notes
GPU Shark 0.15.0 comes with the support of GeForce GTX 1660 SUPER. The reading of the GPU core voltage has been fixed for recent GeForce and Radeon GPUs. Same thing for the fan speed but on GeForce GPUs only.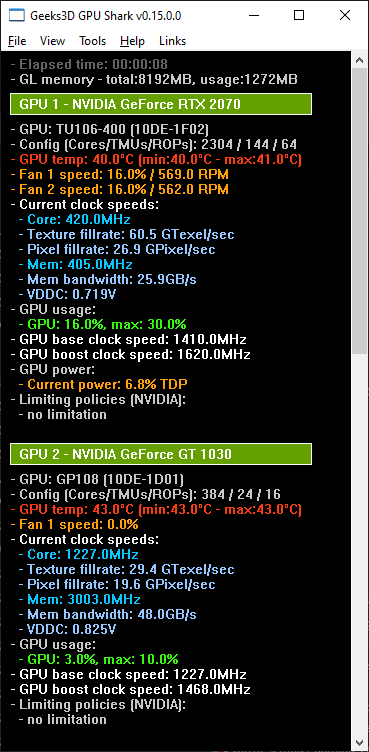 3 – What is GPU Shark
GPU Shark is a simple, lightweight and free GPU monitoring tool for GeForce and Radeon based graphics cards and is available for Windows only. GPU Shark offers a global view of all your graphics cards in a single window.
4 – Changelog

Version 0.15.1.0 - 2019.11.19
+ added support of NVIDIA Quadro RTX 3000/4000/5000 Mobile, 
  GeForce GTX 1650 Mobile, GeForce GTX 1660 Ti Mobile,
  GeForce RTX 2060/2070/2080 Mobile, Quadro T1000/T2000 Mobile,
  and AMD Radeon RX 5500.
! updated: ZoomGPU 1.24.1 (GPU monitoring library)


Version 0.15.0.0 - 2019.11.05
+ added support of NVIDIA GeForce GTX 1660 SUPER.
* fixed reading of GPU core voltage on recent NVIDIA GPUs.
* fixed reading of GPU core voltage on recent AMD GPUs.
* fixed reading of GPU fan speed on NVIDIA GPUs.
! updated: ZoomGPU 1.24.0 (GPU monitoring library)