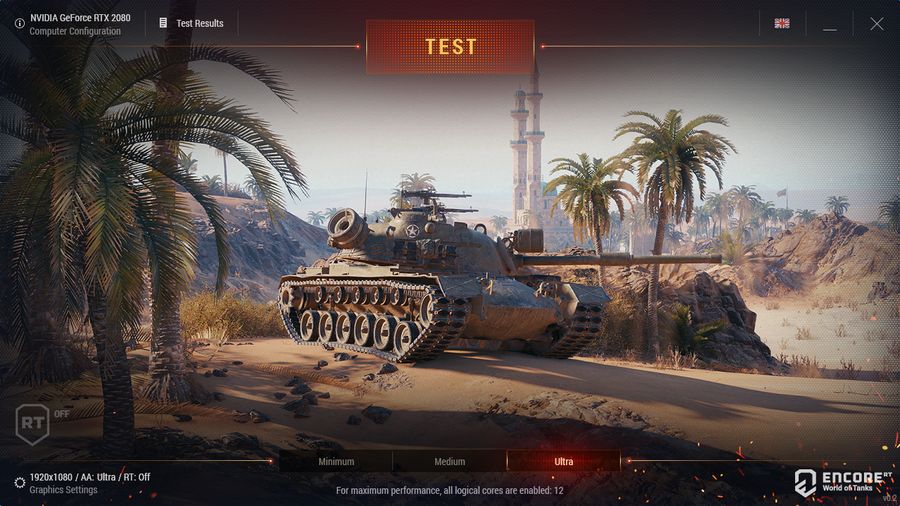 Here is a quick test of the new version of the World of Tanks graphics benchmark. When I saw ray tracing, I said cool, a new benchmark with RTX ray tracing (that's why I tested the benchmark on a RTX 2080) but no RTX here, only a DX11 ray tracing test. At least, it will work on any recent GPU (NVIDIA, AMD or Intel).
What will the current update of the Core engine bring to World of Tanks?
The new main feature is support for the new quality of shadows: they will be softer and more realistic. This is possible thanks to ray tracing technology that used to be only available in cinema and animation. New shadows will be used for all "live" vehicles (excluding destroyed vehicles) that are lit by direct sunlight.

Do I need a special video card with hardware ray tracing support to appreciate the new quality of shadows?
No, our ray tracing technology runs on all video cards with support for the DirectX 11 API or newer.

WoT graphic benchmark can be downloaded from THIS PAGE.
| | |
| --- | --- |
| CPU | Intel Core i7-8700K @ 3.7GHz |
| Motherboard | GIGABYTE Z390 Gaming X |
| Memory | 16GB DDR4 Corsair Vengeance LED @ 3000MHz |
| PSU | Corsair AX860i |
| Storage | Samsung 840 Pro 256GB SSD |
| OS | Windows 10 v1903 64-bit |
Graphics card: ASUS RTX 2080 with NVIDIA R436.30 driver.
Benchmark settings:
– graphics quality: Ultra.
– resolution: 1920×1080
I tested the benchmark with RT shadows ON and OFF.
Test 1: RT shadows OFF
score: 43092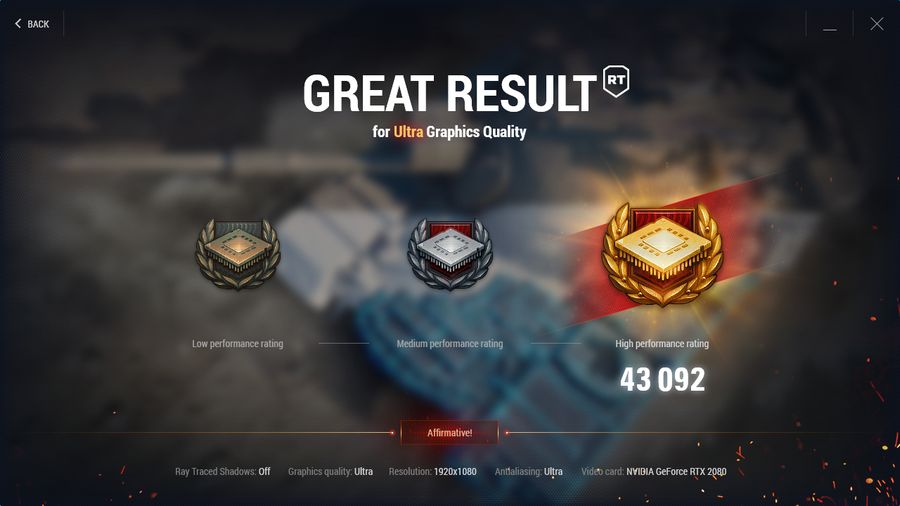 Test 2: RT shadows ON (Ultra)
score: 28825