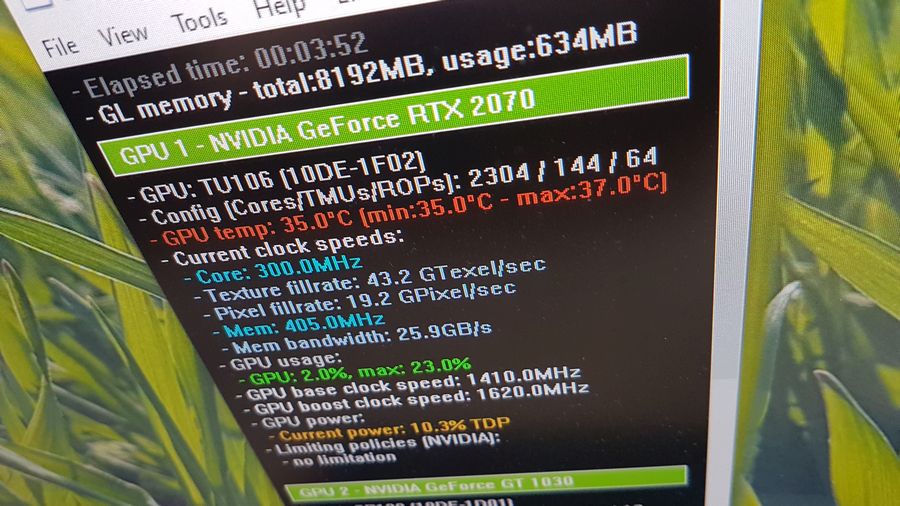 A new version of GPU Shark, a tiny GPU monitoring utility (Windows 32-bit) for NVIDIA GeForce and AMD Radeon graphics cards, is available.
1 – Download
GPUShark-0.14.0.0.zip hash codes:
- file size => 613796 bytes
- MD5       => e84b68e88e3857ca5a7a0df5f5d4f0fd
- SHA1      => e01fd936bbf7e78310f4d06ee3557e994367f700
- SHA256    => ce6a238561d5a16f197091b778fc2185e778b8aafff59106634809a3602b5811

The hash codes have been computed with h4shg3n.
For any feedback or bug-report, a thread is available HERE.
2 – Release Notes
GPU Shark 0.14.0 brings the support of GeForce RTX 2060 SUPER and RTX 2070 SUPER. Texture and pixel fillrates as well as memory bandwidth are now displayed in simplified view and in detailed view.
The simplified view shows current fillrates and bandwidth: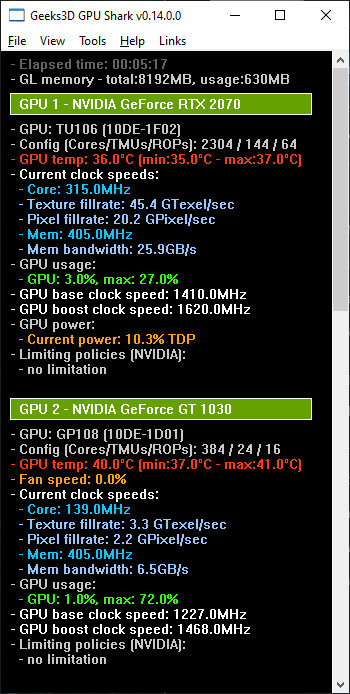 The detailed view adds fillrates and bandwidth related to base and boost clock speeds:

3 – What is GPU Shark
GPU Shark is a simple, lightweight and free GPU monitoring tool for GeForce and Radeon based graphics cards and is available for Windows only. GPU Shark offers a global view of all your graphics cards in a single window.
4 – Changelog

Version 0.14.0.0 - 2019.07.03
+ added NVIDIA GeForce RTX 2060 SUPER and RTX 2070 SUPER.
! When available, texture and pixel fillrate and memory bandwidth are 
  now displayed in simplified and detailed views.
! updated: ZoomGPU 1.23.2 (GPU monitoring library).