AMD has announced the Radeon RX 5700 Series, the new family of graphics cards based on the Navi GPU. The RX 5700 family is not the high-end family (RX 5800 ?) and RX 5700 cards will replace current Radeon RX Vega 56/64. The RX 5700 is based on the new RDNA architecture that is implemented in the Navi GPU. The RDNA architecture is designed for gaming and the 7nm process (the same process than than Radeon VII) allows to decrease power consumption while keeping a high level of performances.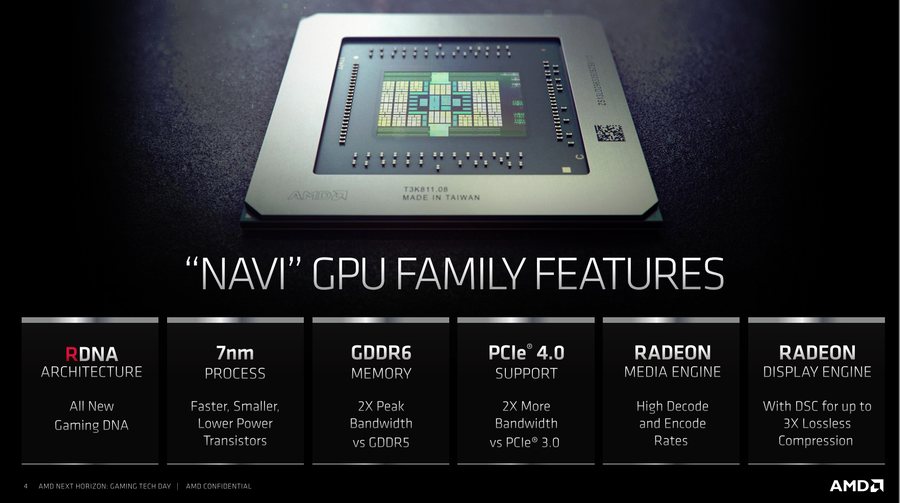 The Radeon RX 5700 XT targets NVIDIA GeForce RTX 2070 while the little RX 5700 will try to compete with the RTX 2060.
The RX 5700 cards have the support for PCI Express 4.0 which doubles the bandwidth from 16GB/sec to 32GB/sec compared to PCI Express 3.0.
AMD didn't mention support for real time ray tracing but introduced a new technology called Fidelity FX that will offer shaper details in low contrast zones.
Launch price: USD $449 for the RX 5700 XT and $349 for the RX 5700. Both cards will be launched on July 7th 2019.
Radeon RX 5700 XT specifications
GPU: Navi 10 (RDNA) @ 1650 MHz (base clock) and 1905 MHz (boost clock), TSMC 7nm, 10.3 billion transistors
Shader units: 2560 stream processors
Compute units: 40 (64 SPs / CU)
Texture units (TMUs): 160
ROPs: 64
FP32 performance: 9.75 TFLOPS
Memory: 8GB GDDR6 @ 14Gbps, 256-bit memory interface
TDP: 225W
Power connectors: 8-pin + 6-pin
Radeon RX 5700 specifications
GPU: Navi 10 (RDNA) @ 1465 MHz (base clock) and 1725 MHz (boost clock), TSMC 7nm, 10.3 billion transistors
Shader units: 2304 stream processors
Compute units: 36 (64 SPs / CU)
Texture units (TMUs): 144
ROPs: 64
FP32 performance: 7.9 TFLOPS
Memory: 8GB GDDR6 @ 14Gbps, 256-bit memory interface
TDP: 180W
Power connectors: 8-pin + 6-pin
Links