AMD has released its first 2019 graphics driver. Adrenalin 19.1.1 brings improved support for Fortnite (up to… 4% faster on Season 7 on a RX 580 compared to latest 18.12.3). The support of Vulkan has been updated to the version 1.1.96 of the specs.
Adrenalin 2019 Edition 19.1.1 Downloads

Fixed Issues
– Virtual Super Resolution may not show up as available on some 1440p Ultra-Wide Displays.
– Some Radeon RX Series graphics products may experience system lag when Alt+Tab is used during gameplay.
– Radeon Settings Advisor may incorrectly suggest older versions of Radeon Software as an update.
– Radeon Settings software update notifications may appear more often than expected.
– Application profile settings for Radeon WattMan may not reset to default correctly when using the reset button.
– Radeon Settings may experience a crash when clicking the restart button after a driver installation or while switching between some Radeon WattMan tabs when changing fan settings.
– Zero RPM control may fail to enable correctly when toggled on/off in Radeon Settings.
– Radeon ReLive gallery upload queue may sometimes fail to upload videos.
– Radeon Settings may sometimes incorrectly display the previously installed Radeon Software version after upgrade.
– Custom color profile options may fail to retain in game on clone or Eyefinity display setups.
– Performance metrics overlay feature may scale incorrectly when changing resolution in game.
– Screen tearing may be observed with Enhanced Sync enabled on Vulkan API games.
– Some systems running multiple displays may experience mouse lag when at least one display is enabled but powered off.
– Upgrade Advisor may intermittently fail to detect games and provide compatibility recommendations.
Quick driver information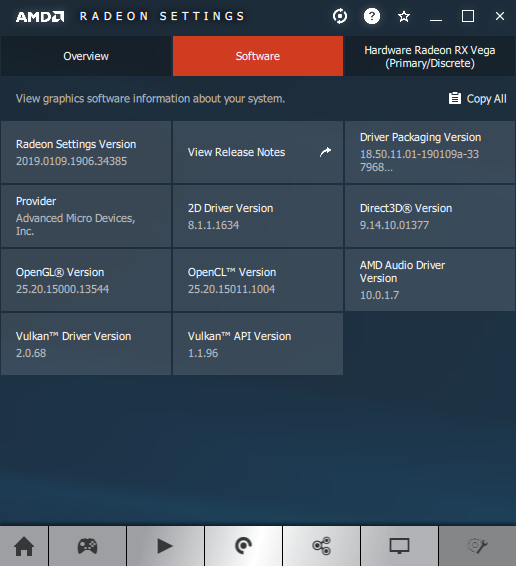 OpenGL support
Nothing particular here, still OpenGL 4.6 like previous Adrenalin drivers.

- GL_VENDOR: ATI Technologies Inc.
- GL_RENDERER: Radeon RX Vega
- GL_VERSION: 4.6.13544 Compatibility Profile Context 25.20.15011.1004
- OpenGL Extensions: 323 extensions (GL=299 and WGL=24)

All OpenGL extensions are available HERE.
Vulkan support
This new version of Adrenalin brings the support of Vulkan 1.1.96. But this support looks like a bit incomplete. For example, the VK_EXT_pci_bus_info added in Vulkan 1.1.88 is not exposed in this driver for a Radeon RX Vega 56.
Here is the report from upcoming GPU Shark 2:

- name: Radeon RX Vega
- device type: VK_PHYSICAL_DEVICE_TYPE_DISCRETE_GPU
- device ID: 1002-687F
- API version: 1.1.96

- # of extensions => 70
  - 001/ VK_KHR_sampler_mirror_clamp_to_edge
  - 002/ VK_KHR_shader_draw_parameters
  - 003/ VK_KHR_swapchain
  - 004/ VK_KHR_maintenance1
  - 005/ VK_KHR_maintenance2
  - 006/ VK_KHR_maintenance3
  - 007/ VK_KHR_relaxed_block_layout
  - 008/ VK_KHR_dedicated_allocation
  - 009/ VK_KHR_descriptor_update_template
  - 010/ VK_KHR_external_memory
  - 011/ VK_KHR_external_memory_win32
  - 012/ VK_KHR_device_group
  - 013/ VK_AMD_calibrated_timestamps
  - 014/ VK_KHR_bind_memory2
  - 015/ VK_KHR_external_semaphore
  - 016/ VK_KHR_external_semaphore_win32
  - 017/ VK_AMD_rasterization_order
  - 018/ VK_AMD_shader_ballot
  - 019/ VK_AMD_shader_trinary_minmax
  - 020/ VK_AMD_shader_explicit_vertex_parameter
  - 021/ VK_AMD_gcn_shader
  - 022/ VK_AMD_draw_indirect_count
  - 023/ VK_KHR_draw_indirect_count
  - 024/ VK_AMD_negative_viewport_height
  - 025/ VK_AMD_gpu_shader_half_float
  - 026/ VK_AMD_shader_info
  - 027/ VK_AMD_gpu_shader_half_float_fetch
  - 028/ VK_EXT_sampler_filter_minmax
  - 029/ VK_AMD_shader_fragment_mask
  - 030/ VK_EXT_hdr_metadata
  - 031/ VK_EXT_swapchain_colorspace
  - 032/ VK_AMD_wave_limits
  - 033/ VK_AMD_texture_gather_bias_lod
  - 034/ VK_AMD_mixed_attachment_samples
  - 035/ VK_EXT_sample_locations
  - 036/ VK_AMD_gpu_shader_int16
  - 037/ VK_EXT_shader_subgroup_vote
  - 038/ VK_KHR_16bit_storage
  - 039/ VK_KHR_storage_buffer_storage_class
  - 040/ VK_AMD_gpa_interface
  - 041/ VK_EXT_shader_subgroup_ballot
  - 042/ VK_EXT_shader_stencil_export
  - 043/ VK_EXT_shader_viewport_index_layer
  - 044/ VK_KHR_get_memory_requirements2
  - 045/ VK_KHR_image_format_list
  - 046/ VK_KHR_swapchain_mutable_format
  - 047/ VK_EXT_inline_uniform_block
  - 048/ VK_KHR_shader_atomic_int64
  - 049/ VK_KHR_driver_properties
  - 050/ VK_KHR_create_renderpass2
  - 051/ VK_KHR_8bit_storage
  - 052/ VK_KHR_multiview
  - 053/ VK_KHR_external_fence
  - 054/ VK_KHR_external_fence_win32
  - 055/ VK_KHR_win32_keyed_mutex
  - 056/ VK_EXT_global_priority
  - 057/ VK_AMD_buffer_marker
  - 058/ VK_AMD_shader_image_load_store_lod
  - 059/ VK_EXT_external_memory_host
  - 060/ VK_EXT_depth_range_unrestricted
  - 061/ VK_AMD_shader_core_properties
  - 062/ VK_EXT_queue_family_foreign
  - 063/ VK_EXT_descriptor_indexing
  - 064/ VK_KHR_variable_pointers
  - 065/ VK_EXT_vertex_attribute_divisor
  - 066/ VK_EXT_conservative_rasterization
  - 067/ VK_GOOGLE_hlsl_functionality1
  - 068/ VK_GOOGLE_decorate_string
  - 069/ VK_EXT_scalar_block_layout
  - 070/ VK_AMD_memory_overallocation_behavior

- # of layers => 1
  - 001/ VK_LAYER_AMD_switchable_graphics

- # of memory heaps => 3
  - heap 1 => 7920 MB
  - heap 2 => 7865 MB
  - heap 3 => 256 MB

- # of features => 55
  - 001/ robustBufferAccess => 1
  - 002/ fullDrawIndexUint32 => 1
  - 003/ imageCubeArray => 1
  - 004/ independentBlend => 1
  - 005/ geometryShader => 1
  - 006/ tessellationShader => 1
  - 007/ sampleRateShading => 1
  - 008/ dualSrcBlend => 1
  - 009/ logicOp => 1
  - 010/ multiDrawIndirect => 1
  - 011/ drawIndirectFirstInstance => 1
  - 012/ depthClamp => 1
  - 013/ depthBiasClamp => 1
  - 014/ fillModeNonSolid => 1
  - 015/ depthBounds => 1
  - 016/ wideLines => 1
  - 017/ largePoints => 1
  - 018/ alphaToOne => 0
  - 019/ multiViewport => 1
  - 020/ samplerAnisotropy => 1
  - 021/ textureCompressionETC2 => 0
  - 022/ textureCompressionASTC_LDR => 0
  - 023/ textureCompressionBC => 1
  - 024/ occlusionQueryPrecise => 1
  - 025/ pipelineStatisticsQuery => 1
  - 026/ vertexPipelineStoresAndAtomics => 1
  - 027/ fragmentStoresAndAtomics => 1
  - 028/ shaderTessellationAndGeometryPointSize => 1
  - 029/ shaderImageGatherExtended => 1
  - 030/ shaderStorageImageExtendedFormats => 1
  - 031/ shaderStorageImageMultisample => 1
  - 032/ shaderStorageImageReadWithoutFormat => 1
  - 033/ shaderStorageImageWriteWithoutFormat => 1
  - 034/ shaderUniformBufferArrayDynamicIndexing => 1
  - 035/ shaderSampledImageArrayDynamicIndexing => 1
  - 036/ shaderStorageBufferArrayDynamicIndexing => 1
  - 037/ shaderStorageImageArrayDynamicIndexing => 1
  - 038/ shaderClipDistance => 1
  - 039/ shaderCullDistance => 1
  - 040/ shaderFloat64 => 1
  - 041/ shaderInt64 => 1
  - 042/ shaderInt16 => 1
  - 043/ shaderResourceResidency => 1
  - 044/ shaderResourceMinLod => 1
  - 045/ sparseBinding => 1
  - 046/ sparseResidencyBuffer => 1
  - 047/ sparseResidencyImage2D => 1
  - 048/ sparseResidencyImage3D => 1
  - 049/ sparseResidency2Samples => 0
  - 050/ sparseResidency4Samples => 0
  - 051/ sparseResidency8Samples => 0
  - 052/ sparseResidency16Samples => 0
  - 053/ sparseResidencyAliased => 1
  - 054/ variableMultisampleRate => 1
  - 055/ inheritedQueries => 1

- # of hardware limits => 106
  - 001/ maxImageDimension1D => 16384
  - 002/ maxImageDimension2D => 16384
  - 003/ maxImageDimension3D => 2048
  - 004/ maxImageDimensionCube => 16384
  - 005/ maxImageArrayLayers => 2048
  - 006/ maxTexelBufferElements => 4294967295
  - 007/ maxUniformBufferRange => 4294967295
  - 008/ maxStorageBufferRange => 4294967295
  - 009/ maxPushConstantsSize => 128
  - 010/ maxMemoryAllocationCount => 4096
  - 011/ maxSamplerAllocationCount => 1048576
  - 012/ bufferImageGranularity => 1
  - 013/ sparseAddressSpaceSize => 17579301142528
  - 014/ maxBoundDescriptorSets => 32
  - 015/ maxPerStageDescriptorSamplers => 4294967295
  - 016/ maxSamplerAllocationCount => 4294967295
  - 017/ maxPerStageDescriptorStorageBuffers => 4294967295
  - 018/ maxPerStageDescriptorSampledImages => 4294967295
  - 019/ maxPerStageDescriptorStorageImages => 4294967295
  - 020/ maxPerStageDescriptorInputAttachments => 4294967295
  - 021/ maxPerStageResources => 4294967295
  - 022/ maxDescriptorSetSamplers => 4294967295
  - 023/ maxDescriptorSetUniformBuffers => 4294967295
  - 024/ maxDescriptorSetUniformBuffersDynamic => 8
  - 025/ maxDescriptorSetStorageBuffers => 4294967295
  - 026/ maxDescriptorSetStorageBuffersDynamic => 8
  - 027/ maxDescriptorSetSampledImages => 4294967295
  - 028/ maxDescriptorSetStorageImages => 4294967295
  - 029/ maxDescriptorSetInputAttachments => 4294967295
  - 030/ maxVertexInputAttributes => 64
  - 031/ maxVertexInputBindings => 32
  - 032/ maxVertexInputAttributeOffset => 4294967295
  - 033/ maxVertexInputBindingStride => 16383
  - 034/ maxVertexOutputComponents => 128
  - 035/ maxTessellationGenerationLevel => 64
  - 036/ maxTessellationPatchSize => 32
  - 037/ maxTessellationControlPerVertexInputComponents => 128
  - 038/ maxTessellationControlPerVertexOutputComponents => 128
  - 039/ maxTessellationControlPerPatchOutputComponents => 120
  - 040/ maxTessellationControlTotalOutputComponents => 4096
  - 041/ maxTessellationEvaluationInputComponents => 128
  - 042/ maxTessellationEvaluationOutputComponents => 128
  - 043/ maxGeometryShaderInvocations => 127
  - 044/ maxGeometryInputComponents => 128
  - 045/ maxGeometryOutputComponents => 128
  - 046/ maxGeometryOutputVertices => 1024
  - 047/ maxGeometryTotalOutputComponents => 16384
  - 048/ maxFragmentInputComponents => 128
  - 049/ maxFragmentOutputAttachments => 8
  - 050/ maxFragmentDualSrcAttachments => 1
  - 051/ maxFragmentCombinedOutputResources => 4294967295
  - 052/ maxComputeSharedMemorySize => 32768
  - 053/ maxComputeSharedMemorySize => 65535 x 65535 x 65535
  - 054/ maxComputeWorkGroupInvocations => 1024
  - 055/ maxComputeWorkGroupSize => 1024 x 1024 x 1024
  - 056/ subPixelPrecisionBits => 8
  - 057/ subTexelPrecisionBits => 8
  - 058/ mipmapPrecisionBits => 8
  - 059/ maxDrawIndexedIndexValue => 4294967295
  - 060/ maxDrawIndirectCount => 4294967295
  - 061/ maxSamplerLodBias => 15.996094
  - 062/ maxSamplerAnisotropy => 16.000000
  - 063/ maxViewports => 16
  - 064/ maxViewportDimensions => 16384 x 16384
  - 065/ viewportBoundsRange => -32768.000000 x 32767.000000
  - 066/ viewportSubPixelBits => 8
  - 067/ minMemoryMapAlignment => 64
  - 068/ minTexelBufferOffsetAlignment => 1
  - 069/ minUniformBufferOffsetAlignment => 16
  - 070/ minStorageBufferOffsetAlignment => 4
  - 071/ minTexelOffset => -64
  - 072/ maxTexelOffset => 63
  - 073/ minTexelGatherOffset => -32
  - 074/ maxTexelGatherOffset => 31
  - 075/ minInterpolationOffset => -2.000000
  - 076/ maxInterpolationOffset => 2.000000
  - 077/ subPixelInterpolationOffsetBits => 8
  - 078/ maxFramebufferWidth => 16384
  - 079/ maxFramebufferHeight => 16384
  - 080/ maxFramebufferLayers => 2048
  - 081/ framebufferColorSampleCounts => 15
  - 082/ framebufferDepthSampleCounts => 15
  - 083/ framebufferStencilSampleCounts => 15
  - 084/ framebufferNoAttachmentsSampleCounts => 15
  - 085/ maxColorAttachments => 8
  - 086/ sampledImageColorSampleCounts => 15
  - 087/ sampledImageIntegerSampleCounts => 15
  - 088/ sampledImageDepthSampleCounts => 15
  - 089/ sampledImageStencilSampleCounts => 15
  - 090/ storageImageSampleCounts => 15
  - 091/ maxSampleMaskWords => 1
  - 092/ timestampComputeAndGraphics => 1
  - 093/ timestampPeriod => 37.037037
  - 094/ maxClipDistances => 8
  - 095/ maxCullDistances => 8
  - 096/ maxCombinedClipAndCullDistances => 8
  - 097/ discreteQueuePriorities => 2
  - 098/ pointSizeRange => 0.000000 x 8191.875000
  - 099/ lineWidthRange => 0.000000 x 8191.875000
  - 100/ pointSizeGranularity => 0.125000
  - 101/ lineWidthGranularity => 0.125000
  - 102/ strictLines => 0
  - 103/ standardSampleLocations => 1
  - 104/ optimalBufferCopyOffsetAlignment => 1
  - 105/ optimalBufferCopyRowPitchAlignment => 1
  - 106/ nonCoherentAtomSize => 128

OpenCL support
Here is the report from upcoming GPU Shark 2 (I left the Intel support):

# of platforms => 2
- plateform 1 => AMD Accelerated Parallel Processing
  - vendor => Advanced Micro Devices, Inc.
  - version => OpenCL 2.1 AMD-APP (2766.5)
  # of devices => 1
    - device 1 => gfx900
      - vendor => Advanced Micro Devices, Inc.
      - version => OpenCL 2.0 AMD-APP (2766.5)
      - driver => 2766.5 (PAL,HSAIL)
      - type => GPU
      - max compute units => 56
      - clock frequency => 1622 MHz
      - FLOPS => 90832
- plateform 2 => Intel(R) OpenCL
  - vendor => Intel(R) Corporation
  - version => OpenCL 2.1 
  # of devices => 2
    - device 1 => Intel(R) UHD Graphics 630
      - vendor => Intel(R) Corporation
      - version => OpenCL 2.1 NEO 
      - driver => 25.20.100.6471
      - type => GPU
      - max compute units => 24
      - clock frequency => 1200 MHz
      - FLOPS => 28800
    - device 2 => Intel(R) Core(TM) i7-8700K CPU @ 3.70GHz
      - vendor => Intel(R) Corporation
      - version => OpenCL 2.1 (Build 0)
      - driver => 7.6.0.0
      - type => CPU
      - max compute units => 12
      - clock frequency => 3700 MHz
      - FLOPS => 44400

—
Source: Geeks3D forums