Snap Inc., the company behind the popular Snapchat augmented reality (AR) app on mobile devices, has released the desktop version called Snap Camera. Snap Camera is available for Windows 10 and macOS 10.11+ platforms. Snap Camera brings all Snapchat lenses and filters on desktop.
You can download Snap Camera from THIS PAGE. No account is needed, just follow the download link.
The press release is available HERE.


Snap Camera on Windows:


On Windows Snap Camera is a virtual camera and once installed, it adds a new video source filter on Windows. So any application that uses the webcam (like Skype, OBS Studio or GeeXLab) can easily use the new virtual camera installed by Snap Camera. By the way, this new virtual camera can be easily find by its name: Snap Camera.
I couldn't resist to test Snap Camera lenses with GeeXLab. On Windows, GeeXLab can use all registered video sources. I have a Microsoft LifeCam Studio webcam on my PC and here is what GeeXLab sees (log file):

18:08:00:761(0000252)	[info ]	[Webcam module] - capture device 1: Microsoft® LifeCam Studio(TM)
18:08:00:761(0000253)	[info ]	[Webcam module] - capture device 2: Snap Camera


I played with the webcam code sample available in the Learn Pack: it's a simple app that displays the output of a webcam. The Learn Pack is shipped with GeeXLab in the learn/ folder and the webcam demo is available in the learn/02-intermediate/05-webcam-win32/ folder.
The webcam is selected by its index: 1 for the first webcam, 2 for the second and so on. On most of PCs, there is a single webcam (index 1). The Snap Camera adds a second virtual camera (index 2). To select the Snap Camera device, just change the line 73 of the demo source code and replace 1 by 2:

gh_utils.webcam_start(webcam1, 2)


Now launch Snap Camera, then launch GeeXLab and load the webcam demo. You should see in GeeXLab the output of the Snap Camera. No need a real human face in front of your webcam, I tested the different lenses with a hand drawn face: it works fine too!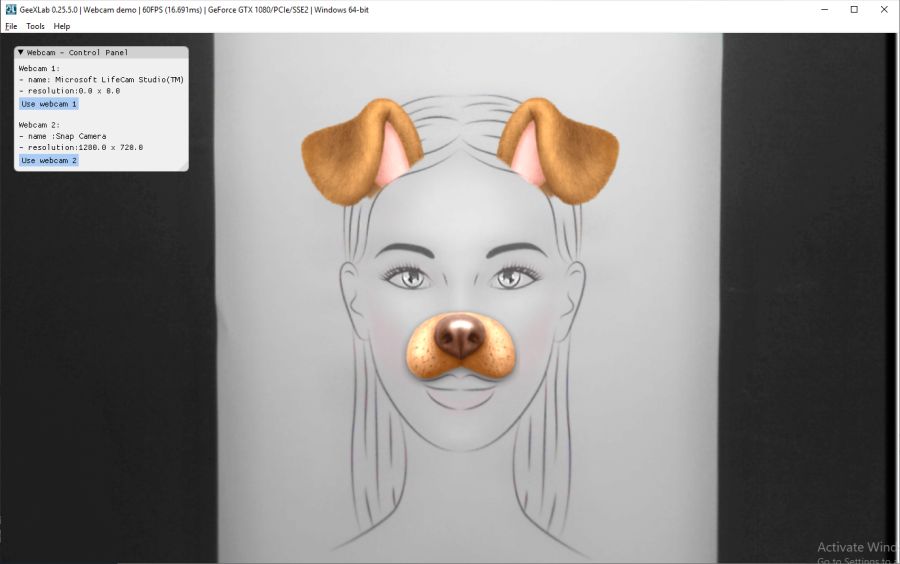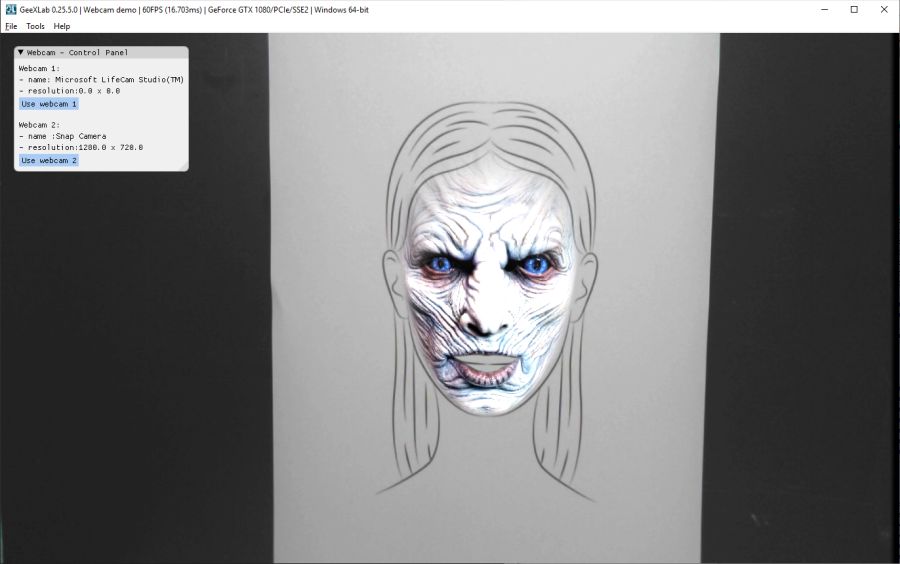 I also tested with a barbie doll my daughter forgot in my office, and it works perfectly too:


I love the Halloween Clown, White Walker and Squeaky Piggy lenses, there're creepy!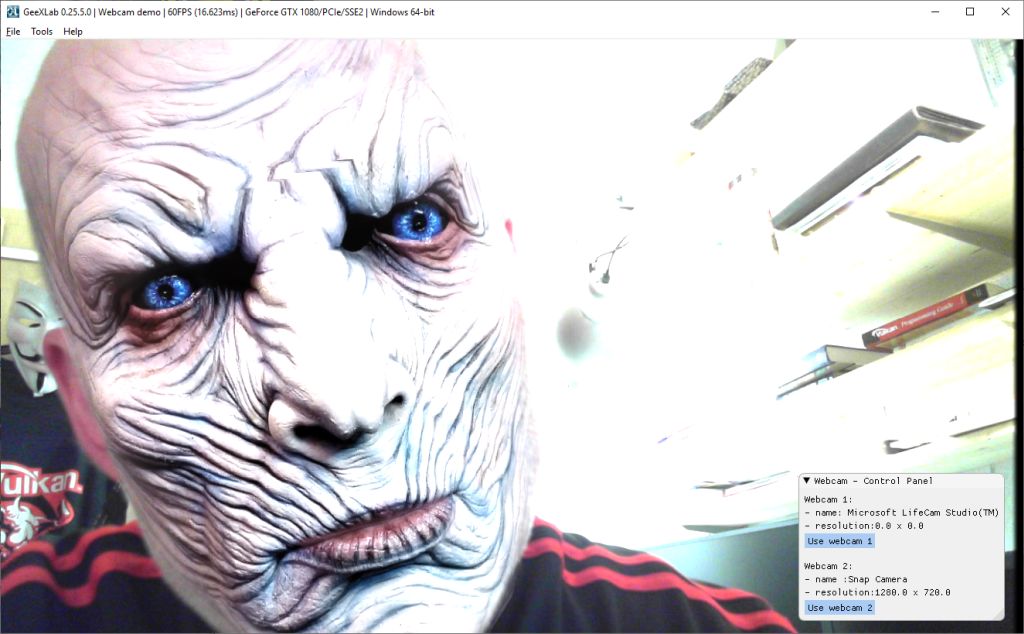 Additional links:
– Snap Camera guide
– Lens Studio
– Snapchat's Filters: How computer vision recognizes your face