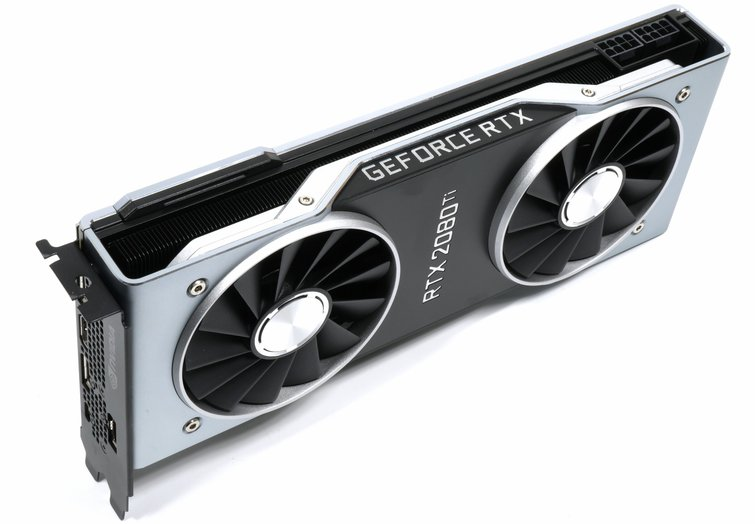 1 – GeForce RTX 20 Series Overview
NVIDIA has officially launched the new GeForce RTX 20 Series graphics cards today based on the Turing GPU architecture. For this launch day, two graphics cards are available: the GeForce RTX 2080 Ti and the GeForce RTX 2080.
The GeForce RTX 2080 Ti is based on cut-down version of a full TU102 GPU. A full TU102 includes 72 SMs, 4608 CUDA cores, 576 tensor cores, 72 RT cores, 288 TMUs and 96 ROPs. The RTX 2080 Ti comes with a TU102 GPU where four SMs have been disabled. A Turing SM (streaming multiprocessor) packs 64 CUDA cores, 8 tensor cores and one RT cores (Ray Tracing).
The GeForce RTX 2080 is based on another Turing variant, the TU104 that has 2944 CUDA cores, 368 tensor cores and 46 RT cores.
Both graphics cards comes with all new features such as:
hardware ray tracing capabilities (RT cores), tensor cores (specialized execution units designed specifically for performing the tensor / matrix operations that are the core compute function used in Deep Learning)
mesh shading (which advances NVIDIA's geometry processing architecture by offering a new shader model for the vertex, tessellation, and geometry shading stages of the graphics pipeline, supporting more flexible and efficient approaches for computation of geometry)
variable rate shading or VRS that allows developers to control shading rate dynamically, shading as little as once per sixteen pixels or as often as eight times per pixel
DLSS or Deep-Learning Super-Sampling which is a new antialiasing technique based on built-in deep-neural networks (DNN) that are accelerated by tensor cores!
GDDR6 graphics memory
second-generation NVLink to connect two GeForce RTX
The RTX 2080 Ti is more or less 30 % faster than the previous GTX 1080 Ti. The RTX 2080 is 10 % faster than the previous GTX 1080 and 30% slower than the RTX 2080 Ti.
2 – GeForce RTX 2080 Ti Reference and FE Specifications
GPU: TU102 (Turing), 12nm TSMC, 18.6 billion transistors, base clock: 1350MHz, boost clock: 1635MHz (FE) or 1545MHz (reference)
SMs: 68
CUDA cores: 4352
Tensor cores: 544
RT cores (Ray Tracing): 68
Texture units (TMUs): 272
Raster Ops units (ROPs): 88
Memory: 11GB GDDR6, memory interface: 352-bit
TDP: 250W (reference) / 260W (FE)
Power connectors: 8-pin + 8-pin
HDMI 2.0b + DisplayPort 1.4
Price: $1000 (ref) / $1100 (FE)
3 – GeForce RTX 2080 Reference and FE Specifications
GPU: TU104 (Turing), 12nm TSMC, 13.6 billion transistors, base clock: 1515MHz, boost clock: 1800MHz (FE) or 1710MHz (reference)
SMs: 46
CUDA cores: 2944
Tensor cores: 368
RT cores (Ray Tracing): 46
Texture units (TMUs): 184
Raster Ops units (ROPs): 64
Memory: 8GB GDDR6, memory interface: 256-bit
TDP: 215W (reference) / 225W (FE)
Power connectors: 8-pin + 6-pin
Price: $700 (ref) / $800 (FE)
4 – RTX 2080 Ti and RTX 2080 Reviews