1 – Overview
GPU Caps Viewer 1.39.0 is a maintenance release and comes with the support of new NVIDIA GPUs (NVIDIA TITAN V and Quadro GV100, AMD Radeon RX Vega 11 and Vega 8). This new version adds a mininal high-DPI support that prevents GPU Caps Viewer to be resized by Windows when user sets a scale > 100% (no longer blurry effect). The report export has been improved and a new command line allows to append or not the current timestamp to the report file. The OpenGL panel has been slightly updated.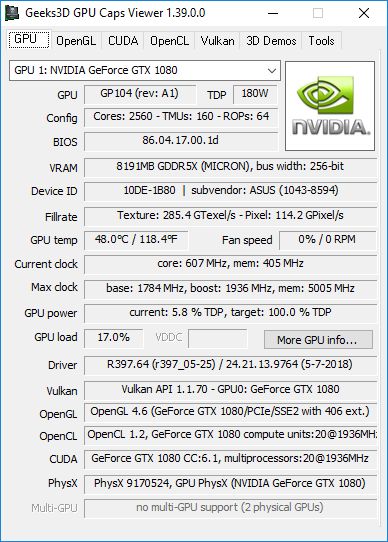 2 – Dowloads
2.1 – Portable version (zip archive – no installation required):


GPU_Caps_Viewer_1.39.0.0.zip hash codes:
- file size: 11.28 MB (11833085 bytes)
- MD5: e6ce7658a0c0954c29cccae441d15c9f
- SHA1: 10b161212c5ce01b08f48c2323eaec96c00791a4
- SHA256: af81be09ad2e8de91f8558d375e55e7cfd68ee97dec1f3c128872f9a4ae7360d


GPU_Caps_Viewer_Setup_v1.39.0.0.exe hash codes:
- file size: 9.20 MB (9649010 bytes)
- MD5: de70a77972124a367c3d02a4411b4eb1
- SHA1: 9109d1adfaa5aecae68b6895d91341c2048fa94e
- SHA256: 78debd3fae8782af1cf762e30be9fbb8d98614f64758fa110cf7cd0d9b7f690c


For any feedback or bug report, a thread on Geeks3D forums is available HERE.
3 – What is GPU Caps Viewer?
GPU Caps Viewer is a graphics card information utility focused on the OpenGL, Vulkan, OpenCL and CUDA API level support of the main (primary) graphics card. For Vulkan, OpenCL and CUDA, GPU Caps Viewer details the API support of each capable device available in the system. GPU Caps Viewer offers also a simple GPU monitoring facility (clock speed, temperature, GPU usage, fan speed) for NVIDIA GeForce and AMD Radeon based graphics cards.

4 – Changelog
Version 1.39.0.0 – 2018.05.15
+ added command line option to disable log file: /no_logfile
+ added minimal high-DPI support. GPU Caps Viewer is no
longer scaled (blurry effect) with high DPI systems.
+ added NVIDIA TITAN V and Quadro GV100.
+ added AMD Radeon RX Vega 11, Vega 8 GPUs.
! the report file name now contains the report date and time
(ex: _report_20180515.093517.txt). A new command line
param allows to control this feature: /append_timestamp_to_report=0|1
* fixed a bug in the report export via command line.
! updated a bit the OpenGL panel.
! updated Intel GPUs information.
! updated: GPU Shark 0.11.2.0
! updated with latest GeeXLab SDK libs.
! recompiled with latest Vulkan API headers (v1.1.70).
! updated: ZoomGPU 1.21.7 (GPU monitoring library).