1 – Overview
AMD had officially announced the Radeon RX Vega GPUs two weeks ago. It was a kind of paper launch. Today it's the real launch: the embargo is over and first reviews are available.
Radeon RX Vega 64 and Vega 56 target NVIDIA GeForce GTX 1070/1080. Here are some conclusion words about AMD's new babies:
TechPowerUp:
AMD's Radeon RX Vega 64 delivers good performance that, when averaged, roughly matches GTX 1080 Founders Edition. This makes the card almost 20% faster than GTX 1070, 30% faster than R9 Fury X; 30% slower than GTX 1080 Ti.
Anandtech:
At 3840×2160, the Vega 64 is on average neck-and-neck with the GeForce GTX 1080 in gaming performance, with the two cards routinely trading the lead, and AMD holding it more often.
…
Though a step down from the RX Vega 64, the Vega 56 delivers around 90% of Vega 64's performance for 80% of the price. Furthermore, when compared head-to-head with the GeForce GTX 1070, its closest competition, the Vega 56 enjoys a small but none the less significant 8% performance advantage over its NVIDIA counterpart.
PC Perspective:
Here is the tale of a blower cooler on a 300-watt GPU – it's just is not a fantastic solution. The standard RX Vega 64 sits at a reasonable 35 dbA at idle but gets extremely loud when running a full load, even at stock settings. The 46 dbA score is significantly louder than the GTX 1080/1070 or even the GTX 1080 Ti that has to keep a 250 watt TDP in order.
Homepages:
– Radeon RX Vega 64 @ AMD
– Radeon RX Vega 56 @ AMD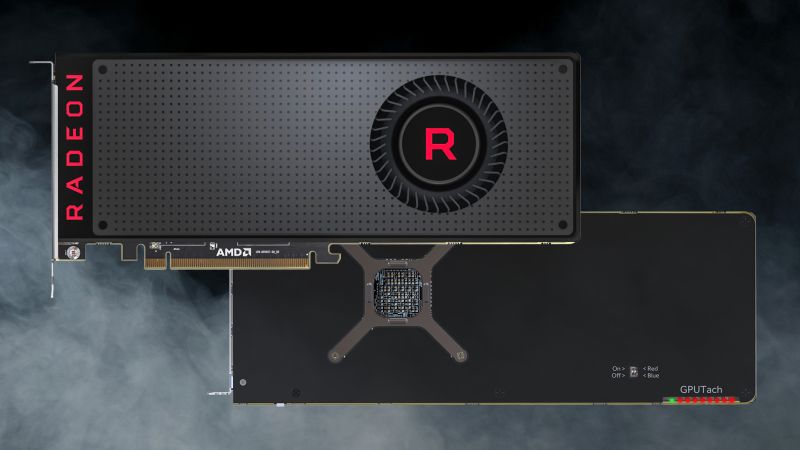 2 – Reviews