---
Update (2016.10.24): NVIDIA has uploaded a new driver with version R375.63 that replaces the version R375.57. R375.63 fixes a bug introduced by R375.57 that affects Windows 10 games.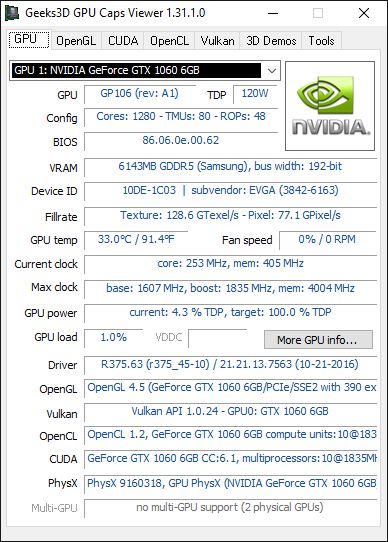 ---
NVIDIA has released a new set of graphics drivers for all available GeForce graphics cards. R375.57 R375.63 brings optimizations and support for Battlefield 1, Civilization VI, and Titanfall 2.
R375.63 desktop downloads
R375.63 notebook downloads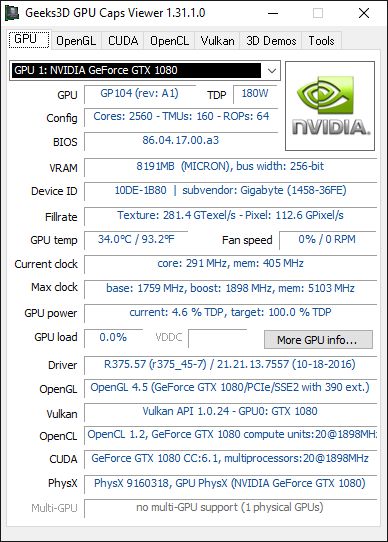 R375.57 is an OpenGL 4.5 driver. The number of extensions does not change compared to R372.90, there are still 390 OpenGL extensions (GL=361 and WGL=29).
In the Vulkan API side, R375.57 exposes Vulkan 1.0.24 (compared to 1.0.13 in R372.90). Here is the report from GPU Caps Viewer for a GeForce GTX 1080:

===================================[ Vulkan Capabilities ]
- Instance extensions: 4
	- VK_KHR_surface (version: 25)
	- VK_KHR_win32_surface (version: 5)
	- VK_EXT_debug_report (version: 4)
	- VK_NV_external_memory_capabilities (version: 1)
- Physical devices: 1
	- [Device 0]: GTX 1080
		- API version: 1.0.24
		- vendorID: 4318
		- deviceID: 7040
		- driver version: 1573797888
		- extensions: 7
			- VK_KHR_swapchain (version: 68)
			- VK_NV_glsl_shader (version: 1)
			- VK_KHR_sampler_mirror_clamp_to_edge (version: 1)
			- VK_NV_dedicated_allocation (version: 1)
			- VK_NV_external_memory (version: 1)
			- VK_NV_external_memory_win32 (version: 1)
			- VK_NV_win32_keyed_mutex (version: 1)
		- device limits
			- maxImageDimension1D: 32768
			- maxImageDimension2D: 32768
			- maxImageDimension3D: 16384
			- maxImageDimensionCube: 32768
			- maxImageArrayLayers: 2048
			- maxTexelBufferElements: 134217728
			- maxUniformBufferRange: 65536
			- maxStorageBufferRange: 2147483647
			- maxPushConstantsSize: 256
			- maxMemoryAllocationCount: 4096
			- maxSamplerAllocationCount: 4000
			- bufferImageGranularity: 1024
			- sparseAddressSpaceSize: 18446744073709551615
			- maxBoundDescriptorSets: 8
			- maxPerStageDescriptorSamplers: 4000
			- maxPerStageDescriptorUniformBuffers: 12
			- maxPerStageDescriptorSampledImages: 8192
			- maxPerStageDescriptorStorageImages: 8192
			- maxPerStageDescriptorInputAttachments: 8
			- maxPerStageResources: 24612
			- maxDescriptorSetSamplers: 4000
			- maxDescriptorSetUniformBuffers: 72
			- maxDescriptorSetUniformBuffersDynamic: 72
			- maxDescriptorSetStorageBuffers: 96
			- maxDescriptorSetStorageBuffersDynamic: 96
			- maxDescriptorSetSampledImages: 49152
			- maxDescriptorSetStorageImages: 49152
			- maxDescriptorSetInputAttachments: 8
			- maxVertexInputAttributes: 32
			- maxVertexInputBindings: 32
			- maxVertexInputAttributeOffset: 2047
			- maxVertexInputBindingStride: 2048
			- maxVertexOutputComponents: 128
			- maxTessellationGenerationLevel: 64
			- maxTessellationPatchSize: 32
			- maxTessellationControlPerVertexInputComponents: 128
			- maxTessellationControlPerVertexOutputComponents: 128
			- maxTessellationControlPerPatchOutputComponents: 120
			- maxTessellationControlTotalOutputComponents: 4216
			- maxTessellationEvaluationInputComponents: 128
			- maxTessellationEvaluationOutputComponents: 128
			- maxGeometryShaderInvocations: 32
			- maxGeometryInputComponents: 128
			- maxGeometryOutputComponents: 128
			- maxGeometryOutputVertices: 1024
			- maxGeometryTotalOutputComponents: 1024
			- maxFragmentInputComponents: 128
			- maxFragmentOutputAttachments: 8
			- maxFragmentDualSrcAttachments: 1
			- maxFragmentCombinedOutputResources: 16
			- maxComputeSharedMemorySize: 49152
			- maxComputeWorkGroupCount: [2147483647; 65535; 65535]
			- maxComputeWorkGroupInvocations: 1536
			- maxComputeWorkGroupSize: [1536; 1024; 64]
			- subPixelPrecisionBits: 8
			- subTexelPrecisionBits: 8
			- mipmapPrecisionBits: 8
			- maxDrawIndexedIndexValue: 4294967295
			- maxDrawIndirectCount: 4294967295
			- maxSamplerLodBias: 15.000000
			- maxSamplerAnisotropy: 16.000000
			- maxViewports: 16
			- maxViewportDimensions: [32768; 32768]
			- viewportBoundsRange: [-65536.000000 ; 65536.000000]
			- viewportSubPixelBits: 8
			- minMemoryMapAlignment: 64
			- minTexelBufferOffsetAlignment: 16
			- minUniformBufferOffsetAlignment: 256
			- minStorageBufferOffsetAlignment: 32
			- minTexelOffset: 4294967288
			- maxTexelOffset: 7
			- minTexelGatherOffset: 4294967264
			- maxTexelGatherOffset: 31
			- minInterpolationOffset: -0.500000
			- maxInterpolationOffset: 0.437500
			- subPixelInterpolationOffsetBits: 4
			- maxFramebufferWidth: 32768
			- maxFramebufferHeight: 32768
			- maxFramebufferLayers: 2048
			- framebufferColorSampleCounts: 15
			- framebufferDepthSampleCounts: 15
			- framebufferStencilSampleCounts: 31
			- framebufferNoAttachmentsSampleCounts: 15
			- maxColorAttachments: 8
			- sampledImageColorSampleCounts: 15
			- sampledImageIntegerSampleCounts: 15
			- sampledImageDepthSampleCounts: 15
			- sampledImageStencilSampleCounts: 31
			- storageImageSampleCounts: 15
			- maxSampleMaskWords: 1
			- timestampComputeAndGraphics: 1
			- timestampPeriod: 1.000000
			- maxClipDistances: 8
			- maxCullDistances: 8
			- maxCombinedClipAndCullDistances: 8
			- discreteQueuePriorities: 2
			- pointSizeRange: [1.000000 ; 189.875000]
			- lineWidthRange: [0.500000 ; 10.000000]
			- pointSizeGranularity: 0.125000
			- lineWidthGranularity: 0.125000
			- strictLines: 1
			- standardSampleLocations: 1
			- optimalBufferCopyOffsetAlignment: 1
			- optimalBufferCopyRowPitchAlignment: 1
			- nonCoherentAtomSize: 64