A new version of GPU Caps Viewer is available.
1 – Overview
GPU Caps Viewer 1.31.0 brings the full support of latest Radeon RX 400 graphics cards (RX 480, RX 470 and RX 460). Now, clock speeds (GPU and memory), GPU usage, GPU temperature and fan speed are supported. GPU Caps Viewer 1.31.0 adds the support of the latest GeForce GTX 1060 3GB and fixes a bug in the reading of the amount of memory available in OpenGL for Radeon GPUs (OpenGL panel).
2 – Dowloads

2.1 – Zip archive (no installation required):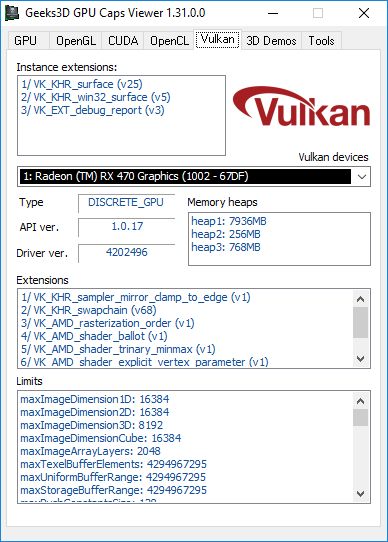 3 – What is GPU Caps Viewer?
GPU Caps Viewer is a graphics card information utility focused on the OpenGL, Vulkan, OpenCL and CUDA API level support of the main (primary) graphics card. For Vulkan, OpenCL and CUDA, GPU Caps Viewer details the API support of each capable device available in the system. GPU Caps Viewer offers also a simple GPU monitoring facility (clock speed, temperature, GPU usage, fan speed) for NVIDIA GeForce and AMD Radeon based graphics cards. GPU data can be submitted to an online GPU database.
4 – Changelog
Version 1.31.1.0 – 2016.09.09
+ added the specification of the full path (/exp_full_filename) for saving export reports.
* Vulkan demos: fixed a crash in the start of the demo when Vulkan was not supported.
! added support of Intel Skylale GPUs (HD Graphics 530, etc.).
! updated: ZoomGPU 1.19.2 (GPU monitoring library).
! updated: GPU Shark 0.9.10.2

Version 1.31.0.0 – 2016.08.24
+ added support of GeForce GTX 1060 3GB.
+ added full support of AMD Radeon RX 400 (RX 480, RX 470 and RX 460).
Now temperature, clock speeds, usage and fan speed are properly read.
* fixed a bug related to Vulkan and Radeon RX 400: the GPU usage was always 100% even
in idle state (no GL/VK demo).
* fixed a bug in the OpenGL available memory for Radeon GPUs (OpenGL panel).
! updated: ZoomGPU 1.19.1 (GPU monitoring library).
! updated: GPU Shark 0.9.10.1