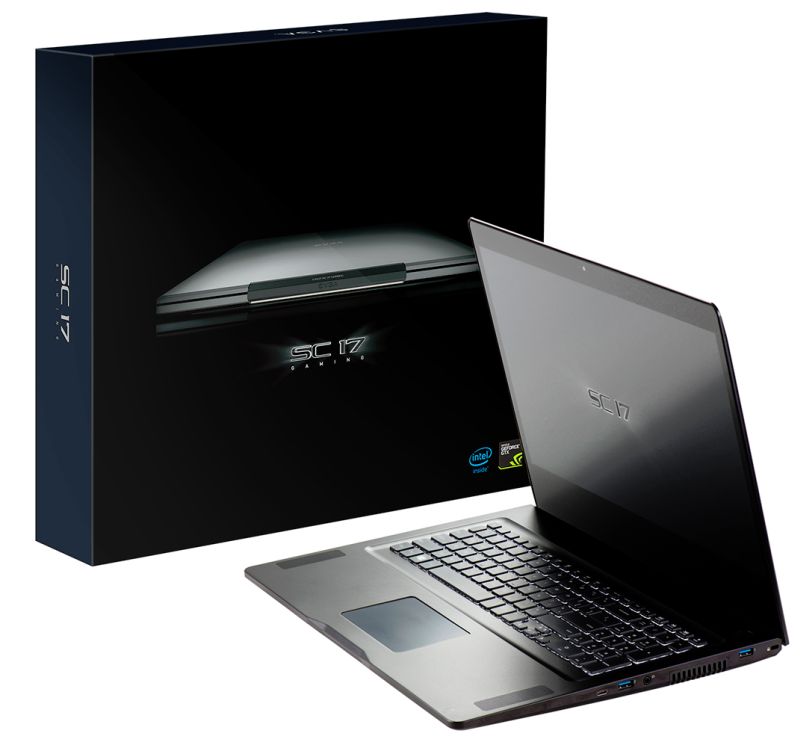 EVGA has launched yesterday a new gaming laptop. The EVGA SC17 is a high-end laptop for gamers and comes with a 17-inch 4K UHD display (IPS panel, 3840×2160), an Intel Core i7 6820HK, 32GB G.Skill 2666MHz DDR4 system memory, a desktop-grade GeForce GTX 1070 graphics card with 8GB of GDDR5 memory. This laptop is available for USD $2799. For other details, visit this press-release or the official page HERE.
If you prefer a slightly cheaper laptop, you can consider EVGA's first gaming laptop (with a GTX 980M), launched 5 months ago.
The EVGA SC17 1070 Gaming Laptop has arrived. This 4K ready, high performance laptop was meticulously created from the ground up for the hardcore gamer, performance enthusiast, and even overclocker. No shortcuts here.

It all starts with power, an in house EVGA designed power supply with a new unique form factor helps deliver up to 240 watts of power when needed, without compromising battery life.

An Intel Core i7 6820HK CPU that is unlocked and capable of being overclocking to 3800MHz and beyond, combined with an NVIDIA GeForce GTX 1070, also capable of being overclocked, lets you get the performance you always wanted from a gaming laptop.

Did we mention that the EVGA SC17 1070 Gaming Laptop is built for overclocking? A FULL GUI BIOS with full mouse control gives you complete control over all aspects of performance, voltage and advanced settings right at your fingertips. Not to mention, a Clear CMOS button directly on the chassis, this is the world's first TRUE overclocking laptop.

A sleek design rounds out the package with a full unibody chassis, and slim design that is under 1.07in at its thickest point. This is just the beginning. USB 3.1 Type C, excellent sound, and a beautiful 4K 17" display is what you get when you cross performance with art.