CRYENGINE
Crytek has unveiled the new version of its popular CRYENGINE which is now available as a Pay What You Want service: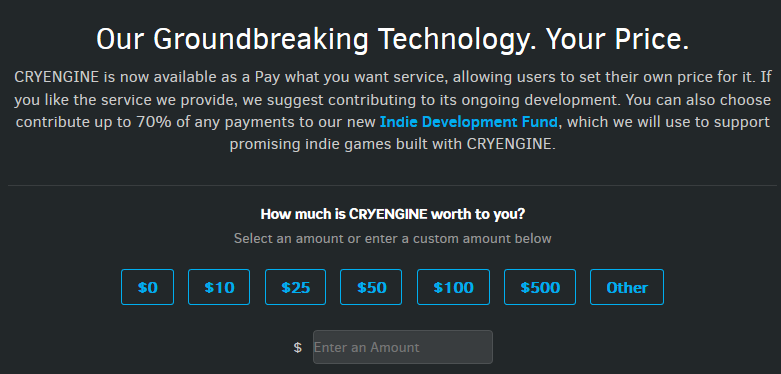 There is still a Enterprise license for clients that needs more support.
CRYENGINE Showcase GDC 2016
12 licensees from around the world—from well-known studios, to smaller independent developers, working with Crytek's CRYENGINE – are showing off the versatility and power of CRYENGINE.

Featuring footage from the likes of Monster Hunter Online (Tencent/Capcom) and Sniper: Ghost Warrior 3 (CI Games) to SNOW (Poppermost), Civilization Online (XL Games/2K), Kingdom Come: Deliverance (Warhorse) and Wolcen this underscores the unparalleled potential and ease of use CRYENGINE offers when it comes to creating jaw-dropping interactive experiences.
Crytek's Back to Dinosaur Island 2
Update 2016.03.23 – CRYENGINE V new features
Unreal Engine 4
The Unreal Engine 4 is free since GDC 2015 but you have to pay 5% royalty after the first $3,000 of revenue per product per quarter.
Unreal Engine 4 2016 Features Trailer