Today, a quick unboxing of the first parts I received this morning to build my new test setup for playing with Windows 10 (especially Direct3D 12), based on Intel Skylake processors and Z170 chipset.
The parts are the motherboard, an ASUS Z170 Pro Gaming, and the processor, an Intel Core i5 6600K. The DDR4 memory kit is not available yet (maybe tomorrow) so I won't be able to post screenshots of the BIOS. I'll update this article as soon as the memory will be there.
ASUS Z170 Pro Gaming is priced at around 170 CHF here in Switzerland (that should be equivalent to USD $160). This Z170 has all features I need for a testbed with a reasonable price: HDMI/DisplayPort outputs to test the HD Graphics 530 GPU, SLI and CrossFire support for NVIDIA and AMD multi-GPU support.
It's a known fact now, but the box of the Intel Core i5 6600K (as well as the i7 6800K) does not include a CPU cooler:

Not cool! For the first tests, the stock CPU cooler that is shipped with the Intel Core i7 4790K should do the job (the TDP of the i5 6600K is 91W while the i7 4790K has a TDP of 88W). This CPU cooler, designed for LGA 1150 sockets, is okay for the 1151 socket. Depending on the CPU temperatures, I will switch to a more efficient cooler in the near future.
Other pictures of the i5 6600K:

Now let's have a look at the Z170 motherboard: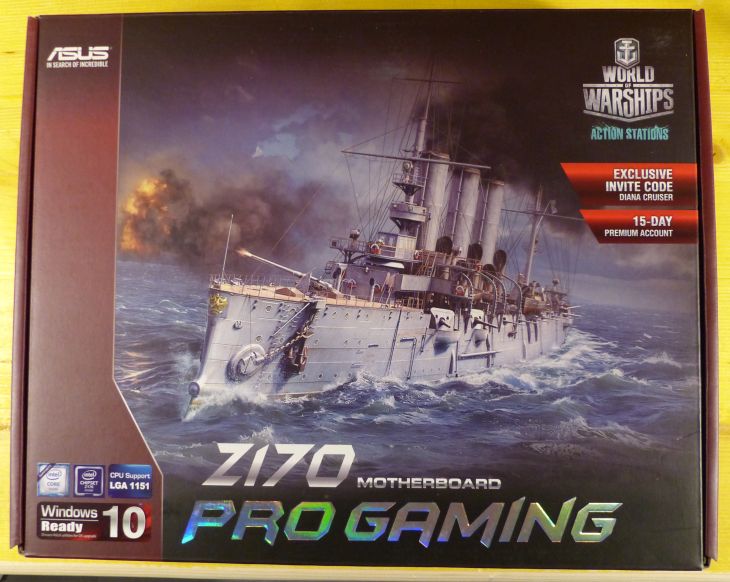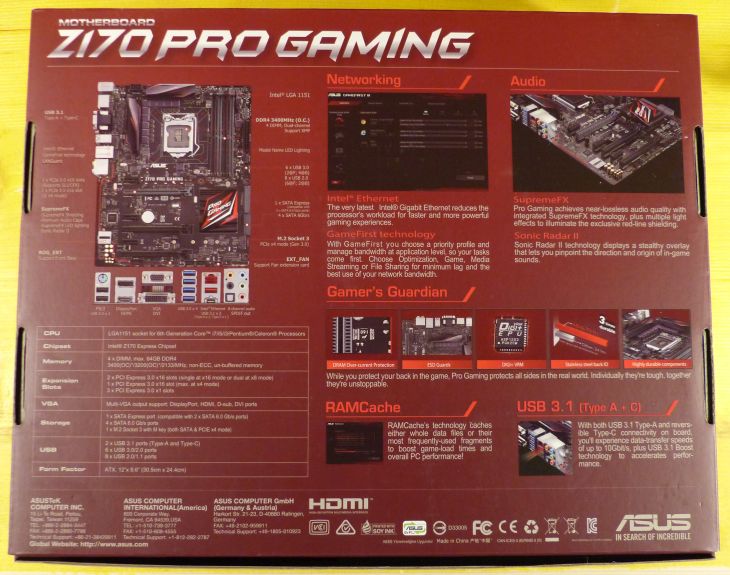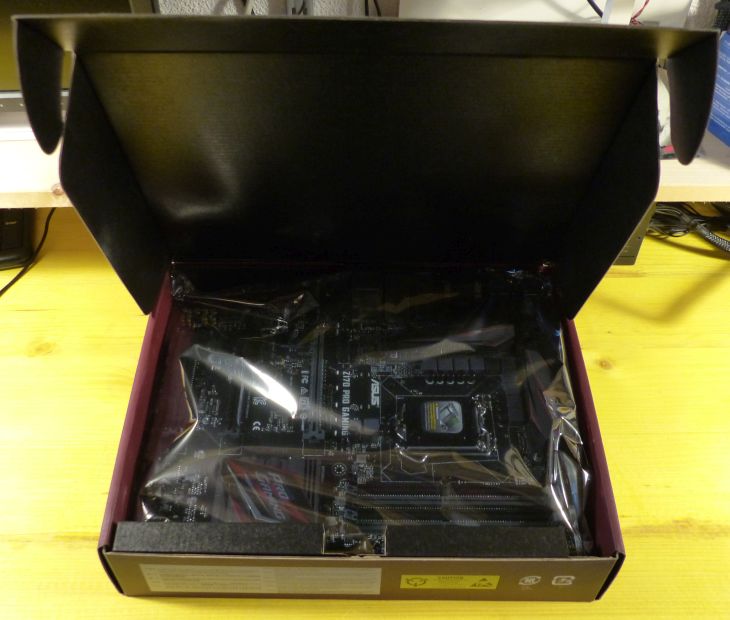 The bundle is simple: two SATA 6GB connectors, a SLI bridge, some stickers and the manual + drivers: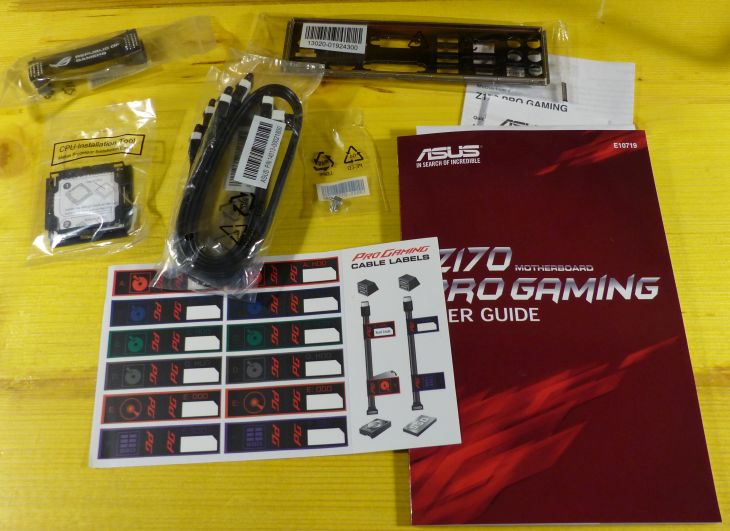 The motherboard: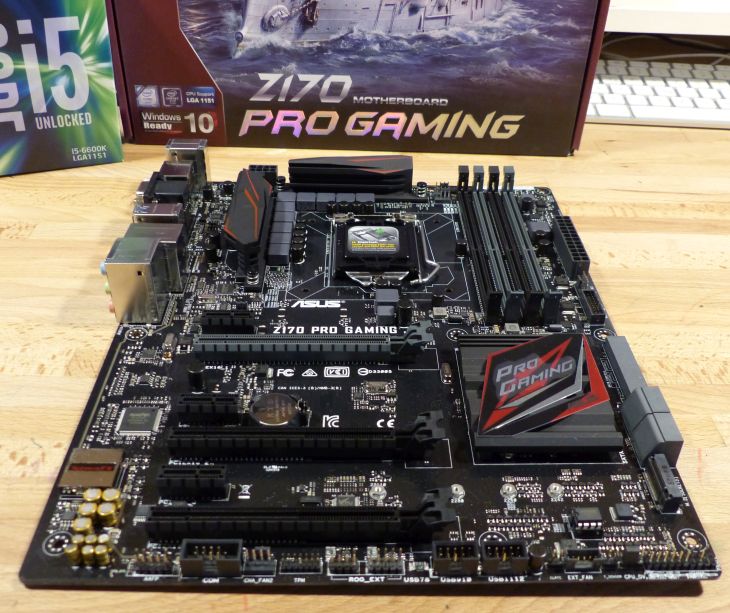 This motherboard comes with almost all possible IO connectors: DVI/VG/HDMI and DisplayPort 1.2 (allowing 4K rsolutions at 60Hz), 2 x USB 2.0 ports (rear panel), 4 x USB 3.0 ports (rear panel), 1 x USB 3.1 (type A) and 1 x USB 3.1 (type C, reversible) (rear panel):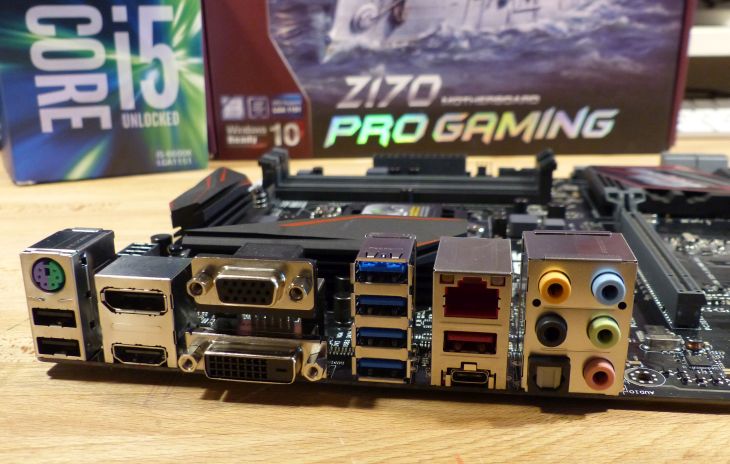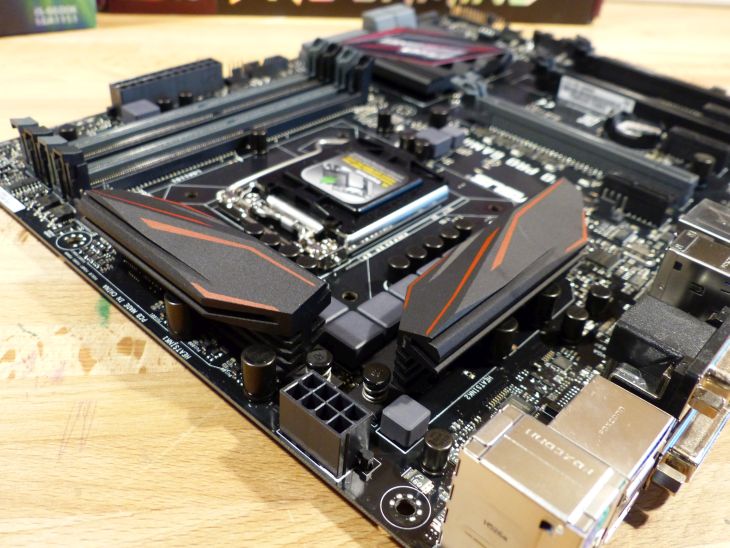 Six SATA 6GB, one SATAExpress and one M2 (socket 3) ports are available:

The motherboard comes with four DDR4 (Double Data Rate 4) slots and supports up to 64GB (4 x 16GB):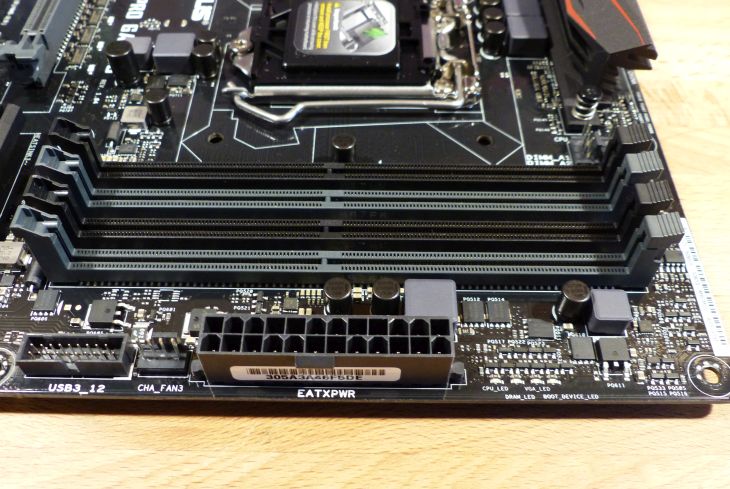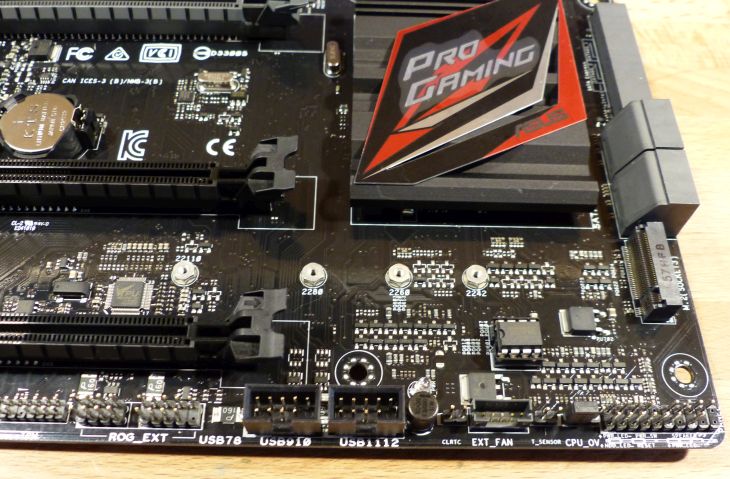 The board is equipped with three PCI Express x16 slots and three X1 slots. SLI (NVIDIA GeForce) and CrossFire (AMD Radeon) multi-GPU technologies are supported: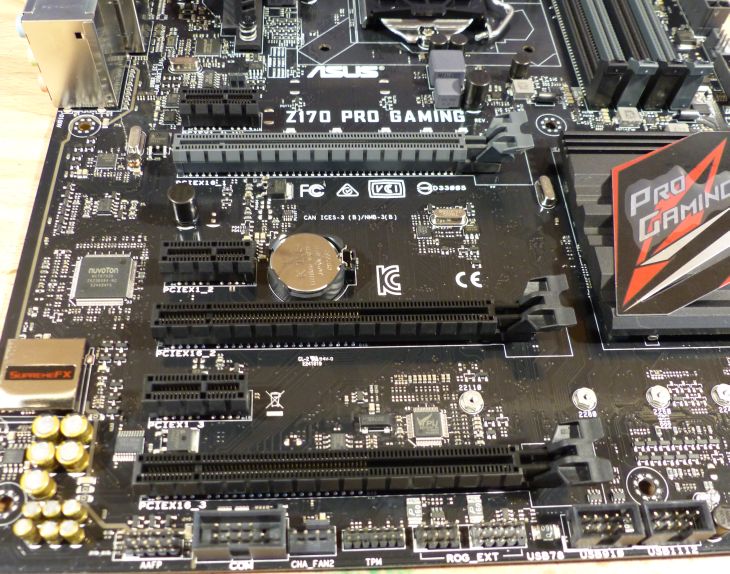 ---
UPDATE (2015.09.21)
I received the memory kit (Corsair Vengeance 2x4GB DDR4 @ 2666MHz):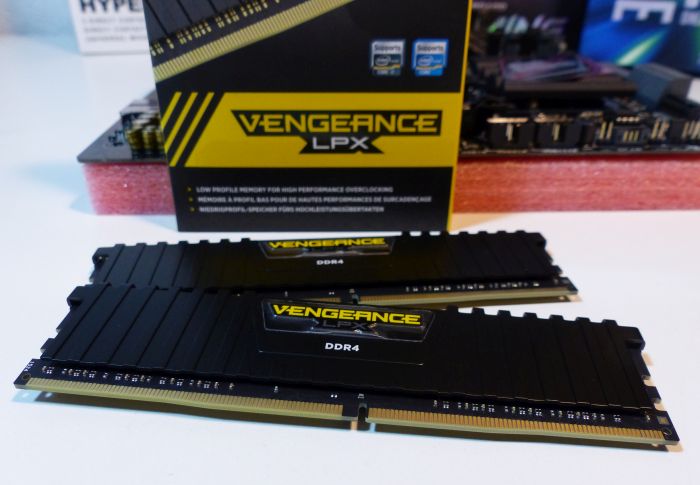 I also updated the CPU cooler with an Hyper TX3 EVO, an ultra quiet (with a very reasonable price) model from Cooler Master: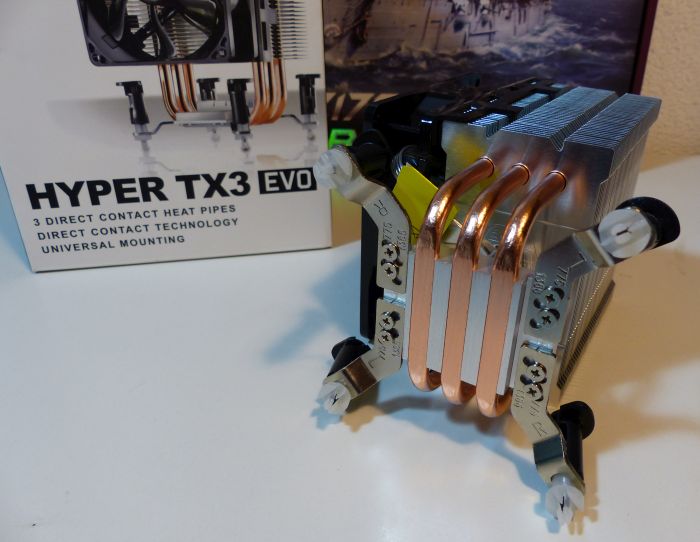 The Z170 motherboard with CPU, CPU cooler and memory kit: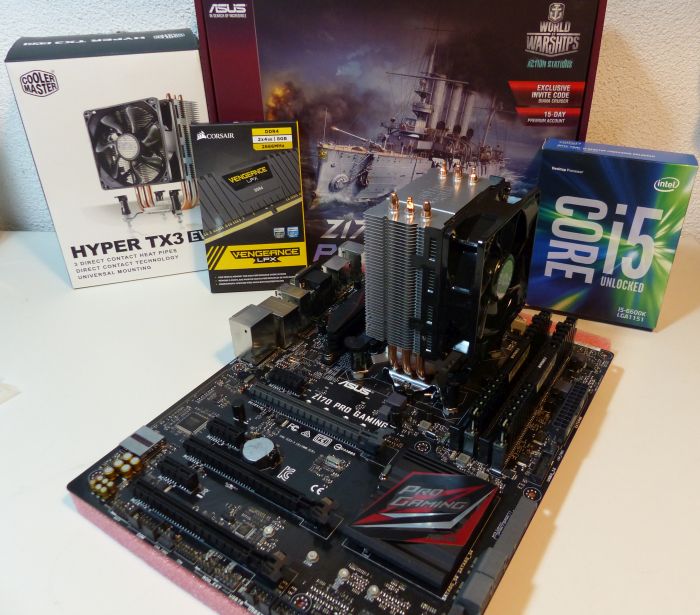 First power on: the Z170 Pro Gaming has some cool red lights: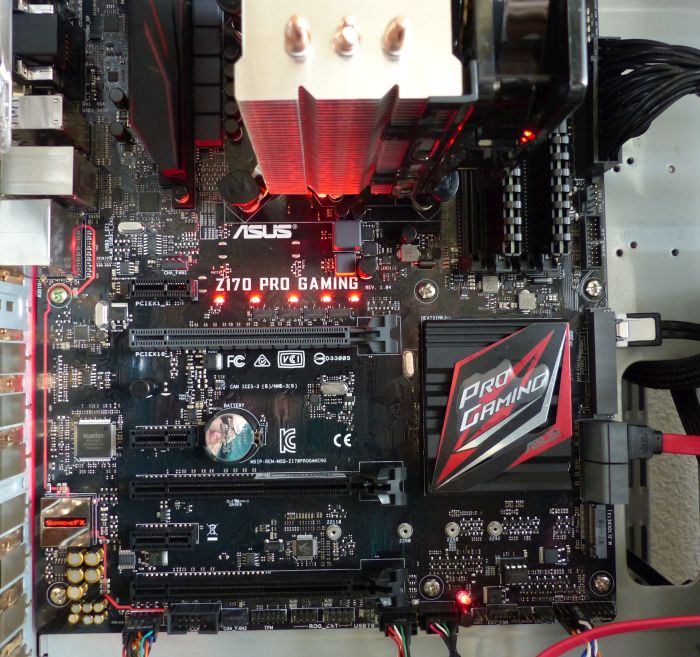 The motherboard is shipped with an outdated BIOS: version 0231. The latest version is 0703.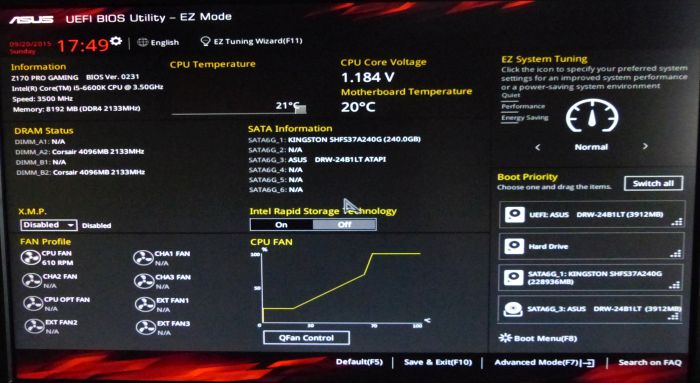 I downloaded the BIOS 0703 from ASUS website, put it on an USB key. Then a little visit to the I went to the Tool > ASUS EZ Flash 3 Utility section and I flashed the BIOS without problem: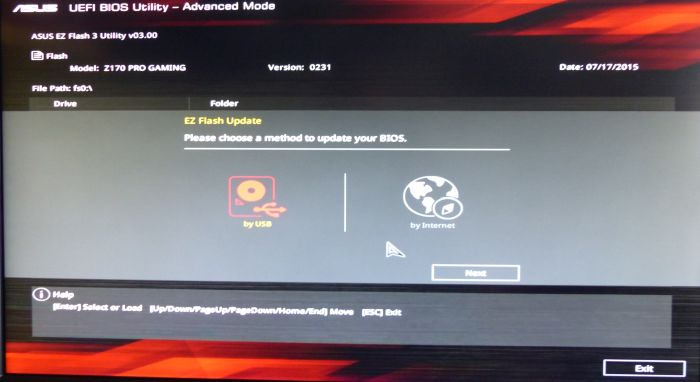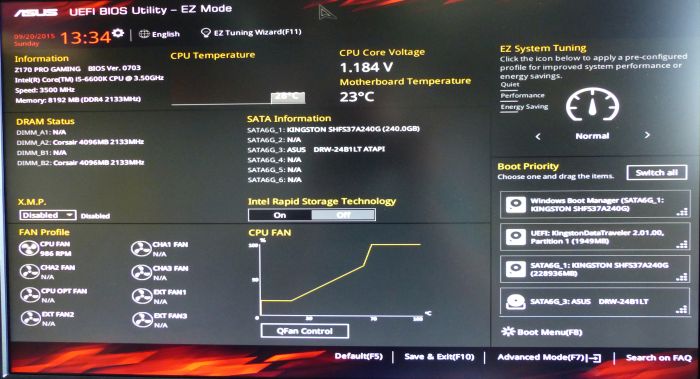 I installed Windows 10 64-bit and all necessary drivers without trouble.
Conclusion: nice Z170 motherboard!