A maintenance release of MSI Kombustor is available. Both 32 and 64-bit versions have been updated.
1 – MSI Kombustor Downloads
MSI Kombustor 3.5.2.1 (64-bit):


---
AMD Radeon owners: MSI Kombustor requires the PhysX support for some tests. If PhysX runtimes are not present on your system, Kombustor will not start properly. You can download latest PhysX runtimes from THIS LINK.
---
2 – MSI Kombustor Release Highlights
MSI Kombustor v3.5.2 improves GPU memory stress test module on NVIDIA graphics cards (the GPU memory is correctly allocated) and tests up to 12GB are available (not tested with 12GB of VRAM so let me know if it works or not).
PhysX 3 fluid simulation demo have been improved with better simulation parameters (the simulation is more stable).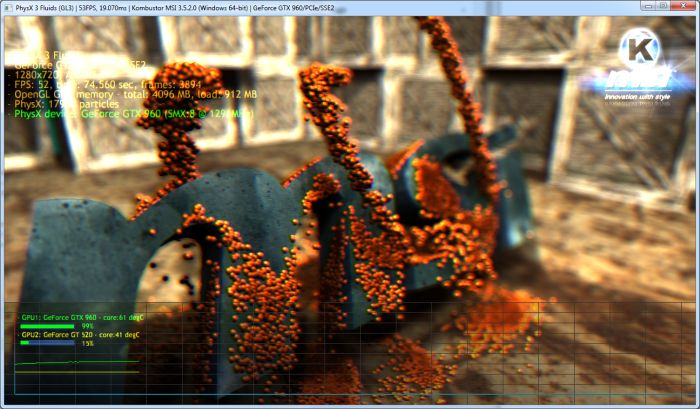 The Plasma demo (OpenGL 4.3 SSBO + compute shaders) rendering has been improved with more viscosity: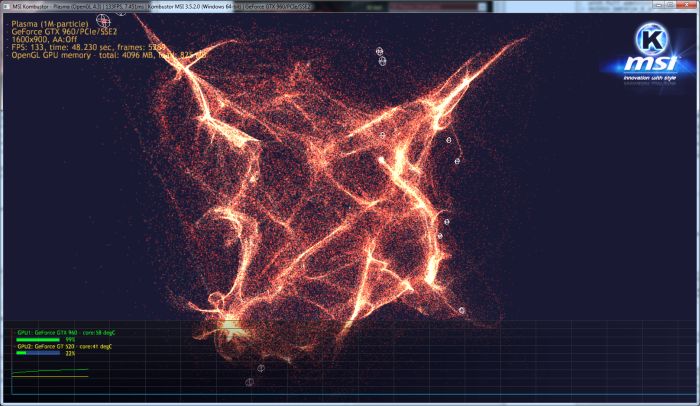 The support of recent NVIDIA GeForce and AMD Radeon GPUs has been added as well.
A comparative score table is available HERE for some tests. The online score database can be found HERE.
3 – MSI Kombustor changelog
Kombustor v3.x

2015.07.13 - v3.5.2.1
----------------------
- fixed a bug in the GPU detection code 
  (a Radeon R9 290X was displayed as a R9 390X).


2015.07.10 - v3.5.2.0
----------------------
- updated OpenCL Julia4D test for Radeon R9 290X + Catalyst 15.7.
- improved Plasma demo effect (added more viscosity).
- added 4K resolutions (3840x2160, 7680x2160, 11520x2160)
- added new memory burner tests: 4096MB, 6144MB and 12288MB.
- fixed memory burner stress tests. Now GPU memory is correctly allocated.
- added support of latest desktop GeForce (GTX 960, GTX 980 Ti and TITAN X).
- added support of latest notebook GeForce (GTX 980M, GTX 970M, GTX 965M, GTX 960M and GTX 950M).
- added Radeon R9 Fury X, R9 390X, R9 390, R9 380, R7 370, R7 360, R7 350 and R7 340 support.
- improved fluid simulation in PhysX Fluids demo
- updated GPU Shark 0.9.5.0
- updated 3D framework

Kombustor v2.x

Version 2.6.0 - 2015.07.08
--------------------------
- added command line option to specify the number of particles 
  of the fractal flame test. Ex: /fractal_flame_particles=2000000
- added 4K resolutions (3840x2160, 7680x2160, 11520x2160)
- added support of latest desktop GeForce (GTX 960, GTX 980 Ti and TITAN X).
- added support of latest notebook GeForce (GTX 980M, GTX 970M, GTX 965M, GTX 960M and GTX 950M).
- added Radeon R9 Fury X, R9 390X, R9 390, R9 380, R7 370, R7 360, R7 350 and R7 340 support.
- updated GPU Shark 0.9.5.0
- updated: ZoomGPU 1.13.0

4 – MSI Kombustor Screenshots
MSI Kombustor v3.5.2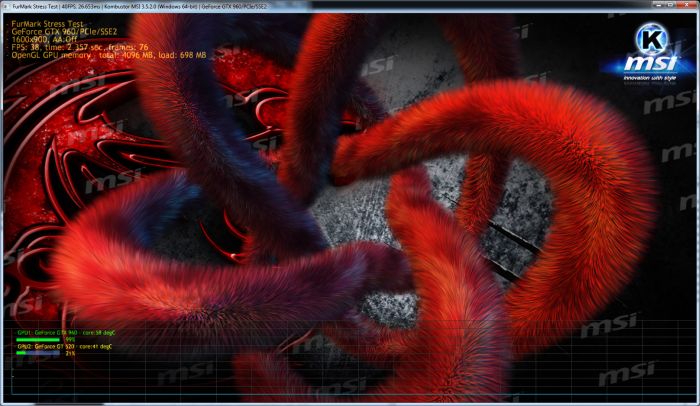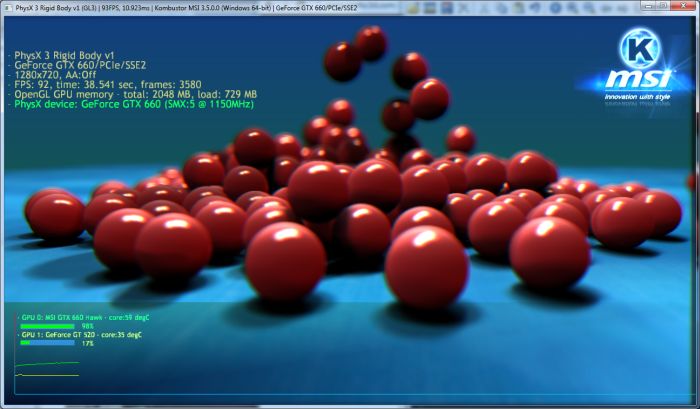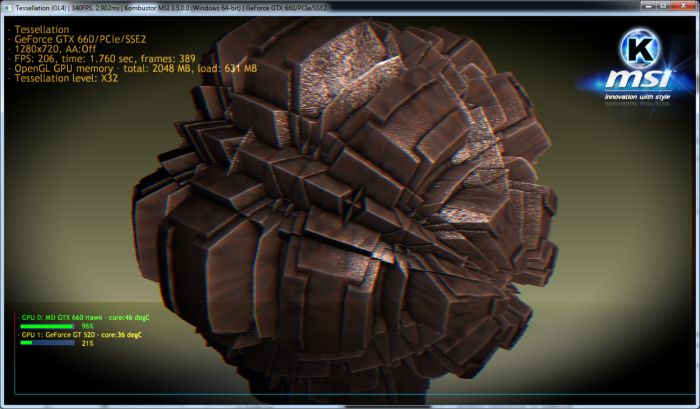 MSI Kombustor v2.6.0