I discovered this cool project few days ago: CHIP the world's first $9 computer!
CHIP is like the Raspberry Pi but four times cheaper. The CHIP board is small: 60mm x 40mm:
Here are the main hardware features of CHIP:
Main processor: Allwinner R8 1 GHz single-core ARM Cortex A8
Graphics processor: Mali-400 GPU (in the Allwinner R8)
Memory: 512MB DDR3
Storage: 4GB NAND flash
Connectors: 1 x USB, 1 x micro-USB, 1 x 3.5mm jack for audio/video
Built-in WIFI (802.11B/G/N) + Bluetooth 4.0
Here is an overview of the Allwinner R8 SoC (system on chip) processor:

The R8 is a single-core processor but quad-core (R16) and octo-core (R58) processors are also available at chinese chip maker Allwinner. Maybe next versions of the CHIP will use those multi-core processors.
A customized Debian distribution (Linux) will be preinstalled on the CHIP (on the Raspberry Pi, you have to put an image on a SD card yourself).

One interesring thing is the Pocket CHIP: a $49 case with a 4.3″ touchscreen, a QWERTY keyboard, 5-hour battery and of course a CHIP board inside.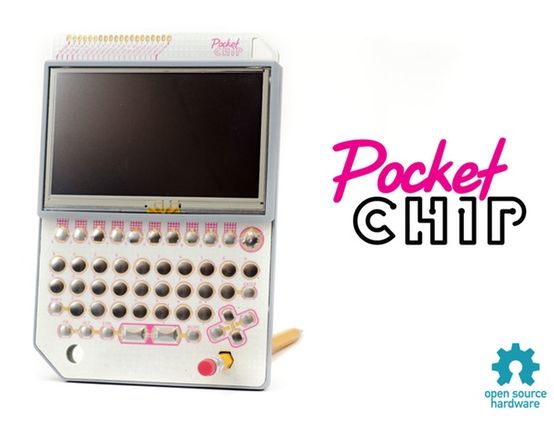 The CHIP's GPU is the Mali-400. This GPU supports OpenGL ES 1.1 and 2.0 API. CHIP is designed to run at 1280×720 pixels even if Mali-400 GPU is able to output a FullHD image (1920×1080).

GLSL Hacker should be easily ported to CHIP since most of the hard work has been already done for the Raspberry Pi.
I will probably tackle this task in 2016 since CHIP will be available early next year to every one. I read somewhere that the shipment will cost $20…
Links: