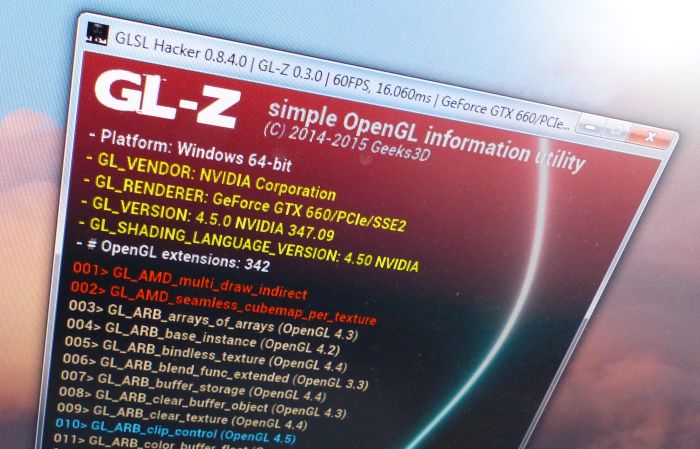 A new version of GL-Z is available. GL-Z is a tiny OpenGL information utility based on GLSL Hacker.
1 – Downloads
GL-Z 0.3.0 Windows 64-bit

GL-Z 0.3.0 OS X (10.8, 10.9, 10.10)

GL-Z 0.3.0 Linux 64-bit

GL-Z 0.3.0 Raspberry Pi 32-bit

Feedback and bug-reports can be posted HERE.
2 – Release Highlights
This new version of GL-Z, based on the latest iteration 0.8.4 of GLSL Hacker, brings the support of Raspberry Pi:

GL-Z on the Raspberry Pi
The version 0.3.0 of GL-Z displays a small subset of OpenGL hardware capabilities (GL_MAX_xxxx):

Some OpenGL capabilities (here, GTX 660 caps on Windows)
If you want to hack and tweak GL-Z or just want know how it's done under the hood, the source code in Lua is available in the glz_src/ folder.