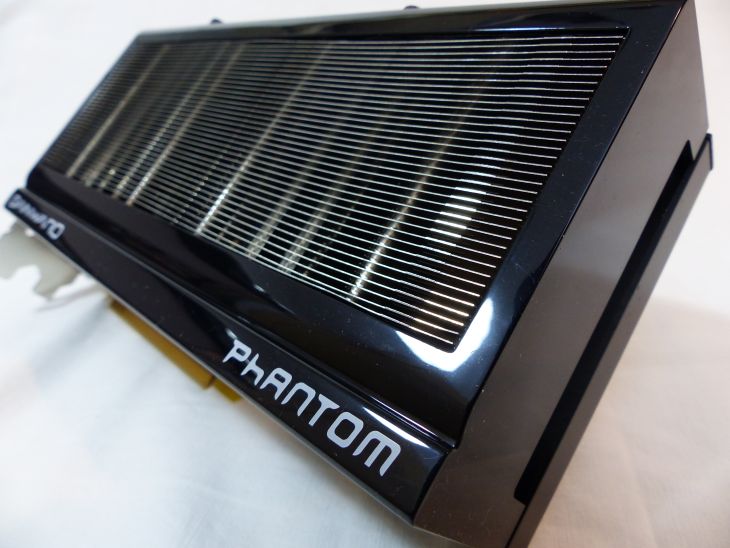 Review index:


Here is the first Gainward graphics card I test at Geeks3D labs! This GTX 970 Phantom has some nice assets as you will see.

Gainward GTX 970 Phantom is based on the GM204 GPU which is the second iteration of NVIDIA Maxwell architecture. More information and detailed analysis of GM204 GPU can be found in the reviews section of THIS PAGE.
Gainward GTX 970 Phantom homepage can be found HERE.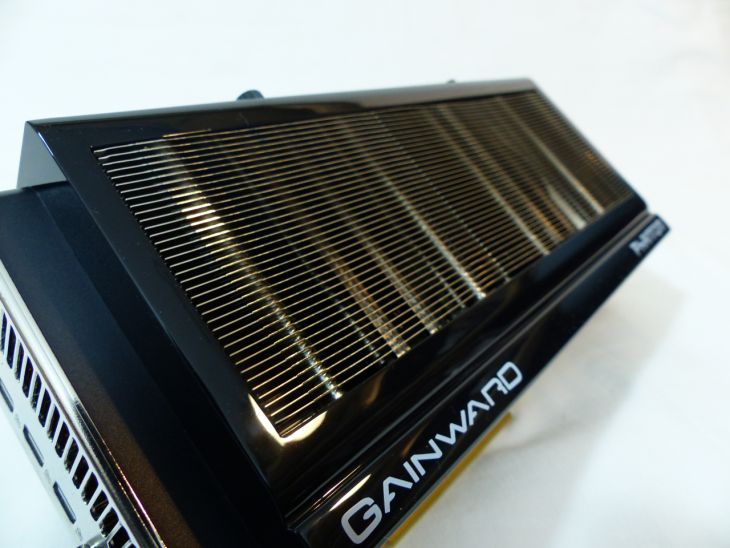 I'd like to thank people at Internex for this GTX 970 Phantom! Thanks guys!
1 – Gallery
Big pictures of Gainward GTX 970 Phantom can be found on Geeks3D forum HERE.
1.1 – Bundle
The bundle: limited to the bare minimum: the graphics card, a CDROM with drivers (is it still useful today???), an install doc, a VGA/DVI adapter and a molex-2-pci-e power connector. Who needs this extra power connector? This card requires a decent PSU that has enough PCI-E power connectors…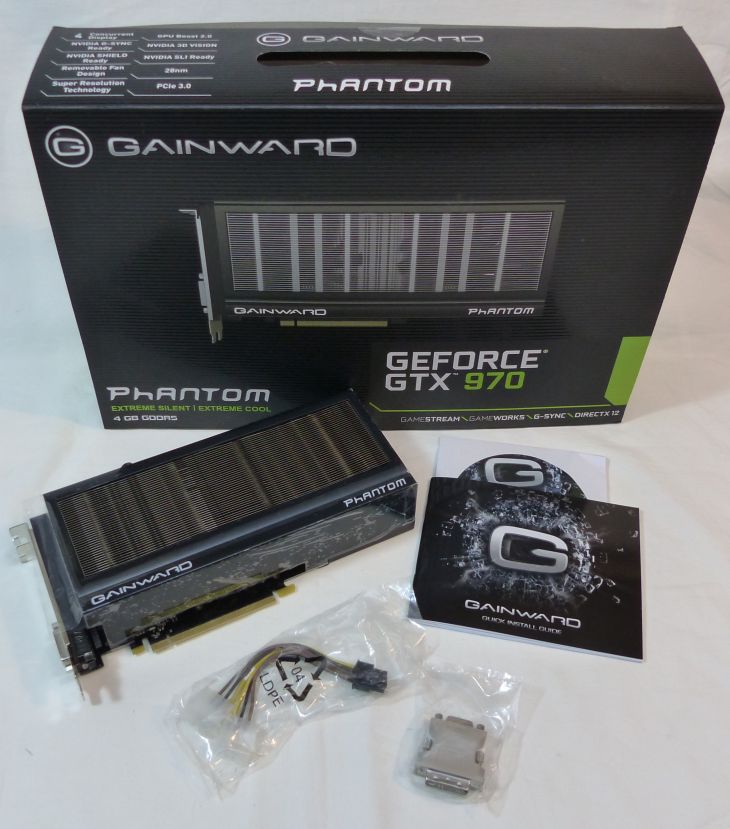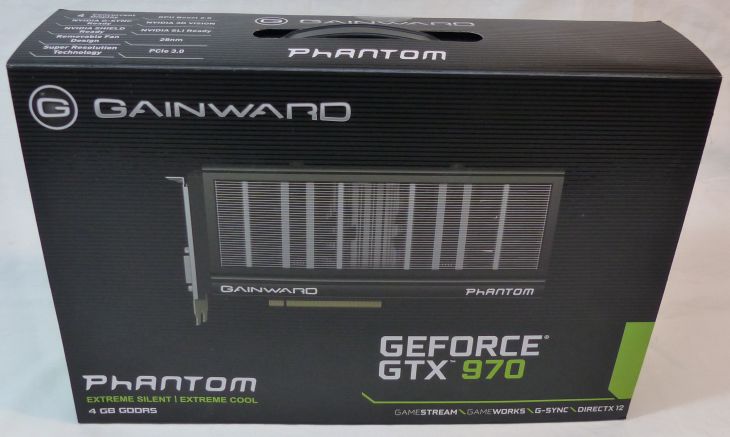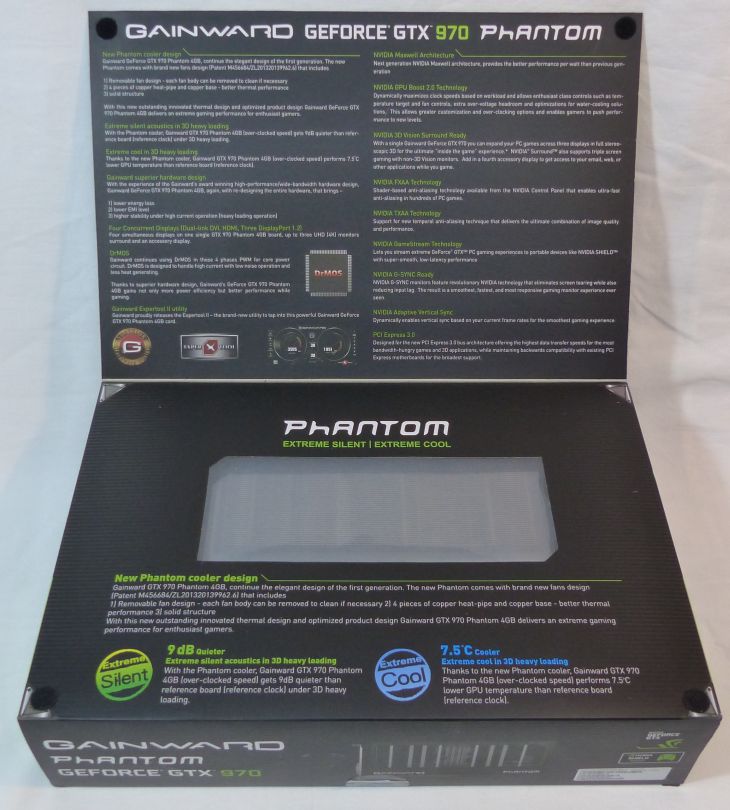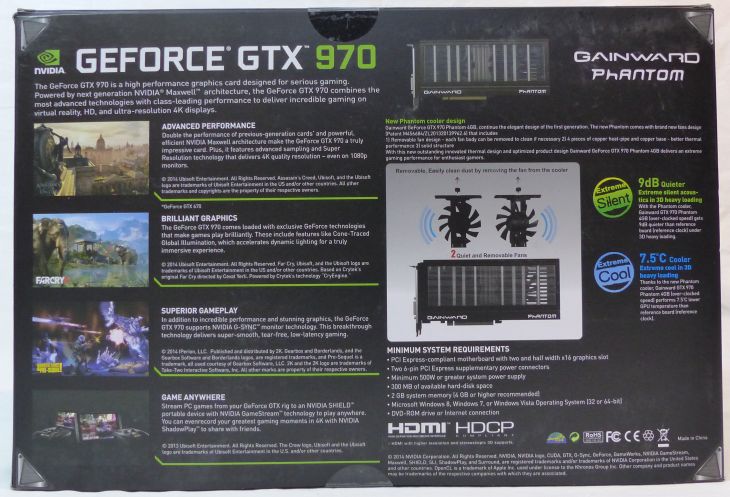 1.2 – The Graphics Card
Gainward has equipped its GTX 970 with a custom VGA cooler called Phantom cooler. This cooler is extremely quiet even under load which is just great. A handy feature of this Phantom cooler is the removable fans: you can remove each fan separately to clean dust if necessary.
The Phantom has a nice design but it seems… fragile. Actually it's fragile, I'm talking about the black plastic structure, not the heat sink / heat pipes. We are far away from tanks like ASUS GTX 980 Strix. The GTX 970 Phantom must be handled with care!
This card offers three Mini-DisplayPort connectors for those who wish plug three 4k monitors!
Output ports:
– 3 x Mini-DisplayPort 1.2
– 1 x Mini-HDMI 2.0 (see HERE for a test of the HDMI 2.0 port)
– 1 x DVI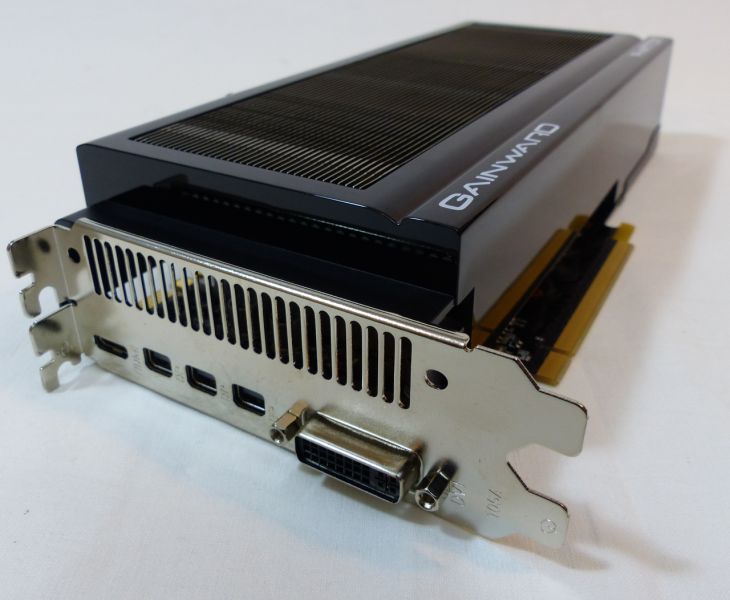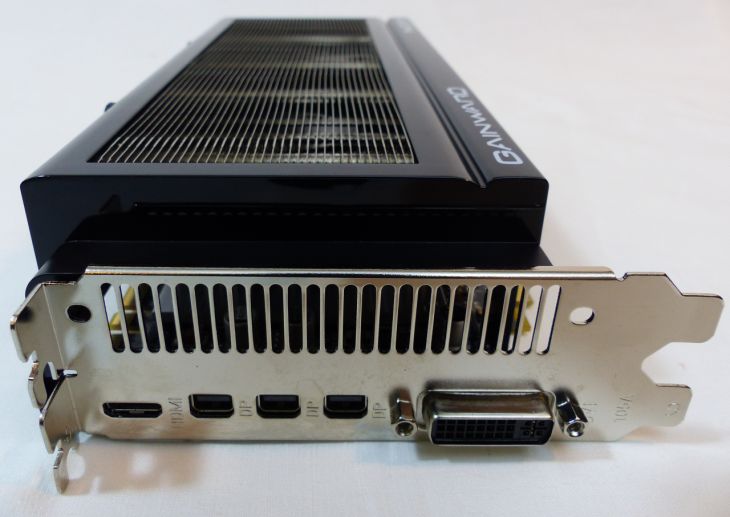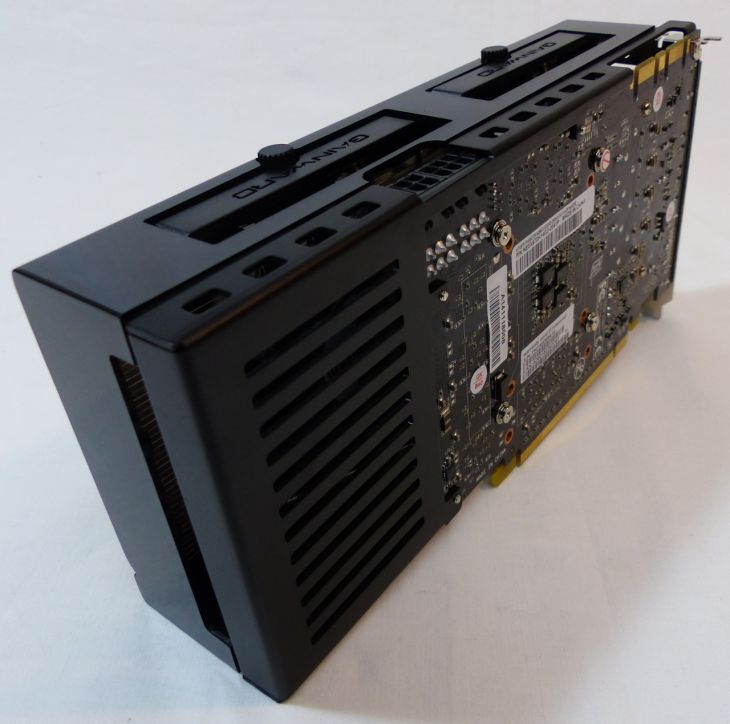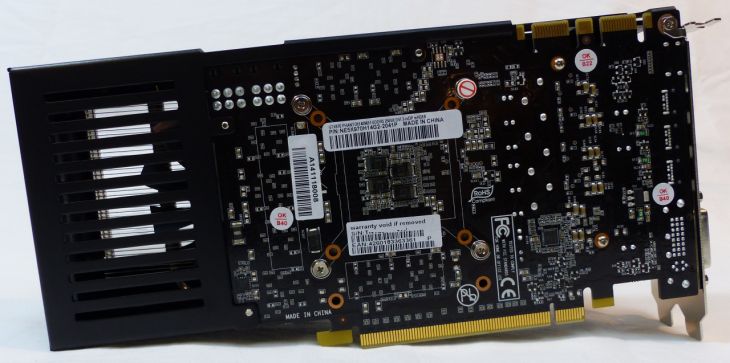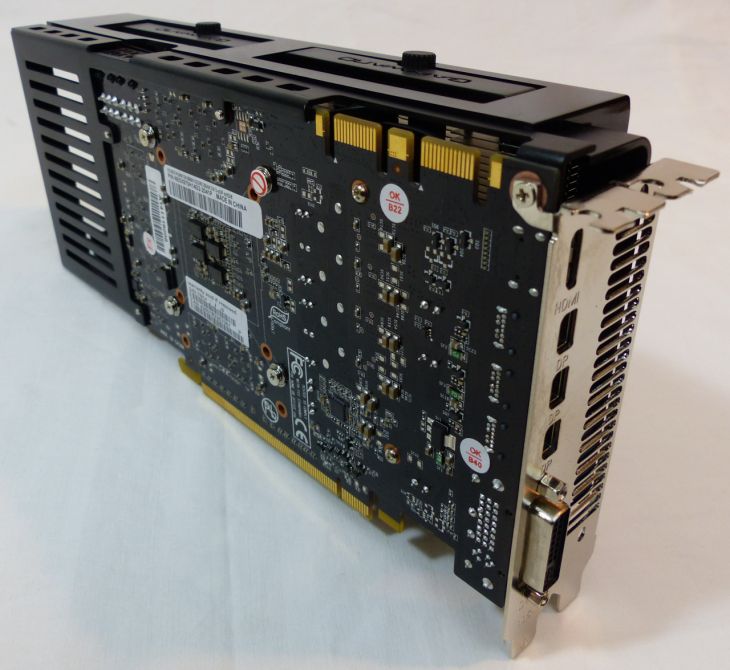 The removable fans: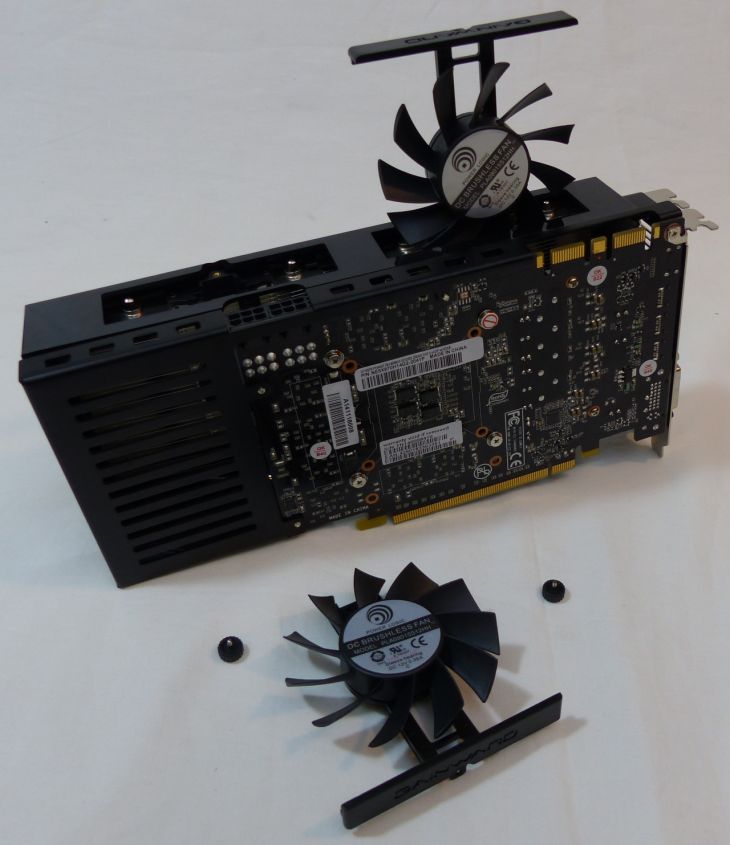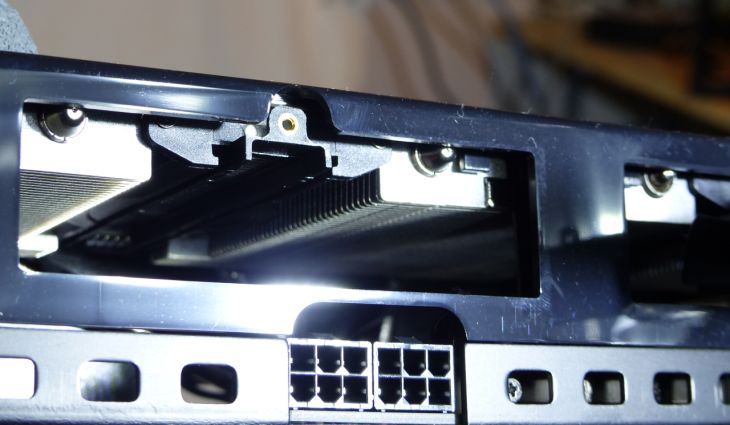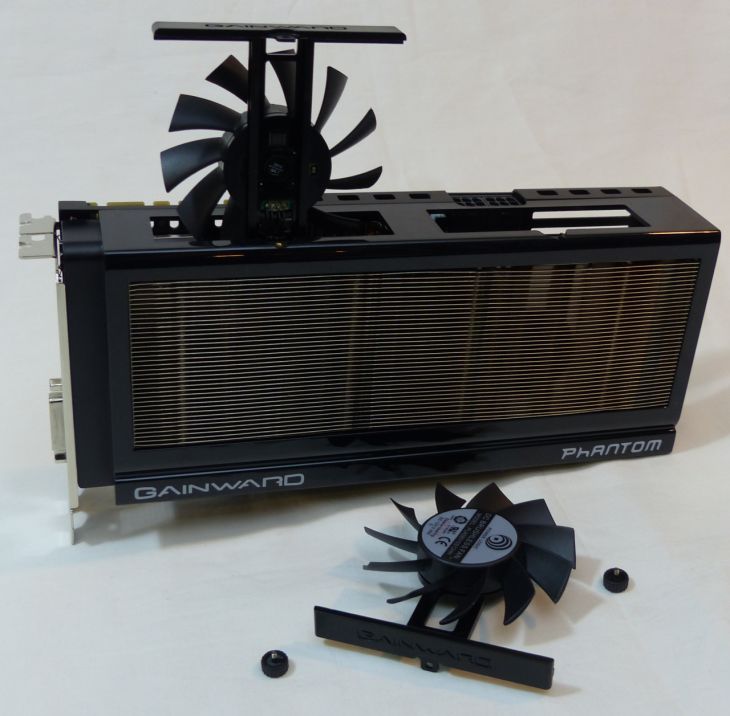 The four 8mm copper heat-pipes (on Gainward website, five heat-pipes are specified, but in real life, there are only four heat-pipes):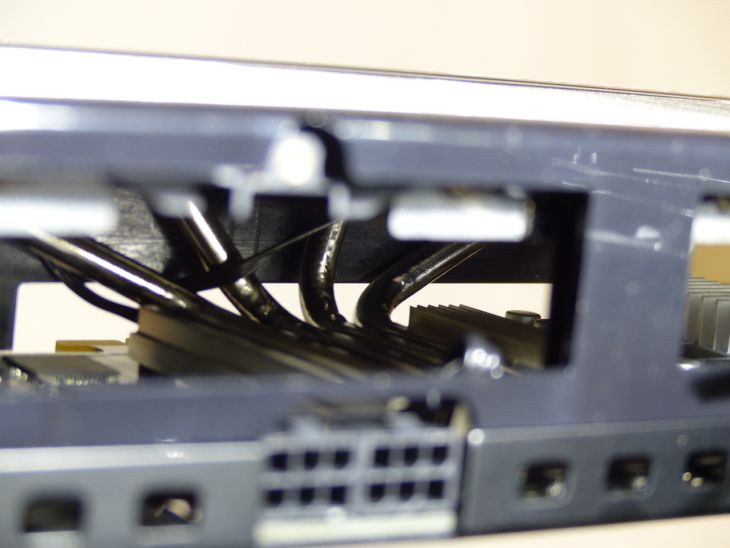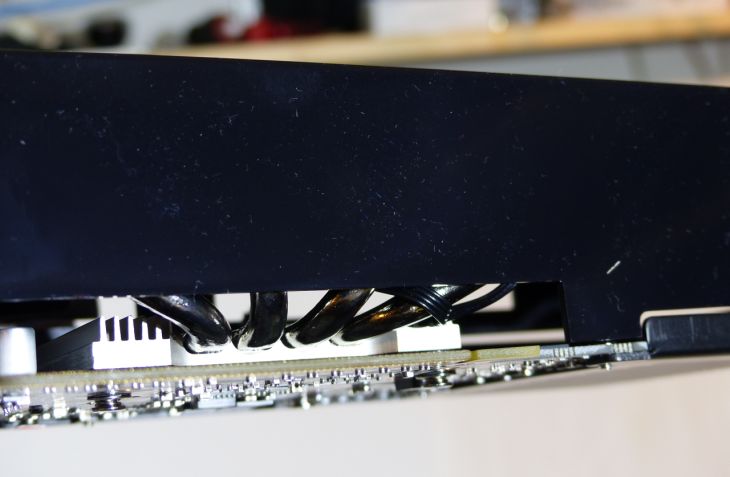 2 – GPU Info: GPU Caps Viewer, GPU-Z
Tools:
– GPU Caps Viewer 1.22.0
– GPU Shark 0.9.2
– GPU-Z 0.8.0
This Gainward GTX 970 has a base clock of 1152MHz (reference clock: 1050MHz) and a boost clock of 1304MHz (reference clock: 1178MHz). GPU speeds are overclocked compared to the reference card. The min power target is 55% TDP and the max is 111% TDP.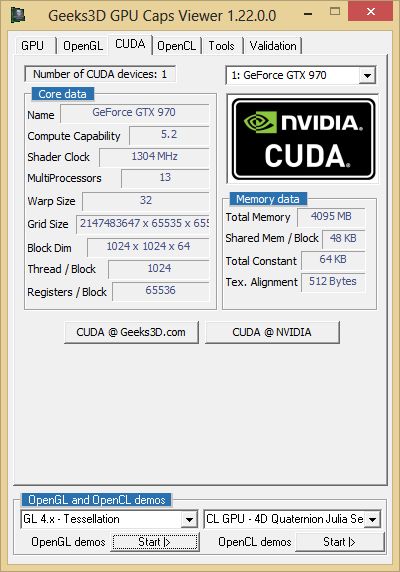 3 – Benchmarks
I benchmarked Gainward's GTX 970 with several GPU tests. See THIS PAGE for all results in 1920×1080 fullscreen mode.
4 – Burn-in Test and Throttling
This card is FurMark-proof and it's a good thing. All serious cards should be FurMark-proof. What does it mean? Simply that GPU core clock speed should not be downclocked by the graphics driver when the graphics card is tortured by FurMark. On some graphics cards, the GPU is throttled down, sometimes in a too aggressive way, because the power consumption is too high for the power cicuitry/VRM.
During the FurMark burn-in test, the GPU core clock was 1227 MHz which indicates that the power consumption is ok and is under the TDP. If the GPU clock speed is lower than the base clock (1152 MHz here) we would be in the case of GPU throttling because of a too high power draw.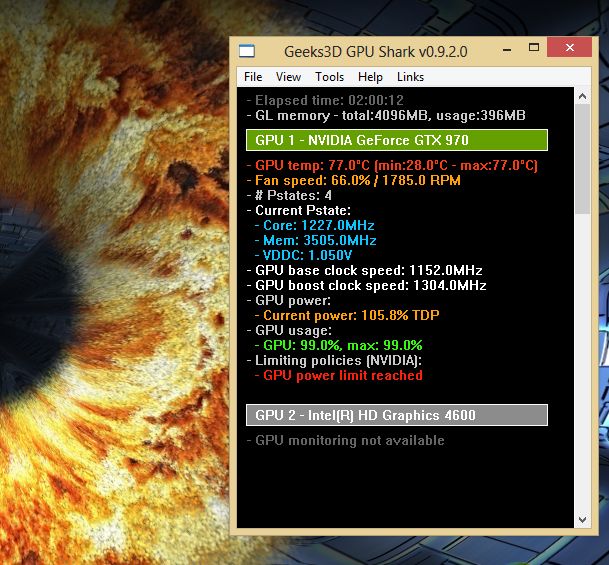 The GTX 970 Phantom has successfully passed the FurMark stress test!
At idle, the total power consumption of the testbed is 44W and the GPU temperature is 29°C which is a very nice temperature.
When FurMark is running, the CPU pulls around 25W and the total power consumption is 268W. The efficiency factor of the Corsair AX 860i is 0.92. An estimation of the power consumption of the GTX 970 Phantom is:
P = (267-25-44) * 0.92
P = 182W
Gainward has designed a robust PCB and VRM (main part of the power circuitry) which allows a power draw higher than the reference TDP (145W for the ref GTX 970). This extra power consumption is mainly caused by the factory overclocking settings.
Under this torture test, the GPU temperature reached 77°C and the VGA cooler was very quiet. Remarkable!
5 – Conclusion
This GTX 970 Phantom is my first contact with Gainward and it was very positive. I like this card, it's a very nice and robust product. This GTX 970 beats reference GTX 970 and plays with the Radeon R9 290X!
Final Verdict
8/10
PROS:
– GM204 GPU
– HDMI 2.0 for 4k @ 60 Hz
– 4GB of graphics memory
– nice GPU temperature at idle state (29°C)
– ultra quiet VGA cooler at idle and under load
– three mini-DisplayPort connectors and one mini-HDMI connector
– removable fans for dust cleaning
– factory-overclocked
– strong power cicuitry, no GPU throttling

CONS:
– simple bundle, no geeky stuff
– no backplate for mechanical protection
– Plastic VGA cooler looks fragile