Article index:
6 – Agressive Throttling and Noise
Actually it's not a suprise. Agressive throttling of the GPU is the only way to keep it in the temperature range. In nearly every test, the GPU temperature reached the maximal value of 93°C. And as soon as the GPU reaches 93°C, the GPU core clock is downclocked by NVIDIA GPU Boost technology.
The following screenshots (FurMark 1.14 is used) shows the GPU throttling in action. I monitored the GPU core clock with MSI Afterburner. The boost clock of the GTX 760 is 967MHz. But as soon as NVIDIA GPU Boost detect an overheating, the core is downclocked at 400MHz or even at 200MHz if necessary.
Okay, you're telling it's FurMark and many GeForce cards are more or less down-clocked with it. But in the case of the BRIX GTX 760, every GPU test I ran has caused a throttling:
– 3DMark Sky Diver:

– TessMark (GPU Test 0.7.0)

– Even a simple triangle (GPU Test 0.7.0) caused a GPU throttling!

With most of the 3D applications, the GPU can not work at full speed. The heat produced by the GPU (and certainly combined to the heat produced by the CPU) is not sufficiently dissipated and then the GPU ends up to run at a limited clock speed after a short period.
The two 50mm fans are not enough to evacuate the heat and cool the processors.
What's more and this can be a problem for many, the fans are noisy. At idle, we can hear them without problem. But quickly after the launch of a 3D app,
you can hear them screaming! Unless you have a headphone, it's not possible to stay near the BRIX!
The Turbo Mode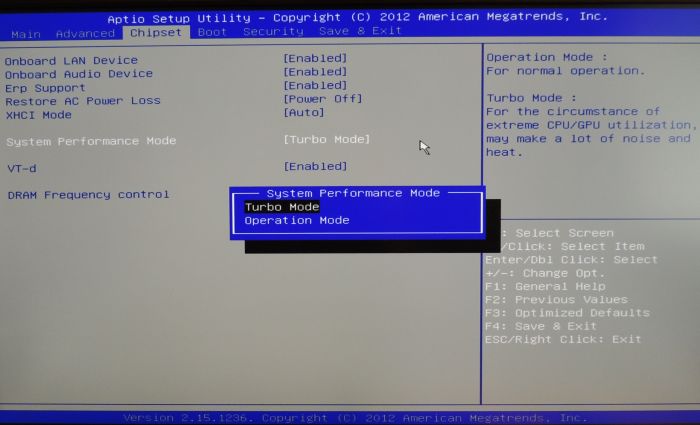 You can select this mode in the BIOS. In Turbo Mode, the fans speed is permanently set to the max. The noise is just insupportable. It's like working close to a vacuum cleaner! But the turbo mode improves things a bit. There is less GPU throttling since there is a better cooling. And when GPU throttling occurs, it takes less time to restore full clock speed since the cooling is more efficient. But the noise…
With the TessMark X16 test, the avergae core clock speed is higher than in regular mode (called Operation Mode in the BIOS) most of the time as you can see on the following picture:

Article index: