AMD has published a set of Catalyst drivers for Windows and Linux in beta version. Both versions add the support of latest APUs (A10-7850K and A10-770K). The Windows version adds the support of Mantle, the groundbreaking graphics API that promises to transform the world of game development to help bring better, faster games to the PC…
You can download Catalyst 14.1 beta from these links:
I was unable to install the Windows driver on my A10-7850K based testbed. But no problem on a testbed with a Radeon HD 7970. Update: after a run of Driver Sweeper, I was able to install Cat 14.1 on the Kaveri system.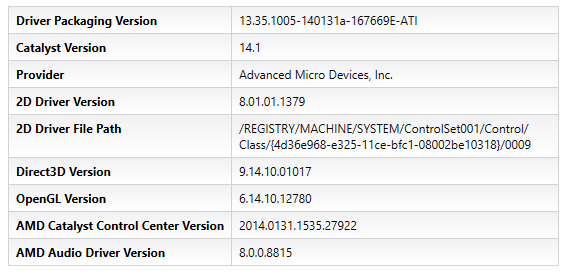 Catalyst 14.1 is an OpenGL 4.3 driver (GL_VERSION = 4.3.12780) and exposes 278 extensions (GL=255 and WGL=23) for the Radeon HD 7970 and 279 extensions (GL=256 and WGL=23) for the Kaveri A10-7850K. Compared to Catalyst 13.30-140108a, Cat 14.1 adds 3 OpenGL extensions:
Added:
GL_AMD_framebuffer_sample_positions
GL_AMD_gcn_shader
GL_ARB_clear_texture
Did you notice the GL_AMD_gcn_shader extension?
The difference betwwen the Radeon HD 7970 and Kaveri is the GL_AMD_occlusion_query_event extension. The Radeon HD 7970 is a GPU from the Southern Islands family and GL_AMD_occlusion_query_event is an extension exposed for Sea Islands (HD 8000) and Kaveri (A10-7000) GPUs.
And here are the grrrr… functions exposed by the Mantle API in mantle32.dll and mantle64.dll (thank Stefan!):

IcdDbgMessage
DllMain
grAllocMemory
grAttachImageViewDescriptors
grAttachMemoryViewDescriptors
grAttachNestedDescriptors
grAttachSamplerDescriptors
grBeginCommandBuffer
grBeginDescriptorSetUpdate
grBindObjectMemory
grClearDescriptorSetSlots
grCmdBeginQuery
grCmdBindDescriptorSet
grCmdBindDynamicMemoryView
grCmdBindIndexData
grCmdBindPipeline
grCmdBindStateObject
grCmdBindTargets
grCmdClearColorImage
grCmdClearColorImageRaw
grCmdClearDepthStencil
grCmdCloneImageData
grCmdCopyImage
grCmdCopyImageToMemory
grCmdCopyMemory
grCmdCopyMemoryToImage
grCmdDbgMarkerBegin
grCmdDbgMarkerEnd
grCmdDispatch
grCmdDispatchIndirect
grCmdDraw
grCmdDrawIndexed
grCmdDrawIndexedIndirect
grCmdDrawIndirect
grCmdEndQuery
grCmdFillMemory
grCmdInitAtomicCounters
grCmdLoadAtomicCounters
grCmdMemoryAtomic
grCmdPrepareImages
grCmdPrepareMemoryRegions
grCmdResetEvent
grCmdResetQueryPool
grCmdResolveImage
grCmdSaveAtomicCounters
grCmdSetEvent
grCmdUpdateMemory
grCmdWriteTimestamp
grCreateColorBlendState
grCreateColorTargetView
grCreateCommandBuffer
grCreateComputePipeline
grCreateDepthStencilState
grCreateDepthStencilView
grCreateDescriptorSet
grCreateDevice
grCreateEvent
grCreateFence
grCreateGraphicsPipeline
grCreateImage
grCreateImageView
grCreateMsaaState
grCreateQueryPool
grCreateQueueSemaphore
grCreateRasterState
grCreateSampler
grCreateShader
grCreateViewportState
grDbgRegisterMsgCallback
grDbgSetDeviceOption
grDbgSetGlobalOption
grDbgSetMessageFilter
grDbgSetObjectTag
grDbgSetValidationLevel
grDbgUnregisterMsgCallback
grDestroyDevice
grDestroyObject
grDeviceWaitIdle
grEndCommandBuffer
grEndDescriptorSetUpdate
grFreeMemory
grGetDeviceQueue
grGetEventStatus
grGetExtensionSupport
grGetFenceStatus
grGetFormatInfo
grGetGpuInfo
grGetImageSubresourceInfo
grGetMemoryHeapCount
grGetMemoryHeapInfo
grGetMultiGpuCompatibility
grGetObjectInfo
grGetQueryPoolResults
grInitAndEnumerateGpus
grLoadPipeline
grMapMemory
grOpenPeerImage
grOpenPeerMemory
grOpenSharedMemory
grOpenSharedQueueSemaphore
grPinSystemMemory
grQueueSetGlobalMemReferences
grQueueSubmit
grQueueWaitIdle
grRemapVirtualMemoryPages
grResetCommandBuffer
grResetEvent
grSetEvent
grSetMemoryPriority
grSignalQueueSemaphore
grStorePipeline
grUnmapMemory
grWaitForFences
grWaitQueueSemaphore
grWsiWinCreatePresentableImage
grWsiWinGetDisplayModeList
grWsiWinGetDisplays
grWsiWinGetScanLine
grWsiWinQueuePresent
grWsiWinReleaseFullscreenOwnership
grWsiWinSetGammaRamp
grWsiWinSetMaxQueuedFrames
grWsiWinTakeFullscreenOwnership
grWsiWinWaitForVerticalBlank

Here is the complete list of all 278 OpenGL extensions exposed by Cat 14.1 for a Radeon HD 7970:
GL_AMDX_debug_output
GL_AMD_blend_minmax_factor
GL_AMD_conservative_depth
GL_AMD_debug_output
GL_AMD_depth_clamp_separate
GL_AMD_draw_buffers_blend
GL_AMD_framebuffer_sample_positions
GL_AMD_gcn_shader
GL_AMD_gpu_shader_int64
GL_AMD_interleaved_elements
GL_AMD_multi_draw_indirect
GL_AMD_name_gen_delete
GL_AMD_performance_monitor
GL_AMD_pinned_memory
GL_AMD_query_buffer_object
GL_AMD_sample_positions
GL_AMD_seamless_cubemap_per_texture
GL_AMD_shader_atomic_counter_ops
GL_AMD_shader_stencil_export
GL_AMD_shader_stencil_value_export
GL_AMD_shader_trace
GL_AMD_shader_trinary_minmax
GL_AMD_sparse_texture
GL_AMD_stencil_operation_extended
GL_AMD_texture_cube_map_array
GL_AMD_texture_texture4
GL_AMD_transform_feedback3_lines_triangles
GL_AMD_transform_feedback4
GL_AMD_vertex_shader_layer
GL_AMD_vertex_shader_viewport_index
GL_ARB_ES2_compatibility
GL_ARB_ES3_compatibility
GL_ARB_arrays_of_arrays
GL_ARB_base_instance
GL_ARB_blend_func_extended
GL_ARB_clear_buffer_object
GL_ARB_clear_texture
GL_ARB_color_buffer_float
GL_ARB_compatibility
GL_ARB_compressed_texture_pixel_storage
GL_ARB_compute_shader
GL_ARB_conservative_depth
GL_ARB_copy_buffer
GL_ARB_copy_image
GL_ARB_debug_output
GL_ARB_depth_buffer_float
GL_ARB_depth_clamp
GL_ARB_depth_texture
GL_ARB_draw_buffers
GL_ARB_draw_buffers_blend
GL_ARB_draw_elements_base_vertex
GL_ARB_draw_indirect
GL_ARB_draw_instanced
GL_ARB_explicit_attrib_location
GL_ARB_explicit_uniform_location
GL_ARB_fragment_coord_conventions
GL_ARB_fragment_layer_viewport
GL_ARB_fragment_program
GL_ARB_fragment_program_shadow
GL_ARB_fragment_shader
GL_ARB_framebuffer_no_attachments
GL_ARB_framebuffer_object
GL_ARB_framebuffer_sRGB
GL_ARB_geometry_shader4
GL_ARB_get_program_binary
GL_ARB_gpu_shader5
GL_ARB_gpu_shader_fp64
GL_ARB_half_float_pixel
GL_ARB_half_float_vertex
GL_ARB_imaging
GL_ARB_instanced_arrays
GL_ARB_internalformat_query
GL_ARB_internalformat_query2
GL_ARB_invalidate_subdata
GL_ARB_map_buffer_alignment
GL_ARB_map_buffer_range
GL_ARB_multi_bind
GL_ARB_multi_draw_indirect
GL_ARB_multisample
GL_ARB_multitexture
GL_ARB_occlusion_query
GL_ARB_occlusion_query2
GL_ARB_pixel_buffer_object
GL_ARB_point_parameters
GL_ARB_point_sprite
GL_ARB_program_interface_query
GL_ARB_provoking_vertex
GL_ARB_query_buffer_object
GL_ARB_sample_shading
GL_ARB_sampler_objects
GL_ARB_seamless_cube_map
GL_ARB_seamless_cubemap_per_texture
GL_ARB_separate_shader_objects
GL_ARB_shader_atomic_counters
GL_ARB_shader_bit_encoding
GL_ARB_shader_group_vote
GL_ARB_shader_image_load_store
GL_ARB_shader_image_size
GL_ARB_shader_objects
GL_ARB_shader_precision
GL_ARB_shader_stencil_export
GL_ARB_shader_storage_buffer_object
GL_ARB_shader_subroutine
GL_ARB_shader_texture_lod
GL_ARB_shading_language_100
GL_ARB_shading_language_420pack
GL_ARB_shading_language_packing
GL_ARB_shadow
GL_ARB_shadow_ambient
GL_ARB_stencil_texturing
GL_ARB_sync
GL_ARB_tessellation_shader
GL_ARB_texture_border_clamp
GL_ARB_texture_buffer_object
GL_ARB_texture_buffer_object_rgb32
GL_ARB_texture_buffer_range
GL_ARB_texture_compression
GL_ARB_texture_compression_bptc
GL_ARB_texture_compression_rgtc
GL_ARB_texture_cube_map
GL_ARB_texture_cube_map_array
GL_ARB_texture_env_add
GL_ARB_texture_env_combine
GL_ARB_texture_env_crossbar
GL_ARB_texture_env_dot3
GL_ARB_texture_float
GL_ARB_texture_gather
GL_ARB_texture_mirror_clamp_to_edge
GL_ARB_texture_mirrored_repeat
GL_ARB_texture_multisample
GL_ARB_texture_non_power_of_two
GL_ARB_texture_query_levels
GL_ARB_texture_query_lod
GL_ARB_texture_rectangle
GL_ARB_texture_rg
GL_ARB_texture_rgb10_a2ui
GL_ARB_texture_snorm
GL_ARB_texture_storage
GL_ARB_texture_storage_multisample
GL_ARB_texture_view
GL_ARB_timer_query
GL_ARB_transform_feedback2
GL_ARB_transform_feedback3
GL_ARB_transform_feedback_instanced
GL_ARB_transpose_matrix
GL_ARB_uniform_buffer_object
GL_ARB_vertex_array_bgra
GL_ARB_vertex_array_object
GL_ARB_vertex_attrib_64bit
GL_ARB_vertex_attrib_binding
GL_ARB_vertex_buffer_object
GL_ARB_vertex_program
GL_ARB_vertex_shader
GL_ARB_vertex_type_10f_11f_11f_rev
GL_ARB_vertex_type_2_10_10_10_rev
GL_ARB_viewport_array
GL_ARB_window_pos
GL_ATI_draw_buffers
GL_ATI_envmap_bumpmap
GL_ATI_fragment_shader
GL_ATI_separate_stencil
GL_ATI_texture_compression_3dc
GL_ATI_texture_env_combine3
GL_ATI_texture_float
GL_ATI_texture_mirror_once
GL_EXT_abgr
GL_EXT_bgra
GL_EXT_bindable_uniform
GL_EXT_blend_color
GL_EXT_blend_equation_separate
GL_EXT_blend_func_separate
GL_EXT_blend_minmax
GL_EXT_blend_subtract
GL_EXT_compiled_vertex_array
GL_EXT_copy_buffer
GL_EXT_copy_texture
GL_EXT_depth_bounds_test
GL_EXT_direct_state_access
GL_EXT_draw_buffers2
GL_EXT_draw_instanced
GL_EXT_draw_range_elements
GL_EXT_fog_coord
GL_EXT_framebuffer_blit
GL_EXT_framebuffer_multisample
GL_EXT_framebuffer_object
GL_EXT_framebuffer_sRGB
GL_EXT_geometry_shader4
GL_EXT_gpu_program_parameters
GL_EXT_gpu_shader4
GL_EXT_histogram
GL_EXT_multi_draw_arrays
GL_EXT_packed_depth_stencil
GL_EXT_packed_float
GL_EXT_packed_pixels
GL_EXT_pixel_buffer_object
GL_EXT_point_parameters
GL_EXT_provoking_vertex
GL_EXT_rescale_normal
GL_EXT_secondary_color
GL_EXT_separate_specular_color
GL_EXT_shader_image_load_store
GL_EXT_shader_integer_mix
GL_EXT_shadow_funcs
GL_EXT_stencil_wrap
GL_EXT_subtexture
GL_EXT_texgen_reflection
GL_EXT_texture3D
GL_EXT_texture_array
GL_EXT_texture_buffer_object
GL_EXT_texture_compression_bptc
GL_EXT_texture_compression_latc
GL_EXT_texture_compression_rgtc
GL_EXT_texture_compression_s3tc
GL_EXT_texture_cube_map
GL_EXT_texture_edge_clamp
GL_EXT_texture_env_add
GL_EXT_texture_env_combine
GL_EXT_texture_env_dot3
GL_EXT_texture_filter_anisotropic
GL_EXT_texture_integer
GL_EXT_texture_lod
GL_EXT_texture_lod_bias
GL_EXT_texture_mirror_clamp
GL_EXT_texture_object
GL_EXT_texture_rectangle
GL_EXT_texture_sRGB
GL_EXT_texture_sRGB_decode
GL_EXT_texture_shared_exponent
GL_EXT_texture_snorm
GL_EXT_texture_storage
GL_EXT_texture_swizzle
GL_EXT_timer_query
GL_EXT_transform_feedback
GL_EXT_vertex_array
GL_EXT_vertex_array_bgra
GL_EXT_vertex_attrib_64bit
GL_IBM_texture_mirrored_repeat
GL_KHR_debug
GL_KTX_buffer_region
GL_NV_blend_square
GL_NV_conditional_render
GL_NV_copy_depth_to_color
GL_NV_copy_image
GL_NV_depth_buffer_float
GL_NV_explicit_multisample
GL_NV_float_buffer
GL_NV_half_float
GL_NV_primitive_restart
GL_NV_texgen_reflection
GL_NV_texture_barrier
GL_SGIS_generate_mipmap
GL_SGIS_texture_edge_clamp
GL_SGIS_texture_lod
GL_SUN_multi_draw_arrays
GL_WIN_swap_hint
WGL_EXT_swap_control
WGL_ARB_extensions_string
WGL_ARB_pixel_format
WGL_ATI_pixel_format_float
WGL_ARB_pixel_format_float
WGL_ARB_multisample
WGL_EXT_swap_control_tear
WGL_ARB_pbuffer
WGL_ARB_render_texture
WGL_ARB_make_current_read
WGL_EXT_extensions_string
WGL_ARB_buffer_region
WGL_EXT_framebuffer_sRGB
WGL_ATI_render_texture_rectangle
WGL_EXT_pixel_format_packed_float
WGL_I3D_genlock
WGL_NV_swap_group
WGL_ARB_create_context
WGL_AMD_gpu_association
WGL_AMDX_gpu_association
WGL_ARB_create_context_profile
WGL_NV_DX_interop
WGL_NV_DX_interop2