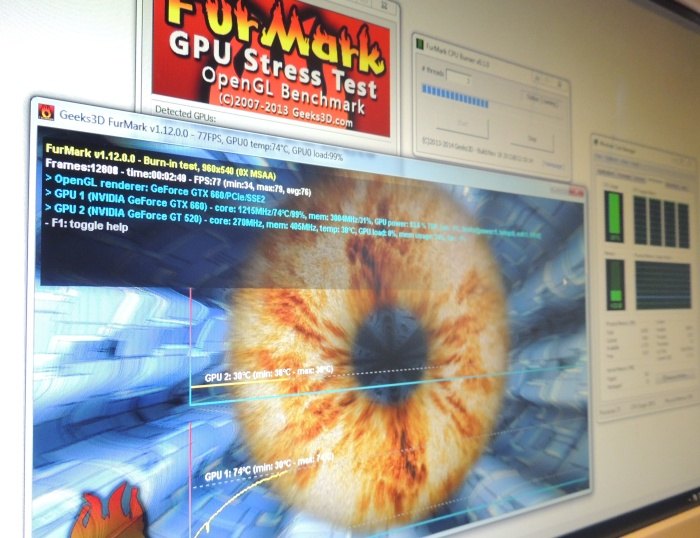 1 – Release Highlights
A new version of FurMark, the popular GPU stress test and graphics cards nightmare, is available.
FurMark 1.12.0 comes with the support of latest NVIDIA cards (GeForce GTX 780 Ti, Quadro Kxxx) and AMD Radeon R9/R7 series. GPU monitoring tools have been updated to their latest versions (GPU Shark 0.7.5 and GPU-Z 0.7.4).
A new utility has been added: CPU Burner. This tiny tool allows to load all available CPU cores with a constant work. Just select the number of threads and launch the CPU stress test.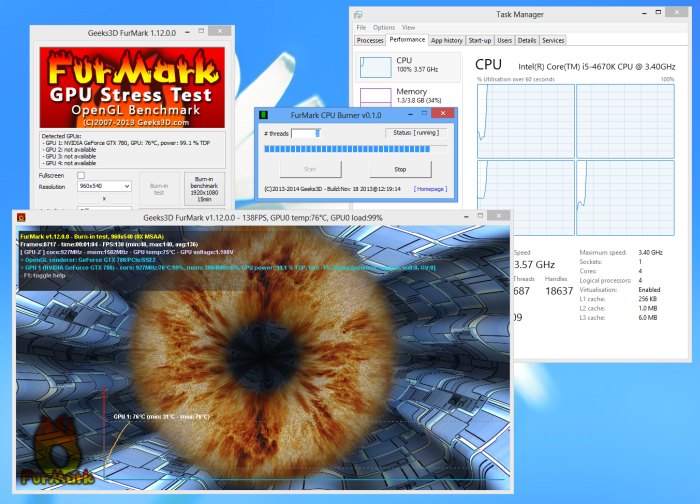 2 – FurMark 1.12.0 DOWNLOAD

You can download FurMark 1.12.0 here:
Webmasters: hotlinking is not allowed, please use the post url as download link.
[download#379#image]




GpuTest: FurMark + TessMark + other OpenGL stress tests
for Windows, Linux and Mac OS X
3 – FurMark 1.12.0 changelog
added support of GeForce GTX 780 Ti, Radeon R9 290X, R9 290,
R9 280X, R9 270X, R7 260X, Quadro K600, K2000, K2000D, K4000,
K5000, K6000, Quadro 400, 410, 600, 2000, 2000D, 4000, 5000,
6000, 7000
added multithreaded CPU burner utility
updated fur and background textures
update: ZoomGPU 1.8.21 (GPU monitoring library)
added the GPU memory load information in the log file
added F2 key to enable / disable GPU monitoring (default: enabled)
added F3 key to enable / disable the display of OpenGL errors (default: disabled)
update: ZoomGPU 1.8.21 (GPU monitoring library)