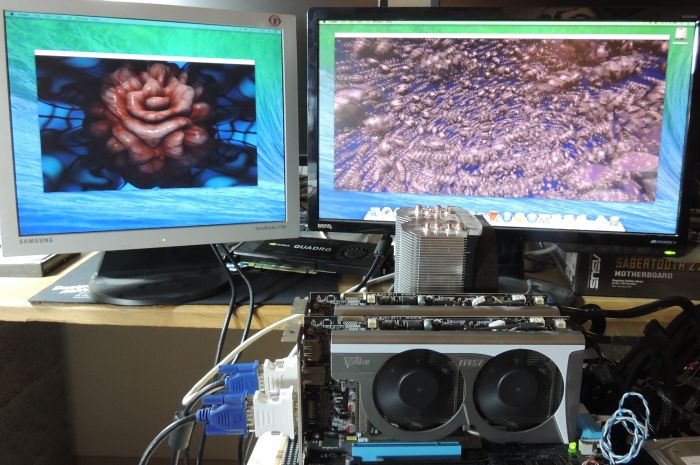 Yeah! I have now a real Hackintosh system with OS X 10.9 Mavericks. I just followed tonymacx86's excellent guide (Install OS X Mavericks on Any Supported Intel-based PC) and that's all… To tell the truth, if you don't have the right hardware, you won't be able to start the installation of OS X.
From my MacBook Pro, I downloaded the 5GB-dmg file of OS X 10.9 and I created a bootable USB drive using UniBeast (one of the tonymacx86′ softwares). That was the easy part. Next step: the hardware.
The first configuration I tested included an ASUS Sabertooth Z77 motherboard + Sandy Bridge Core i5 2400 + Radeon HD 5770. Apparently, OS X does not appreciate this system because it was impossible to launch the installation from the USB drive. The Chimera boot screen was properly displayed but whatever the option I entered, the installer didn't want to go further.


The Chimera boot screen
I tested -x, GraphicsEnabler=Yes or No, PCIRootUID=1 or 0, nothing to do. By the way, just press the DOWN arrow key at the Chimera boot screen to open the boot option menu and then type -x to open the boot option command line.
I tested a second motherboard, still from ASUS: the P8Z77-V. I managed to run the installer on the P8Z77-V with the following boot options: -x GraphicsEnabler=No


The Chimera boot options
After few minutes, the OS X installation screen finally appeared:


OS X installation
I completed the OS X 10.9 installation and Mavericks told me "Hello":


OS X 10.9 Mavericks desktop
For OS X, this hackintosh is a Mac Pro Early 2008:


hackintosh = Mac Pro
The hackintosh configration is not yet over but I couldn't resist to launch an OpenGL 4 test with GpuTest 0.6.0:


GpuTest OpenGL 4 demo
To complete the installation of the hackintosh, you have to launch MultiBeast (still from tonymacx86):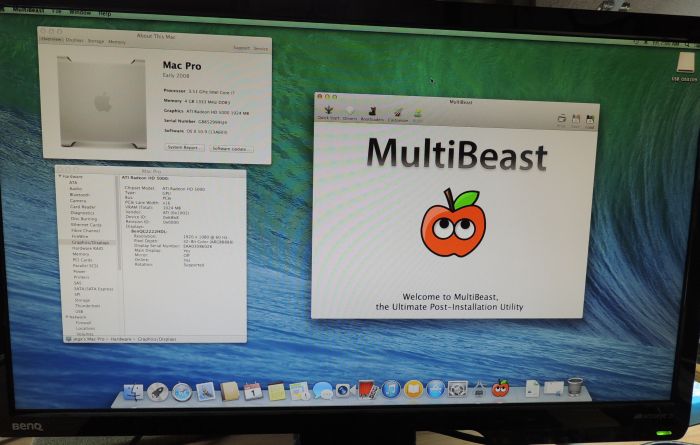 MultiBeast
MultiBeast allows to configure some drivers (audio, network, etc) and most important, it will make the hard disc bootable.
Here the detailed hardware specifications of my OSX 10.9 hackintosh:
– motherboard: ASUS P8Z77-V
– CPU: Intel Core i7 3770K @3.5GHZ
– RAM: 8GB DDR3 Corsair
– videocard: MSI Radeon HD 5770 Hawk
This hardware is hackintosh compliant!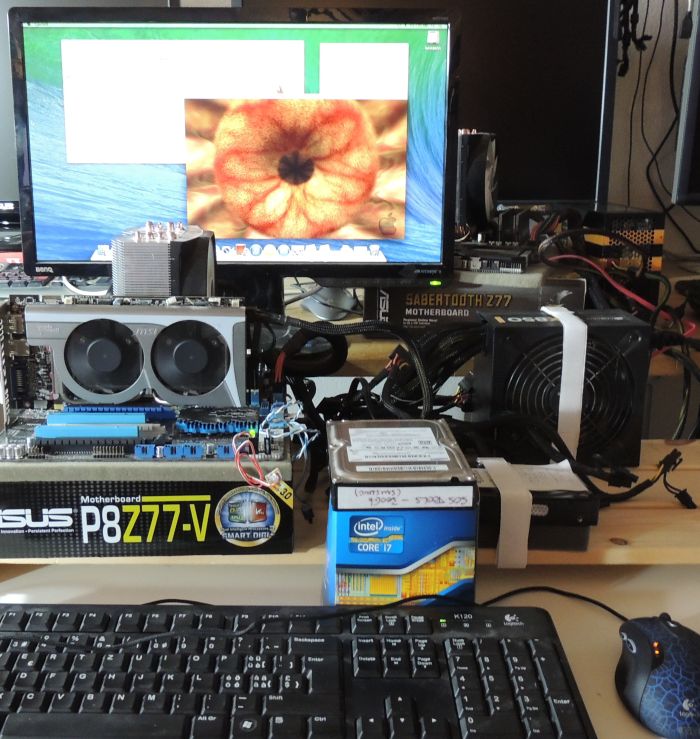 Hackintosh, OS X 10.9, ASUS P8Z77-V + Radeon HD 5770
GpuTest, FurMark test

Hackintosh, OS X 10.9, ASUS P8Z77-V + Radeon HD 5770, GLSL Hacker + GpuTest
The nice thing is that this hackintosh system allows me to plug two Radeon HD 5770 cards. Now I can update GLSL Hacker to correctly support virtual screens and multi-GPU systems…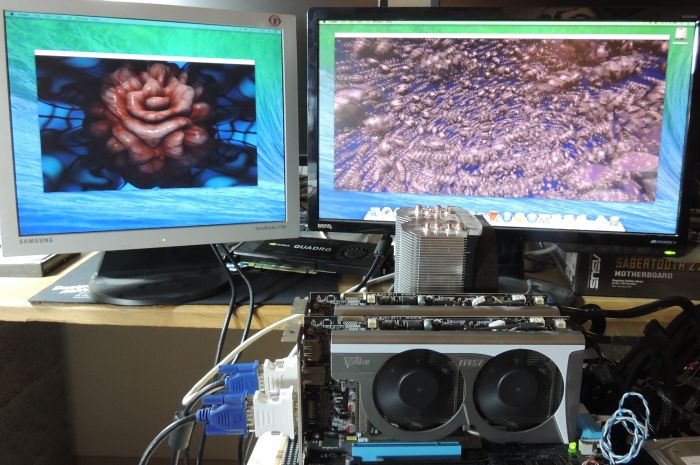 The last thing I need to to is to buy a real Mac keyboard and a touchpad because the usual PC mouse and keyboard lack of some OSX features…
---

Update (2013.11.04): I replaced the second Radeon HD 5770 by a GeForce GTX 580. I can now test my 3D code on both AMD and NVIDIA hardware at the same time. Cool! I also added a Mac keyboard.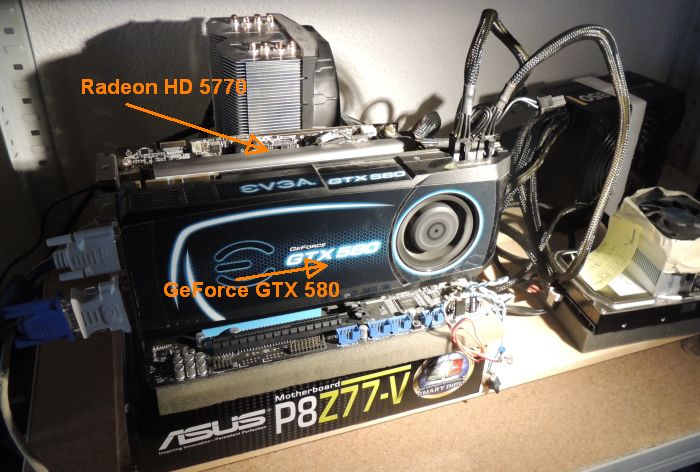 Hackintosh GeForce GTX 580 + Radeon HD 5770


Hackintosh GeForce GTX 580 + Radeon HD 5770, Unigine heaven + GLSL Hacker
---