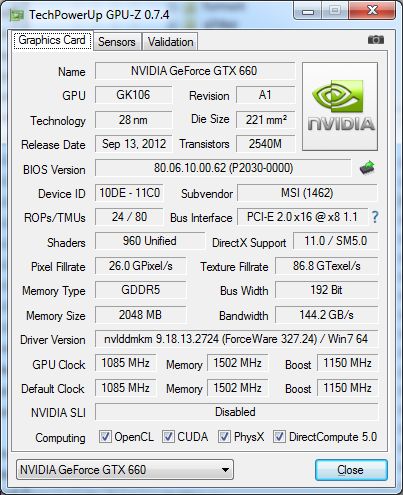 GPU-Z 0.7.4
is available with new graphics cards and bugfixes.



You can download GPU-Z 0.7.4 here
[download#370#image]

GPU-Z 0.7.4 also introduces a number of fixes, including accuracy in reporting release date of the Radeon R9 280X, die-size of AMD "Tahiti," ROP counts on Intel "Haswell" and "Ivy Bridge" IGPs. The new GPU-Z also lets you extract video BIOS from AMD Radeon cards even without any driver for the GPU being installed. The mini stress-test that clogs the PCIe bus interface, forcing it to run at maximum possible speeds (thereby giving you an accurate picture of the PCIe configuration), can now be paused by left-clicking the stress render window. A few rare crashes with systems running Intel IGPs, were addressed.
Changelog:
Added support for AMD R9 290X, R9 290, R9 270, HD 7310, HD 8280
Added support for NVIDIA GTX 780 Ti, GT 635, Quadro K3100M
Added release date for AMD R7 260X, R7 250, R7 240
Fixed release date for AMD R9 280X
Fixed die size for AMD Tahiti
Fixed ROP count on Ivy Bridge and Haswell
Fixed BIOS saving not working on AMD cards without driver
Fixed some rare crashes on systems with Intel VGA
Render Test can be paused by left-clicking into window