AMD has officially launched the Radeon R9 290X, the high-end graphics card for enthusiasts and gamers. With its 2816 shader cores, this card targets the GeForce GTX 780.
Unlike the rebranded R9 280X which is a Radeon HD 7970 (AMD didn't take the time to change the device ID…), the Radeon R9 290X is based on a new piece of silicon called Hawaii.
The Hawaii GPU packs 2816 stream processors (over 44 compute units –64 SP/CU, see architecture diagram HERE), GCN 1.1,
64 ROPs, 4GB of GDDR5 graphics memory (8GB variants in the works…) on a 512-bit bus width, AMD TrueAudio, Direct3D 11.2 (tiled resources or mega-textures), new PowerTune architecture. The Hawaii GPU is able to process 4 primitives / clock which is twice the number of the HD 7970.
And the price? Around USD $550!
According to the reviews, the Radeon R9 290X is faster and cheaper than the GeForce GTX 780!!
Radeon R9 R290X Specifications
GPU: Hawaii @ 1000MHz, 28nm TSMC, 6.2 billion transistor
Shaders units: 2816 (44 compute units)
Texture units: 176
ROPs: 64
TDP: 250W
Power connectors: 6-pin + 8-pin
Memory: 4GB GDDR5 @ 1250MHz real speed or 5000MHz effective, 512-bit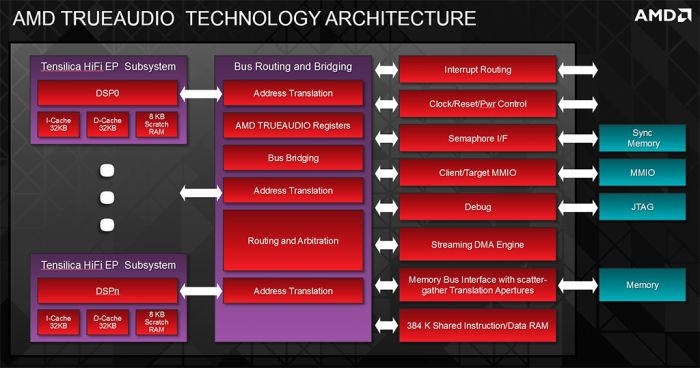 R9 290X TrueAudio architecture

R9 290X PowerTune architecture

Raw performance test with ShaderToyMark – (source)
Selected Reviews