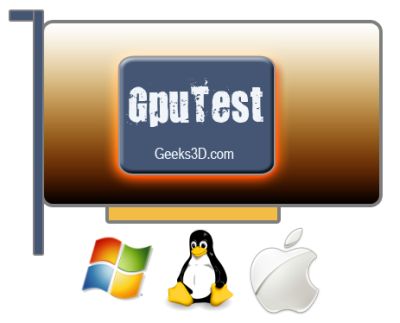 1 – GpuTest Overview
GpuTest 0.2.0 is the first public version of a new cross-platform GPU stress test and benchmarking utility. GpuTest is based on OpenGL and is available for Windows (XP, Vista, 7 and 8), Linux and OS X. The current version is available in 64-bit only and I don't know if a 32-bit version will see the light of day…
This first version of GpuTest comes with 3 tests (other tests will be added in next versions):
a stress test based on FurMark (OpenGL 2.1 or 3.2):


a tessellation test based on TessMark (OpenGL 4.0). The graphic load is equivalent to the extreme tessellation level (X32) of TessMark.


GiMark: a geometry instancing test (OpenGL 3.3). By default, GiMark renders 100'000 instances of a mesh sphere made up of 128 triangles.

All tests can be launched on Windows and Linux. Regarding Linux, I developed and tested GpuTest under Linux Mint 13 64-bit. I didn't tested it with other distributions.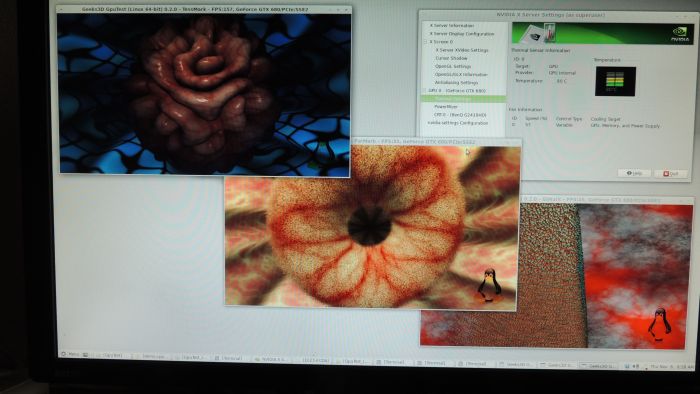 GpuTest – All tests under Linux Mint 13
On OS X, only two tests are available: FurMark and GiMark. The test based on TessMark requires an OpenGL 4.0 and OSX 10.8 supports only OpenGL 3.2. But GiMark is an OpenGL 3.3 test, so why can we launch it on OSX? Actually OSX 10.8 supports a subset of OpenGL 3.3 features and geometry instancing is among these features. More information here: Overview of OpenGL Support on OS X.

GpuTest – All tests under OSX 10.8 Mountain Lion on a MacBook Pro (15-inch Retina display)
On Windows and OSX, GpuTest comes with a graphical user interface (GUI) to launch the different tests. On Linux, a set of scripts is provided to launch the tests.


The GUI under OSX 10.8
2 – GpuTest 0.2.0 Downloads
The latest version of GpuTest can be downloaded from this page: GpuTest Downloads



[download#307#image]

GpuTest 0.2.0 for Windows 64-bit (XP, Vista, 7 and 8)

[download#308#image]

GpuTest 0.2.0 for Linux 64-bit

[download#309#image]

GpuTest 0.2.0 for OS X 10.7 and 10.8
3 – GpuTest 0.2.0 Scores
Here is an overview of some scores with the first version of GpuTest. A tested with an Intel Core i5 @ 3.1GHz has been used for Windows and Linux scores. For OSX scores, a MacBook Pro with Retina display (15-inch) has been used.
FurMark scores, 1920×1080, fullscreen, no antialiasing
5250 points (87FPS) – MSI Radeon HD 7970, Win7 64-bit, Cat12.10 whql


3305 points (55FPS) – GTX 680, Linux Mint 13 64-bit, R304.64


3100 points (51FPS) – EVGA GTX 680, Win7 64-bit, R306.97


2736 points (45FPS) – Sapphire HD 5850, Linux Mint 13, FRGLX (8.982)


2622 points (43FPS) – MSI GTX 660 Hawk, Linux Mint 13 64-bit, R304.64


820 points (13FPS) – GeForce GT 650M, OSX 10.8, MacBook Pro 15-inch, Retina display


728 points (12FPS) – Sapphire HD 5850, Linux Mint 13, Gallium3D 0.4 AMD Cypress


326 points (5FPS) – Intel Graphics HD 4000, OSX 10.8, MacBook Pro 15-inch Retina


TessMark scores, 1920×1080, fullscreen, no antialiasing
25947 points (432FPS) – EVGA GTX 680, Win7 64-bit, R306.97 whql


23839 points (397FPS) – GTX 680, Linux Mint 13 64-bit, R304.64


17908 points (298FPS) – MSI GTX 660 Hawk, Linux Mint 13 64-bit, R304.64


4646 points (77FPS) – MSI Radeon HD 7970, Win7 64-bit, Cat12.10 whql


2404 points (40FPS) – Sapphire HD 5850, Linux Mint 13, FRGLX (8.982)


GiMark scores, 1920×1080, fullscreen, no antialiasing
5864 points (97FPS) – MSI Radeon HD 7970, Win7 64-bit, Cat12.10 whql


5596 points (93FPS) – GTX 680, Linux Mint 13 64-bit, R304.64


5227 points (87FPS) – EVGA GTX 680, Win7 64-bit, R306.97 whql


4233 points (70FPS) – MSI GTX 660 Hawk, Linux Mint 13 64-bit, R304.64


3035 points (50FPS) – Sapphire HD 5850, Linux Mint 13, Gallium3D 0.4 AMD Cypress


1264 points (21FPS) – GeForce GT 650M, OSX 10.8, MacBook Pro 15-inch, Retina display


452 points (7FPS) – Intel Graphics HD 4000, OSX 10.8, MacBook Pro 15-inch Retina