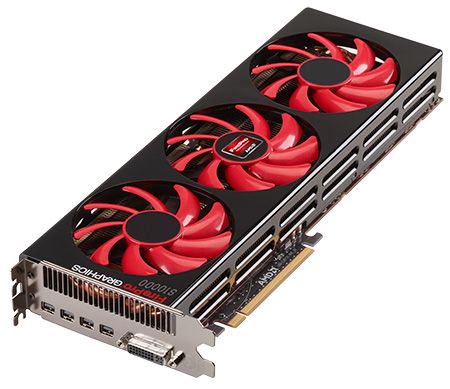 AMD has launched the FirePro S10000, a new dual-GPU graphics card for professional applications and HPC (High Performance Computing).
The AMD FirePro S10000 is the first professional-grade card to exceed one teraFLOPS (TFLOPS) of double-precision floating-point performance, helping to ensure optimal efficiency for HPC calculations1. It is also the first ultra high-end card that brings an unprecedented 5.91 TFLOPS of peak single-precision and 1.48 TFLOPS of double-precision floating-point calculations2. This performance ensures the fastest possible data processing speeds for professionals working with large amounts of information. In addition to HPC, the FirePro S10000 is also ideal for virtual desktop infrastructure (VDI) and workstation graphics deployments.
The FirePro S10000 is based on two Tahiti PRO GPUs, I think the same kind of GPU that powers the Radeon HD 7950. The s10000 comes with 3584 stream processors (2 x 1792) and features a floating-point peak performance of 5.91 TFLOPS while the GPU of a Radeon HD 7950 runs at 2.86 TFLOPS. The S10000 has 6GB of GDDR5 graphics memory (3GB per GPU) and has a TDP of 375W.
The card supports OpenGL 4.2, OpenCL 1.2, VMware and Citrix direct GPU passthrough. The FirePro S10000 is priced at USD $3599.
Related links: