Just a quick note about the GPU throttling with the GeForce GTX 580 (extreme GTX 580 cards like EVGA GTX 580 Classified or ASUS GTX 580 Matrix are not concerned by this article). In recent versions of FurMark, EVGA OC Scanner X and MSI Kombustor, I added the monitoring of true GPU clock speed for NVIDIA cards. The true GPU clock speed is useful with graphics cards like the GeForce GTX 580 because this card is severely throttled down when a TDP-app (a new word coming from the GTX 680 launch) like FurMark is running. For example, with EVGA's GTX 580 SC, under a typical gaming situation, the GPU runs at 797 MHz. When FurMark is running, the GPU clock speed is throttled down at 398 MHz (GPU-Z still displays 797MHz):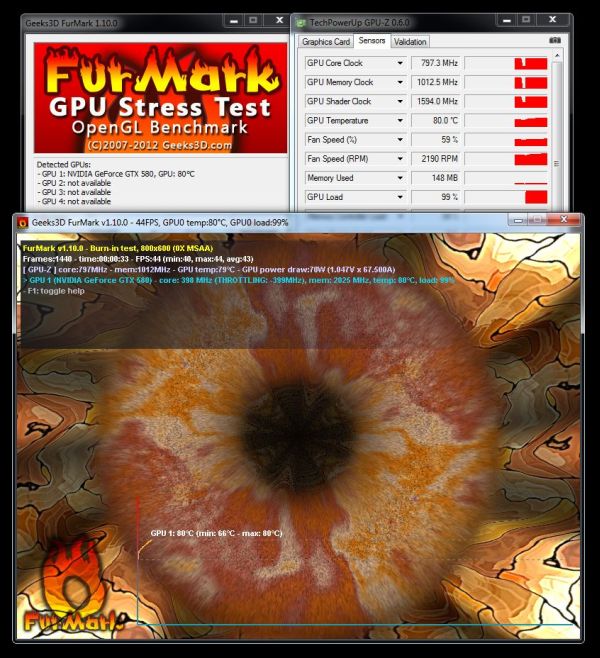 Same thing in OC Scanner X. During few seconds, the GPU runs at full speed and after it's throttled down:

In MSI Kombustor, I added the throttling indicator in the GPU list, on the top-right part of the screen:

Fortunately, the brand-new GeForce GTX 680 (I really love this card!) nicely handles FurMark-like applications then this short note about the throttling of the GTX 580 will be shortly irrelevant!