A minor update of GPU Caps Viewer is ready. GPU Caps Viewer 1.14.5 adds the support of the GeForce GTX 560 Ti 448 cores, and fixes a minor bug related to graphics card vendors in the GPU panel.
Download
You can download GPU Caps Viewer 1.14.5 here:
Webmasters: hotlinking is not allowed (that will cause an error message), please use the post url as download link.


Win32 installer:
[download#263#image]

Zip archive (no installation required):
[download#264#image]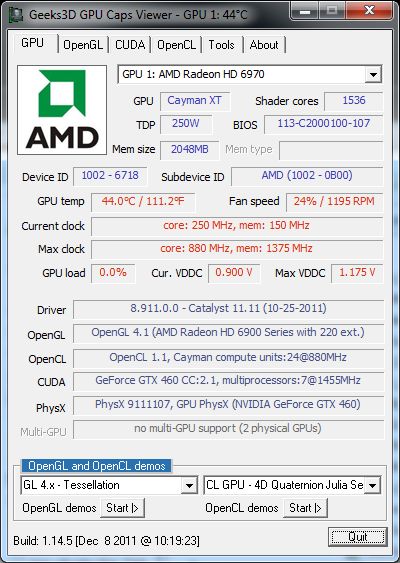 First card: Radeon HD 6970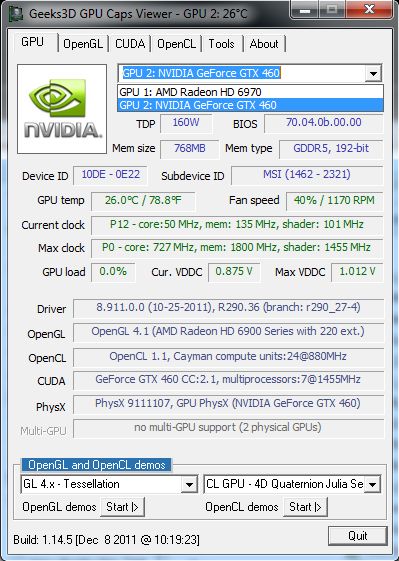 Second card: GeForce GTX 460
What is GPU Caps Viewer?
GPU Caps Viewer is a graphics card information utility focused on the OpenGL, OpenCL and CUDA API level support of the main (primary) graphics card. Even if you have several graphics cards in your system, only one is considered as the main OpenGL or Direct3D device. For OpenCL and CUDA, GPU Caps Viewer details the API support of each capable device available in the system. GPU Caps Viewer offers also a simple GPU monitoring facility (clock speed, temperature, GPU usage, fan speed) for NVIDIA GeForce and AMD Radeon based graphics cards.
Changelog
New: added support of GeForce GTX 560 Ti 448 cores.
Update: in GPU panel, the graphics card vendor logo (NVIDIA, AMD, etc.) is now updated when you select another card.
Update: ZoomGPU 1.6.1