For the owners of
hybrid systems
(with
Radeon
for 3D rendering and a
GeForce
for PhysX), a new
Hybrid PhysX
patch (made by GenL) is available. The version 1.05ff works with latest
NVIDIA R285
drivers.
You can download it HERE.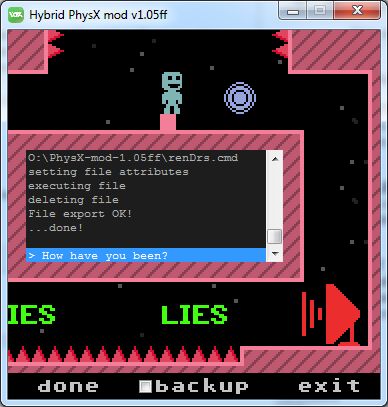 I quickly tested the patch (Radeon HD 6870 + GeForce GT 240) and it works fine with FluidMark 1.2.0:

But oddly, the patch has no effect with FluidMark 1.3.1: still CPU PhysX. I should update FluidMark, maybe that will work a bit better!
The mod works also fine with FluidMark 1.3.1:

The diff between FluidMark 1.2.0 and 1.3.1 is the driverless model. FluidMark v1.3.1 has been compiled with one of the first versions of the PhysX SDK that offered the new driverless model. So, just copy the patched version of PhysXDevice.dll (in C:\Program Files (x86)\NVIDIA Corporation\PhysX\Common) in FluidMark 1.3.1 folder. That's all. And thanks
Zogrim
to refresh my deficient neurons 😉
And for GeeXLab, same treatment than for FluidMark 1.3.1.