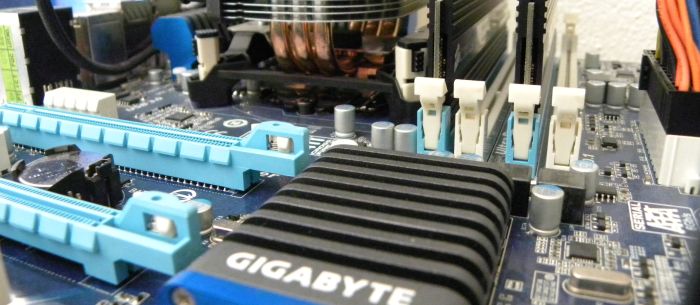 I took the time this morning to replug my GIGABYTE H67 mobo to test the latest Intel GMA (Graphics Media Accelerator) driver version 15.22.50.64.2509. You can download it here: Intel GMA for Win7/Vista 64-bit.
The CPU is a Sandy Bridge Core i5 2400 with a HD 2000 GPU.
The v8.15.10.2509 driver exposes OpenGL 3.1 API but partially: GL_ARB_draw_instanced, GL_ARB_copy_buffer, GL_NV_primitive_restart, GL_ARB_texture_rectangle and GL_ARB_uniform_buffer_object are exposed whereas GL_ARB_texture_buffer_object is not exposed.
Some OpenGL 3.3 features such as GL_ARB_sampler_objects (see this page for a tutorial) are present 😉
Currently, 116 OpenGL extensions (GL=103 and WGL=13) are exposed. See the end of the post for the complete list of OpenGL extensions. For comparison, latest NVIDIA R285.27 exposes 290 extensions and latest AMD Catalyst 11.8 Preview 2 exposes 231 extensions.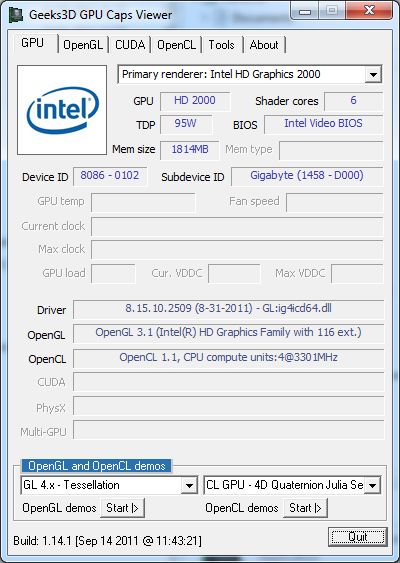 GPU Caps Viewer (v1.14.1 not released yet)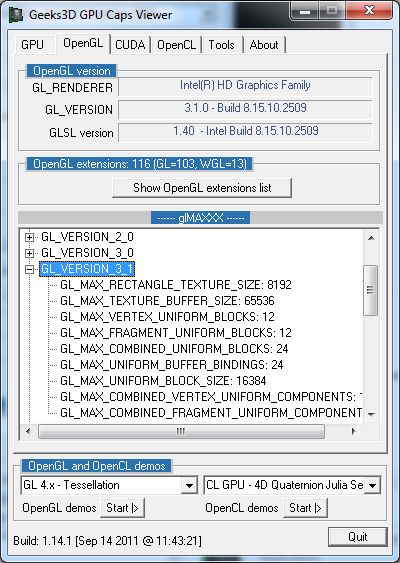 GPU Caps Viewer OpenGL 3 and OpenGL 2 demos run fine (slow but fine!) on the HD 2000 GPU.

I also tested MSI Kombustor D3D9 and D3D10 rendering and DX9 / DX10 support seem correct.

Here are the 116 OpenGL extensions exposed by Intel GMA 8.15.10.2509 driver (Win7 64-bit, HD 2000 GPU):
GL_EXT_blend_minmax
GL_EXT_blend_subtract
GL_EXT_blend_color
GL_EXT_abgr
GL_EXT_texture3D
GL_EXT_clip_volume_hint
GL_EXT_compiled_vertex_array
GL_SGIS_texture_edge_clamp
GL_SGIS_generate_mipmap
GL_EXT_draw_range_elements
GL_SGIS_texture_lod
GL_EXT_rescale_normal
GL_EXT_packed_pixels
GL_EXT_texture_edge_clamp
GL_EXT_separate_specular_color
GL_ARB_multitexture
GL_EXT_texture_env_combine
GL_EXT_bgra
GL_EXT_blend_func_separate
GL_EXT_secondary_color
GL_EXT_fog_coord
GL_EXT_texture_env_add
GL_ARB_texture_cube_map
GL_ARB_transpose_matrix
GL_ARB_texture_env_add
GL_IBM_texture_mirrored_repeat
GL_EXT_multi_draw_arrays
GL_NV_blend_square
GL_ARB_texture_compression
GL_3DFX_texture_compression_FXT1
GL_EXT_texture_filter_anisotropic
GL_ARB_texture_border_clamp
GL_ARB_point_parameters
GL_ARB_texture_env_combine
GL_ARB_texture_env_dot3
GL_ARB_texture_env_crossbar
GL_EXT_texture_compression_s3tc
GL_ARB_shadow
GL_ARB_window_pos
GL_EXT_shadow_funcs
GL_EXT_stencil_wrap
GL_ARB_vertex_program
GL_EXT_texture_rectangle
GL_ARB_fragment_program
GL_EXT_stencil_two_side
GL_ATI_separate_stencil
GL_ARB_vertex_buffer_object
GL_EXT_texture_lod_bias
GL_ARB_occlusion_query
GL_ARB_fragment_shader
GL_ARB_shader_objects
GL_ARB_shading_language_100
GL_ARB_texture_non_power_of_two
GL_ARB_vertex_shader
GL_NV_texgen_reflection
GL_ARB_point_sprite
GL_ARB_fragment_program_shadow
GL_EXT_blend_equation_separate
GL_ARB_depth_texture
GL_ARB_texture_rectangle
GL_ARB_draw_buffers
GL_ARB_color_buffer_float
GL_ARB_half_float_pixel
GL_ARB_texture_float
GL_ARB_pixel_buffer_object
GL_EXT_framebuffer_object
GL_ARB_draw_instanced
GL_ARB_half_float_vertex
GL_EXT_draw_buffers2
GL_WIN_swap_hint
GL_EXT_texture_sRGB
GL_ARB_multisample
GL_EXT_packed_float
GL_EXT_texture_shared_exponent
GL_ARB_texture_rg
GL_ARB_texture_compression_rgtc
GL_NV_conditional_render
GL_EXT_texture_swizzle
GL_ARB_sync
GL_ARB_framebuffer_sRGB
GL_EXT_packed_depth_stencil
GL_ARB_depth_buffer_float
GL_EXT_transform_feedback
GL_EXT_framebuffer_blit
GL_EXT_framebuffer_multisample
GL_ARB_framebuffer_object
GL_EXT_texture_array
GL_EXT_texture_integer
GL_ARB_map_buffer_range
GL_EXT_texture_snorm
GL_INTEL_performance_queries
GL_ARB_copy_buffer
GL_ARB_sampler_objects
GL_NV_primitive_restart
GL_ARB_seamless_cube_map
GL_ARB_uniform_buffer_object
GL_ARB_depth_clamp
GL_ARB_vertex_array_bgra
GL_ARB_draw_elements_base_vertex
GL_ARB_fragment_coord_conventions
GL_EXT_gpu_program_parameters
GL_ARB_compatibility
GL_ARB_vertex_array_object
WGL_EXT_depth_float
WGL_ARB_buffer_region
WGL_ARB_extensions_string
WGL_ARB_make_current_read
WGL_ARB_pixel_format
WGL_ARB_pbuffer
WGL_EXT_extensions_string
WGL_EXT_swap_control
WGL_ARB_multisample
WGL_ARB_pixel_format_float
WGL_ARB_framebuffer_sRGB
WGL_ARB_create_context
WGL_EXT_pixel_format_packed_float
Here are some caps reported by GPU Caps Viewer:
GL_MAX_LIST_NESTING: 64
GL_MAX_EVAL_ORDER: 32
GL_MAX_LIGHTS: 8
GL_MAX_CLIP_PLANES: 6
GL_MAX_TEXTURE_SIZE: 8192
GL_MAX_PIXEL_MAP_TABLE: 65536
GL_MAX_ATTRIB_STACK_DEPTH: 16
GL_MAX_MODELVIEW_STACK_DEPTH: 32
GL_MAX_NAME_STACK_DEPTH: 128
GL_MAX_PROJECTION_STACK_DEPTH: 4
GL_MAX_TEXTURE_STACK_DEPTH: 10
GL_MAX_VIEWPORT_DIMS: 8192
GL_MAX_CLIENT_ATTRIB_STACK_DEPTH: 16
GL_MAX_3D_TEXTURE_SIZE: 2048
GL_MAX_ELEMENTS_VERTICES: 1200
GL_MAX_ELEMENTS_INDICES: 1200
GL_MAX_TEXTURE_UNITS: 8
GL_MAX_CUBE_MAP_TEXTURE_SIZE: 8192
GL_MAX_TEXTURE_LOD_BIAS: 15
GL_MAX_DRAW_BUFFERS: 8
GL_MAX_VERTEX_ATTRIBS: 16
GL_MAX_TEXTURE_COORDS: 8
GL_MAX_TEXTURE_IMAGE_UNITS: 16
GL_MAX_FRAGMENT_UNIFORM_COMPONENTS: 1024
GL_MAX_VERTEX_UNIFORM_COMPONENTS: 512
GL_MAX_VARYING_FLOATS: 41
GL_MAX_VERTEX_TEXTURE_IMAGE_UNITS: 16
GL_MAX_COMBINED_TEXTURE_IMAGE_UNITS: 16
GL_MAX_TEXTURE_COORDS: 8
GL_MAX_CLIP_DISTANCES: 6
GL_MAX_ARRAY_TEXTURE_LAYERS: 256
GL_MAX_VARYING_COMPONENTS: 41
GL_MIN_PROGRAM_TEXEL_OFFSET: 0
GL_MAX_PROGRAM_TEXEL_OFFSET: 0
GL_MAX_TRANSFORM_FEEDBACK_SEPARATE_COMPONENTS: 4
GL_MAX_TRANSFORM_FEEDBACK_INTERLEAVED_COMPONENTS: 64
GL_MAX_TRANSFORM_FEEDBACK_SEPARATE_ATTRIBS: 4
GL_MAX_RENDERBUFFER_SIZE: 4096
GL_MAX_COLOR_ATTACHMENTS: 8
GL_MAX_SAMPLES: 4
GL_MAX_RECTANGLE_TEXTURE_SIZE: 8192
GL_MAX_TEXTURE_BUFFER_SIZE: 65536
GL_MAX_VERTEX_UNIFORM_BLOCKS: 12
GL_MAX_FRAGMENT_UNIFORM_BLOCKS: 12
GL_MAX_COMBINED_UNIFORM_BLOCKS: 24
GL_MAX_UNIFORM_BUFFER_BINDINGS: 24
GL_MAX_UNIFORM_BLOCK_SIZE: 16384
GL_MAX_COMBINED_VERTEX_UNIFORM_COMPONENTS: 1
GL_MAX_COMBINED_FRAGMENT_UNIFORM_COMPONENTS: 1
GL_MAX_GEOMETRY_TEXTURE_IMAGE_UNITS: 0
GL_MAX_GEOMETRY_UNIFORM_COMPONENTS: 0
GL_MAX_GEOMETRY_OUTPUT_VERTICES: 0
GL_MAX_GEOMETRY_TOTAL_OUTPUT_COMPONENTS: 0
GL_MAX_VERTEX_OUTPUT_COMPONENTS: 0
GL_MAX_GEOMETRY_INPUT_COMPONENTS: 0
GL_MAX_GEOMETRY_OUTPUT_COMPONENTS: 0
GL_MAX_FRAGMENT_INPUT_COMPONENTS: 0
GL_MAX_VARYING_COMPONENTS: 41
GL_MAX_SERVER_WAIT_TIMEOUT: 0
GL_MAX_SAMPLE_MASK_WORDS: 1
GL_MAX_COLOR_TEXTURE_SAMPLES: 4
GL_MAX_DEPTH_TEXTURE_SAMPLES: 4
GL_MAX_INTEGER_SAMPLES: 4
GL_MAX_DUAL_SOURCE_DRAW_BUFFERS: 0
GL_MIN_SAMPLE_SHADING_VALUE: 0
GL_MAX_GEOMETRY_SHADER_INVOCATIONS: 0
GL_MIN_FRAGMENT_INTERPOLATION_OFFSET: 0
GL_MAX_FRAGMENT_INTERPOLATION_OFFSET: 0
GL_MIN_PROGRAM_TEXTURE_GATHER_OFFSET: 0
GL_MAX_PROGRAM_TEXTURE_GATHER_OFFSET: 0
GL_MAX_PROGRAM_TEXTURE_GATHER_COMPONENTS: 0
GL_MAX_VERTEX_STREAMS: 0
GL_MAX_SUBROUTINES: 0
GL_MAX_SUBROUTINE_UNIFORM_LOCATIONS: 0
GL_MAX_PATCH_VERTICES: 0
GL_MAX_TESS_GEN_LEVEL: 0
GL_MAX_TESS_CONTROL_UNIFORM_COMPONENTS: 0
GL_MAX_TESS_EVALUATION_UNIFORM_COMPONENTS: 0
GL_MAX_TESS_CONTROL_TEXTURE_IMAGE_UNITS: 0
GL_MAX_TESS_EVALUATION_TEXTURE_IMAGE_UNITS: 0
GL_MAX_TESS_CONTROL_OUTPUT_COMPONENTS: 0
GL_MAX_TESS_PATCH_COMPONENTS: 0
GL_MAX_TESS_CONTROL_TOTAL_OUTPUT_COMPONENTS: 0
GL_MAX_TESS_EVALUATION_OUTPUT_COMPONENTS: 0
GL_MAX_TESS_CONTROL_UNIFORM_BLOCKS: 0
GL_MAX_TESS_EVALUATION_UNIFORM_BLOCKS: 0
GL_MAX_TESS_CONTROL_INPUT_COMPONENTS: 0
GL_MAX_TESS_EVALUATION_INPUT_COMPONENTS: 0
GL_MAX_COMBINED_TESS_CONTROL_UNIFORM_COMPONENTS: 0
GL_MAX_COMBINED_TESS_EVALUATION_UNIFORM_COMPONENTS: 0
GL_MAX_TRANSFORM_FEEDBACK_BUFFERS: 0
GL_MAX_VERTEX_UNIFORM_VECTORS: 0
GL_MAX_VARYING_VECTORS: 0
GL_MAX_FRAGMENT_UNIFORM_VECTORS: 0
GL_MAX_VIEWPORTS: 0
GL_MAX_VERTEX_ATOMIC_COUNTER_BUFFERS: 0
GL_MAX_TESS_CONTROL_ATOMIC_COUNTER_BUFFERS: 0
GL_MAX_TESS_EVALUATION_ATOMIC_COUNTER_BUFFERS: 0
GL_MAX_GEOMETRY_ATOMIC_COUNTER_BUFFERS: 0
GL_MAX_FRAGMENT_ATOMIC_COUNTER_BUFFERS: 0
GL_MAX_COMBINED_ATOMIC_COUNTER_BUFFERS: 0
GL_MAX_VERTEX_ATOMIC_COUNTERS: 0
GL_MAX_TESS_CONTROL_ATOMIC_COUNTERS: 0
GL_MAX_TESS_EVALUATION_ATOMIC_COUNTERS: 0
GL_MAX_GEOMETRY_ATOMIC_COUNTERS: 0
GL_MAX_FRAGMENT_ATOMIC_COUNTERS: 0
GL_MAX_COMBINED_ATOMIC_COUNTERS: 0
GL_MAX_ATOMIC_COUNTER_BUFFER_SIZE: 0
GL_MAX_ATOMIC_COUNTER_BUFFER_BINDINGS: 0
GL_MAX_IMAGE_UNITS: 0
GL_MAX_COMBINED_IMAGE_UNITS_AND_FRAGMENT_OUTPUTS: 0
GL_MAX_IMAGE_SAMPLES: 0
GL_MAX_VERTEX_IMAGE_UNIFORMS: 0
GL_MAX_TESS_CONTROL_IMAGE_UNIFORMS: 0
GL_MAX_TESS_EVALUATION_IMAGE_UNIFORMS: 0
GL_MAX_GEOMETRY_IMAGE_UNIFORMS: 0
GL_MAX_FRAGMENT_IMAGE_UNIFORMS: 0
GL_MAX_COMBINED_IMAGE_UNIFORMS: 0
GL_MAX_TEXTURE_UNITS_ARB: 8
GL_MAX_VERTEX_TEXTURE_IMAGE_UNITS_ARB: 16
GL_MAX_TEXTURE_IMAGE_UNITS_ARB: 16
GL_MAX_CUBE_MAP_TEXTURE_SIZE_ARB: 8192
GL_NUM_COMPRESSED_TEXTURE_FORMATS: 6
GL_MAX_TEXTURE_MAX_ANISOTROPY_EXT: 16.000000
GL_MAX_VERTEX_UNIFORM_COMPONENTS: 512
GL_MAX_VARYING_FLOATS: 41
GL_MAX_VERTEX_ATTRIBS: 16
GL_MAX_TEXTURE_IMAGE_UNITS: 16
GL_MAX_VERTEX_TEXTURE_IMAGE_UNITS: 16
GL_MAX_COMBINED_TEXTURE_IMAGE_UNITS: 16
GL_MAX_TEXTURE_COORDS: 8
GL_MAX_FRAGMENT_UNIFORM_COMPONENTS_ARB: 1024
GL_MAX_VERTEX_ATTRIBS_ARB: 16
GL_MAX_PROGRAM_MATRICES_ARB: 8
GL_MAX_PROGRAM_MATRIX_STACK_DEPTH_ARB: 2
GL_MAX_PROGRAM_MATRICES_ARB: 8
GL_MAX_PROGRAM_MATRIX_STACK_DEPTH_ARB: 2
GL_MAX_TEXTURE_COORDS_ARB: 8
GL_MAX_TEXTURE_IMAGE_UNITS_ARB: 16
GL_MAX_VERTEX_UNIFORM_COMPONENTS: 512
GL_MAX_FRAGMENT_UNIFORM_COMPONENTS: 1024
GL_MAX_GEOMETRY_UNIFORM_COMPONENTS_EXT: 0
GL_MAX_VARYING_FLOATS: 41
GL_MAX_VERTEX_ATTRIBS: 16
GL_MAX_DRAW_BUFFERS_ARB: 8
GL_MAX_RECTANGLE_TEXTURE_SIZE: 8192
GL_MAX_COLOR_ATTACHMENTS: 8
GL_MAX_RENDERBUFFER_SIZE: 4096
GL_MAX_SAMPLES: 4
GL_MAX_VERTEX_UNIFORM_BLOCKS: 12
GL_MAX_GEOMETRY_UNIFORM_BLOCKS: 12
GL_MAX_FRAGMENT_UNIFORM_BLOCKS: 12
GL_MAX_COMBINED_UNIFORM_BLOCKS: 24
GL_MAX_UNIFORM_BUFFER_BINDINGS: 24
GL_MAX_UNIFORM_BLOCK_SIZE: 16384
GL_MAX_COMBINED_VERTEX_UNIFORM_COMPONENTS: 1
GL_MAX_COMBINED_GEOMETRY_UNIFORM_COMPONENTS: 1
GL_MAX_COMBINED_FRAGMENT_UNIFORM_COMPONENTS: 1
GL_MAX_SERVER_WAIT_TIMEOUT: -1
GL_POINT_SIZE_MIN_ARB: 0.000000
GL_POINT_SIZE_MAX_ARB: 255.000000
GL_MAX_ARRAY_TEXTURE_LAYERS_EXT: 256