A new beta version of Kombustor, MSI's GPU stress test and benchmarking tool, is available.

Kombustor 2.1.2 does not bring big new things except a little update at the level of the on-screen information in the 3D window.
A GPU loadmeter as well as a GPU thermometer are now displayed in the 3D zone. The GPU loadmeter is useful in fullscreen mode with multi-GPU systems (SLI or CrossFire). It behaves like NVIDIA SLI Visual Indicator, allowing to know if all GPUs are properly loaded.
The old 3D GPUs (top-right) have been replaced by a simple (and neater) graphics card image.
The audio system in use in KMark, the OpenGL 4 benchmark, has been fully updated and replaced by OpenAL + Ogg/Vorbis.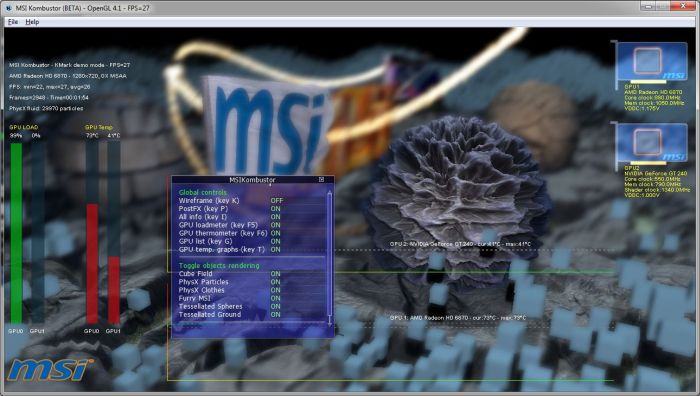 Kombustor branch 2.1.x is an intermediary branch (I prepare the path for the next version). Real new things will take place with the branch 2.2.x, which is already in the works!
---

*** MSI Kombustor 2.2.0 beta available! ***

---
MSI KOMBUSTOR DOWNLOAD
You can download the latest beta version of Kombustor 2.1.x here (left-click to grab the file):
[download#247#image]
You can post your feedbacks or bug reports in this forum (Guru3D) or in this post.

The GPU burner or stress test (Direct3D 9 API selected)