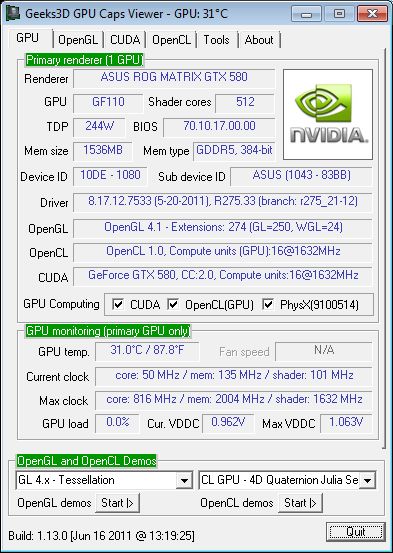 1 – GPU Caps Viewer 1.13.0 Overview
A new release of GPU Caps Viewer is out. GPU Caps Viewer 1.13.0 is essentially a maintenance release with one minor feature: the export of the XML report in command line (I added a batch file to export the report –Export_XML_Report.bat). The support of Radeon HD 6250 (AMD Brazos APU) has been added as well as some recent GeForce cards. And for future ROG MATRIX GTX 580 users, the character string "ASUS ROG MATRIX GTX 580" is displayed in the renderer field in place of NVIDIA GeForce GTX 580.
2 – GPU Caps Viewer 1.13.0 Download
Webmasters: hotlinking is not allowed (that will cause an error message), please use the post url as download link.

Win32 installer:
[download#239#image]
Zip archive:
[download#240#image]
3 – What is GPU Caps Viewer?
GPU Caps Viewer is a graphics card information utility focused on the OpenGL, OpenCL and CUDA API level support of the main (primary) graphics card. Even if you have several graphics cards in your system, only one is considered as the main OpenGL or Direct3D device. For OpenCL and CUDA, GPU Caps Viewer details the API support of each capable device available in the system. GPU Caps Viewer offers also a simple GPU monitoring facility (clock speed, temperature, GPU usage, fan speed) for NVIDIA GeForce and AMD Radeon cards.
4 – GPU Caps Viewer 1.13.0 Changelog
New: added support of NVIDIA GeForce 405, GT 520, GT 530 and GT 545
New: added support of AMD Radeon HD 6250 (C-50 APU, Brazos).
New: added command line option to export the XML report: /exp_xml_report
New: added sub vendors Galaxy, Acer.